Culture
Deconstructing the Perfect Patty Melt
The secret sauce of this classic American sandwich is no sauce at all
Serves

makes 6 Sandwiches

Cook

1 hour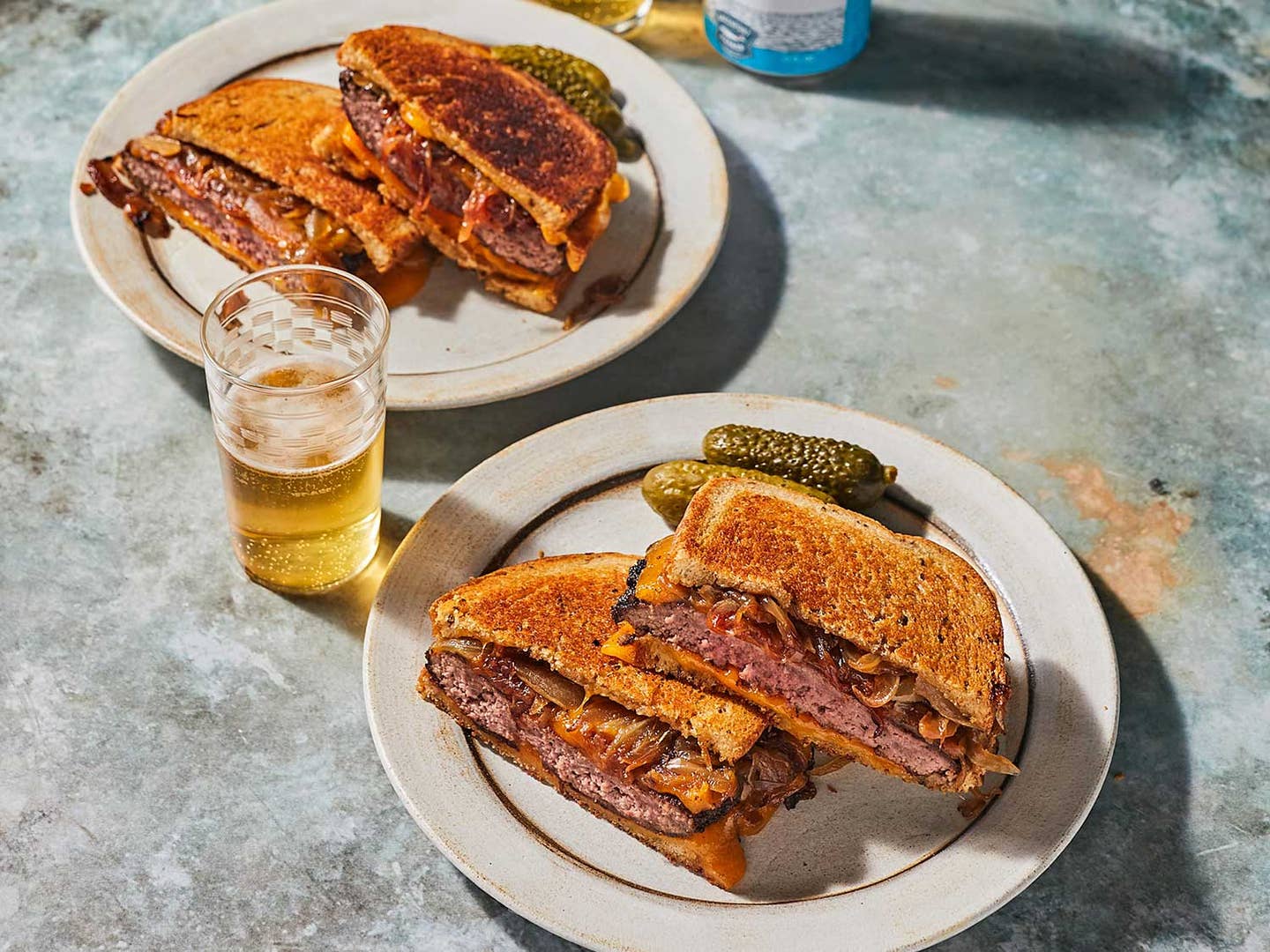 The age-old adage less is more applies to many things, but not burger culture. In this arena, triple deckers, four-cheese burgers, and other memes, elbow their way to the front. It's intriguing then that the patty melt— a single slim patty of ground beef covered with cheese and golden onions, and griddle-fried between two thin slices of deli-style rye bread—classic and unwavering—has won such loyal fans.
It's delicious, but hardly flashy.
Some might argue the patty melt is not even a burger at all. Yet consider its origins: fast food lore tells us it originated in Los Angeles at the hands of a 6-foot-2-inch, 320-pound restaurateur, "Tiny" Naylor, in the 1940s or '50s.
Naylor's son, Biff, credits his father's friend, Lionel Clark Sternberger, for inventing the cheeseburger in Sternberger's father's restaurant, The Rite Spot, in 1924—adding a slice of cheese as a cover-up after burning one side of his famously plain patty. Tiny adopted the cheeseburger, adding grilled onions and swapping out the bun for grilled sourdough bread, for his own line of drive-in restaurants, Biffs (named after his son). Biff claims the patty melt as we know it, on rye bread, evolved when his father moved south to Los Angeles after World War II.
That the whole sandwich is then cooked griddle-style (think: grilled cheese meets caramelized onion burger) further solidifies the burger-as-origin theory, but what's amazing is how solidly it's stayed on the straight and narrow course ever since. The lack of mayonnaise, mustard, pickles, or other condiments is an intentional—and enduring—choice. The patty melt needs no embellishment beyond the onions, cheese, and butter on the bread.
There have been notable variations over the years; in 2014 Chef Craig Deihl made a splash with his cheeky pâte melt sandwich at Artisan Meat Share in Charleston, South Carolina—pâte draped with oozy Swiss cheese, pickles, bitter greens, and spicy mustard—earning him accolades like "charcuterie king". Biff Naylor's own daughter, Jennifer (who once worked at Wolfgang Puck's), uses olive oil to caramelize her onions. Today, on the internet, you find every variation of the patty melt, from a donut melt (indeed, using a sliced donut as bun) to a Tex-Mex melt (with green chiles)—but these gain little traction. In general, patty melt enthusiasts want their sandwich straight up. We're happy to oblige. Here's how to get this American classic just right.
The onions, being the essential flavor component of the patty melt, should not be rushed. Start them in a cast-iron skillet with a small slick of oil, and nurse them, carefully, for the full 20 to 25 minutes it takes for them to turn completely soft and a deep, heady golden brown. Time—not skill—is your best friend here.
There's no points for a fat, juicy patty in this arena. To get the best bread-to-cheese-to-meat ratio, your patty should be thin and flat with an aim of covering as much of the bread surface area as possible, after it's cooked, which means erring a bit over in width and length in its raw state. Use your thumbs to spread and flatten without making the burger tough. Then, season liberally on both sides with salt and pepper.
A high-heat sear in a cast-iron skillet is essential to lock in moisture, and give the otherwise plain patty robust griddle flavor. The griddle should be well-seasoned already, and should only need a bit of oil to get the meat started. Undercook your patty slightly on the sear, since it will cook further during the griddled sandwich stage, below.
To assemble your sandwich, cover the bottom halves of thinly sliced rye bread (not a marbled rye) with caramelized onions, taking care to spread to the edges in an even layer. Then add the cheese; it will melt slightly when the warm burger initially makes contact, but the true melting comes from the griddle frying in the next step. You want a cheese that melts nicely and isn't too overpowering in flavor, such as cheddar, Swiss, or American.
Add your meat directly to the cheese layer while warm, then top with another layer of cheese, and finally the remaining halves of the bread. This is a singular opportunity for variation—though completely unorthodox. Something like pickles, pickle relish, or a thin schmear of mayonnaise could only improve upon impending greatness—though patty-melt purists insist on staying clear of embellishments.
An evenly golden crust on the bread relies on ample butter—go for the full 8 tablespoons here. Spread on both sides of the bread all the way up to the corners. Make sure your butter is at room temperature before you start, so you don't get clumps of cold butter tearing your bread.
A deep golden brown is requisite for a respectable patty melt. You should both taste griddle (melted butter on bread) and grill (high-heat seared burger) at the finish. Give the first side a full 3 to 4 minutes before flipping. Once the cheese has fully melted and you're sure the sandwich is completely warmed through, the second side can toast slightly shorter than the first (about 2 minutes).
Ingredients
1½ lb. ground beef
Kosher salt and freshly ground black pepper
5 Tbsp. canola oil
2 yellow onions, halved and thinly sliced
12 slices rye bread
12 thin slices cheddar, swiss, or American cheese
8 Tbsp. unsalted butter, room temperature
Instructions
Step 1
Season the beef with salt and pepper. Divide into six 1⁄4-inch-thick patties that are slightly wider and longer than the bread.
Step 2
In a 12-inch cast-iron skillet, heat 2 tablespoons oil over medium-high. Add the onions, season with salt and pepper, and cook, stirring occasionally, until softened and browned, about 20–25 minutes. Transfer the onions to a bowl; wipe out skillet. Working in 3 batches, heat 1 tablespoon oil in the skillet over high. Add 2 patties; cook, flipping once, until well browned, about 2–4 minutes total. Transfer patties to a plate; wipe out skillet. Repeat with the remaining oil and patties.
Step 3
Top each of 6 bread slices with some of the onions, a cheese slice, and a patty. Top each patty with a cheese slice and a piece of bread. Using a table knife, spread butter over the top and bottom of each sandwich.
Step 4
Return the skillet to medium heat. Working in 3 batches, cook the sandwiches, flipping once, until golden brown and hot, about 6 minutes. Repeat with the remaining sandwiches.