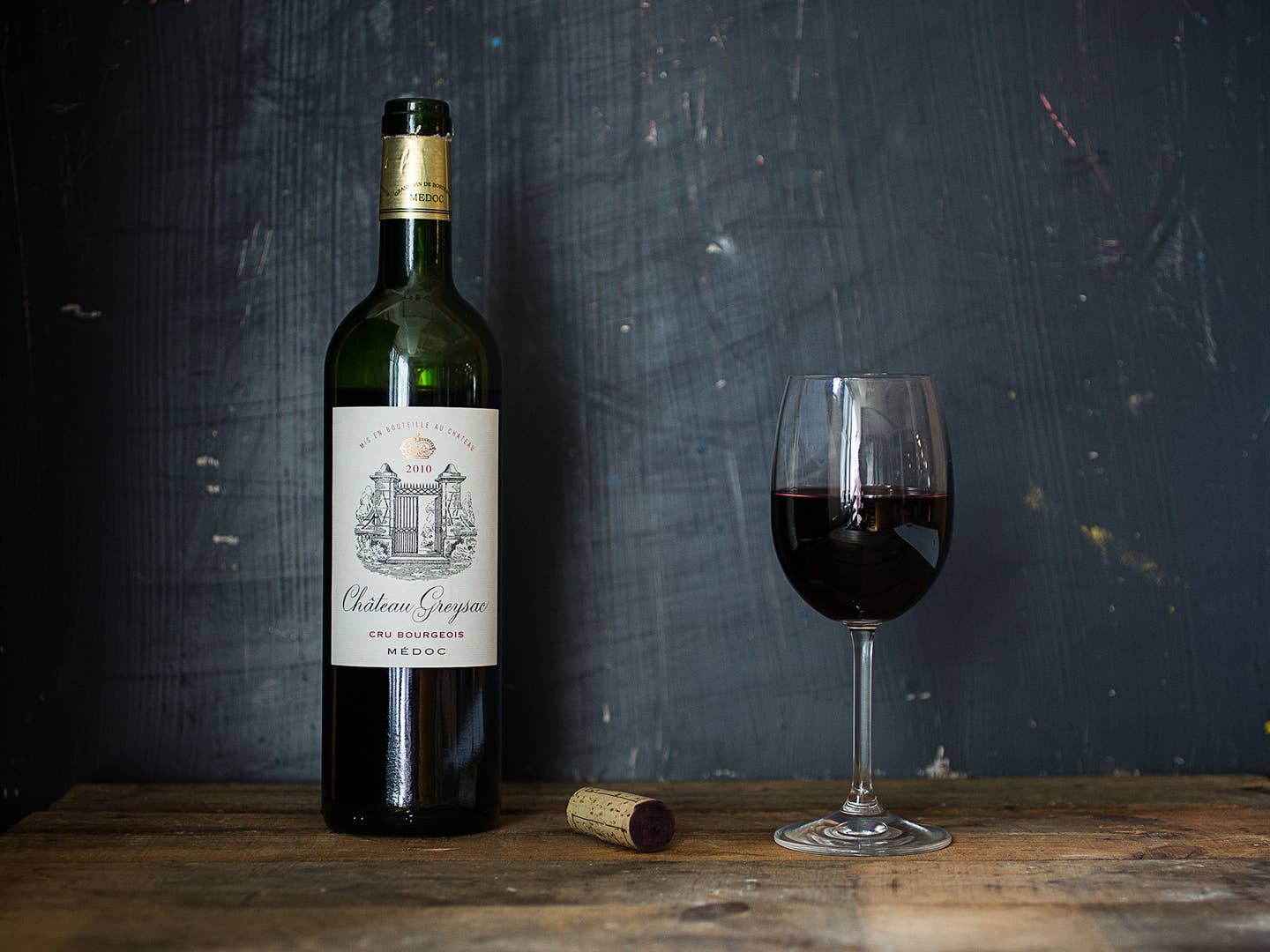 Drinks
Drinking Bordeaux on A Budget: Yes, You Can
How to drink France's quintessential wine without breaking the bank
Bordeaux—the quintessential wine of the quintessential wine country—is kind of like the most popular kid at school: beloved by all, understood by few. The wine that gets so much attention from big-time wine aficionados can perhaps seem unapproachable to the rest of us because of the intimidating number of varietals, vineyards, and vintages that make each bottle unique. Nearly two millennia of consistent production has gradually transformed the namesake region into a powerhouse brand—Bordeaux wines are not only some of the oldest in the world, but also considered to be some of the finest. Especially popular with collectors, the wine that already costs so much to cultivate is limited in supply, and consumers are all too happy to pay top dollar for it. Many seek it not just for its quality, but for its cachet.
And yet, it turns out that one need not sell a firstborn child to procure a decent bottle of Bordeaux. A few weeks ago in New York City at a tasting event called Le Grand Cercle Des Vins de Bordeaux, I tried two phenomenal wines—a 2014 Fleur Cardinale and a 2014 Vray Croix de Gay—both of which were shockingly priced around $35.
Bewildered, I asked my buddy Andrew Harwood—a former Bordeaux winemaker, educator, and founder of NYC Wine Company—how such a price point is possible. Am I merely too inexperienced to realize I was drinking Bordeaux swill? To my pleasant surprise, he explained that there is plenty of great Bordeaux out there for less than $40—or in some cases, even less than $20.
Harwood has plenty of tips for seeking out good, affordable Bordeaux. In addition to investing in younger vintages, he recommends starting with "a good retailer who has tasted, in earnest, the many bottlings, and can vouch for what he or she is shilling."
There are also a number of regions—and estates within those regions—that a Bordeaux fan can consistently rely on. Fans of Cabernet Sauvignon-based blends, which feature fuller tannins, will be best served by wines from the Left Bank. From this region, there is a lot of good value in wines from Medoc or Haut-Medoc. "Land tends to be far less expensive in these zones, which translates into fewer dollars from your wallet," he advises. Meanwhile, those into Merlot-based blends—which often have flavors of blackcurrant, blackberry, and plum, but with a plusher mouthfeel than Cabernet Sauvignon—should look to wines from the Right Bank. Some of the best value in this zone is found in Lalande-de-Pomerol and Fronsac.
Here are Harwood's picks for great bottles of Bordeaux at reasonable prices:
Chateau Potensac ($19 – $30)
Potensac is owned by the Delon family, who also run the famed Château Léoville-Las Cases. From the Medoc, this wine is classic, structured, firm, and built to age. It can mature well for more than ten years in its best vintages.
Le Pavillon de Saint-Jacques ($17 – $25)
From the Lalande-de-Pomerol, this wine is a Merlot-heavy blend (usually over 75% so). Harwood wouldn't go so far as to call it opulent, but it is a touch rounder than the Potensac. Even priced in the low $20's, "this wine is a steal," Harwood says.
Chateau Les Ormes de Pez ($20 - $26)
From St. Estephe, Les Ormes de Pez is in the Left Bank. The wine is similar in profile to the Potensac, but often approachable much earlier (meaning you can easily drink it young). The estate is owned and run by the Cazes family, proprietors of Chateau Lynch-Bages.
Chateau Greysac ($14 – $22)
Chateau Greysac is one of Harwood's all-time favorites, and may typically be found for under $20, which he claims is a benchmark for quality at this price. A predominantly merlot-cabernet blend from the Medoc, Greysac is a soft, round wine, with a bouquet of fresh fruit and spice. It's the perfect Bordeaux for beginners.
Ethan Fixell is a comedian and freelance beer writer from New York City. He is a frequent contributor to Food & Wine, and has previously written for Serious Eats and Draft Magazine.