Recipes
Super-Flaky Buttermilk Biscuits With Honey Butter
Serves

makes 24 biscuits

Cook

1 hour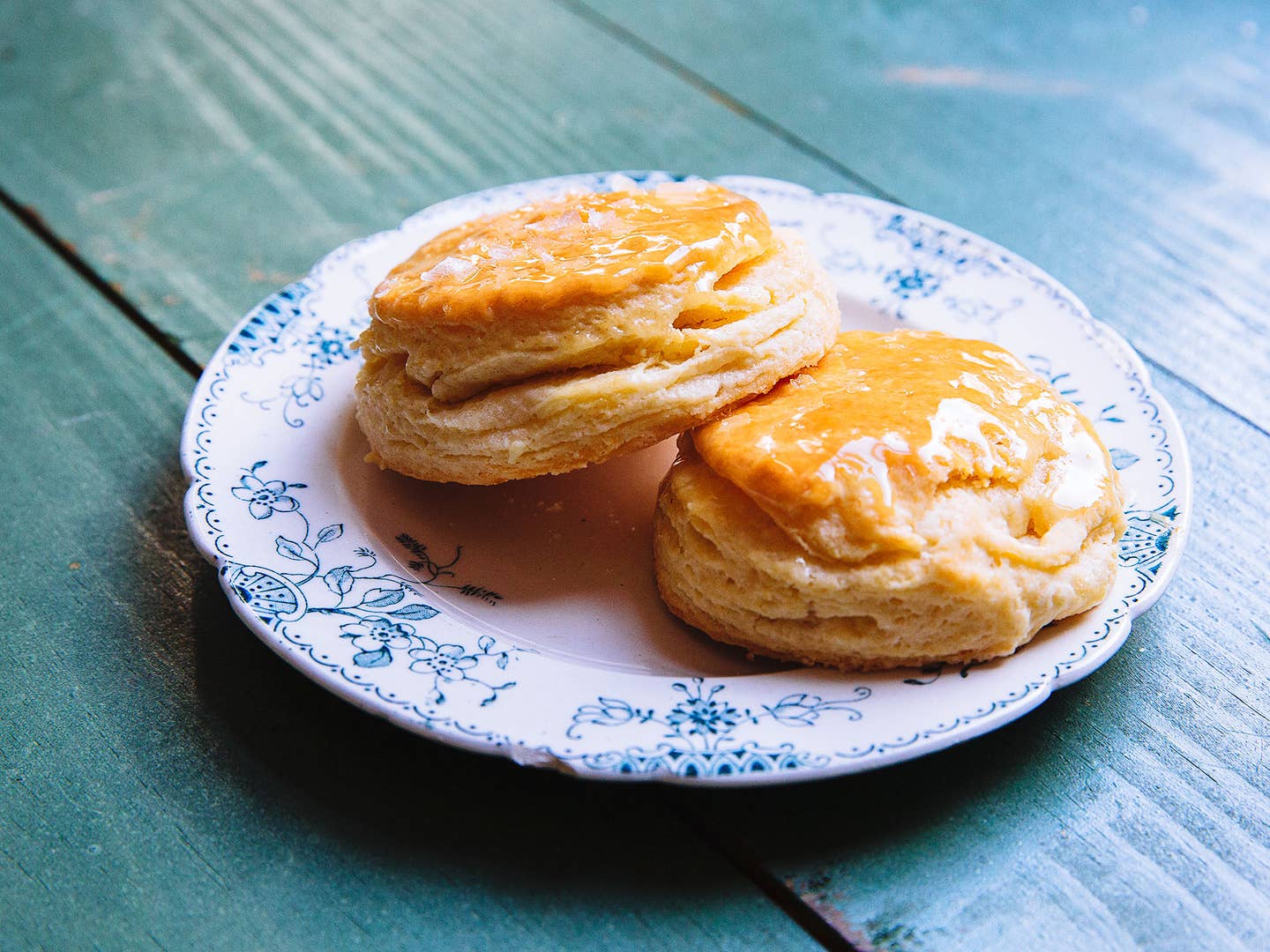 This honey butter-topped biscuit recipe, from Jean-Paul Bourgeois, executive chef at Blue Smoke in New York City, earned first prize in the 2017 Charleston Food & Wine Festival's Battle of the Biscuits. High-quality dairy—and high-fat dairy—are two of chef Bourgeois' tricks to making them extra-special. Look for either high-fat buttermilk or a higher fat, European-style butter, which make for a more delicate, flakier texture.
The secrets of feather-light, ultra-flaky, bathed-in-butter biscuits from chef Jean-Paul Bourgeois of Blue Smoke
Ingredients
For the biscuits:
3 1⁄2 sticks (14 oz.) very cold unsalted butter, plus ½ stick (2 oz.) softened unsalted butter
5 3⁄4 cups (1 lb. 12 oz.) all-purpose flour (such as White Lily Brand), plus 1 ½ cups for rolling and cutting
3 tbsp. plus 1 ½ tsp. sugar
2 tbsp. plus 2 tsp. baking powder
2 3⁄4 tsp. kosher salt
3⁄4 tsp. plus 1/8 tsp. baking soda
2 3⁄4 cups (21 oz.) cold buttermilk, preferably high-fat, shaken before using
For the honey butter:
1⁄3 cup (4 oz.) honey
1 stick (4 oz.) unsalted butter
Flaky sea salt, for garnish
Instructions
Step 1
Cut 3 ½ sticks (14 oz.) of the butter into ¼ inch cubes and refrigerate (butter should be very cold). Leave the remaining ½ stick butter (4 tablespoons) out to soften. Meanwhile, preheat oven to 435°F.
Step 2
Generously butter two large rimmed baking sheets with the softened butter (be sure to use all of it).
Step 3
In a large bowl, whisk the 5 ¾ cups flour, the sugar, baking powder, salt, and baking soda. Using your hands, rub the cold butter into dry ingredients until only several large pieces of butter remain (do not overwork the butter or the biscuits will become tough). Make a well in the flour mixture, then add the buttermilk and gently mix with your hands, scooping into the outer flour walls and pulling up through the buttermilk to incorporate it, until the flour is just barely hydrated and a very shaggy dough begins to form.
Step 4
Generously dust a wide countertop with a 1⁄2 cup of flour. Turn the dough out onto the countertop and press it into a ¾-inch thick rectangle. Dust the top of the rectangle with ¼ cup of flour, then fold the dough onto itself into 3 sections, like a business letter. Flatten the resulting narrow rectangle down and use a rolling pin to roll the dough back out into a ¾-inch thick rectangle. Sprinkle with ¼ cup flour and fold again into thirds. Repeat this process one more time, rolling the dough out a third time to a ¾-inch thick rectangle.
Step 5
Place the remaining ¼ cup of flour in a small bowl. Dip a 3-inch round or square biscuit cutter into the bowl with the flour, then press it into the dough to form a biscuit; remove without twisting the cutter. Repeat, dipping the cutter into the flour between each cut. Press the scraps together to form a ¾-inch thick rectangle (only reuse scraps once). Fold into thirds and roll back out to a ¾-inch thick rectangle and cut more biscuits. Discard the remaining scraps or save for topping cobblers or pot pie.
Step 6
Place the biscuits on the prepared sheet pans, at least 2 inches apart. For the best lift and flakiness, open the oven and quickly transfer the trays into it, without leaving the door open for longer than a few seconds. Bake for 7 minutes, then rotate and bake until evenly light golden brown, another 7-9 minutes.
Step 7
While the biscuits are baking, make the honey butter: In a small pot, cook the honey over medium-high heat until it bubbles furiously and just begins to caramelize at the edge, 6-8 minutes (watch closely as honey can burn quickly). Remove the pan from the heat and immediately whisk in 1 stick of butter. Set aside while the biscuits finish cooking.
Step 8
Remove the biscuits from the oven and immediately brush with honey butter and sprinkle with flaky sea salt.