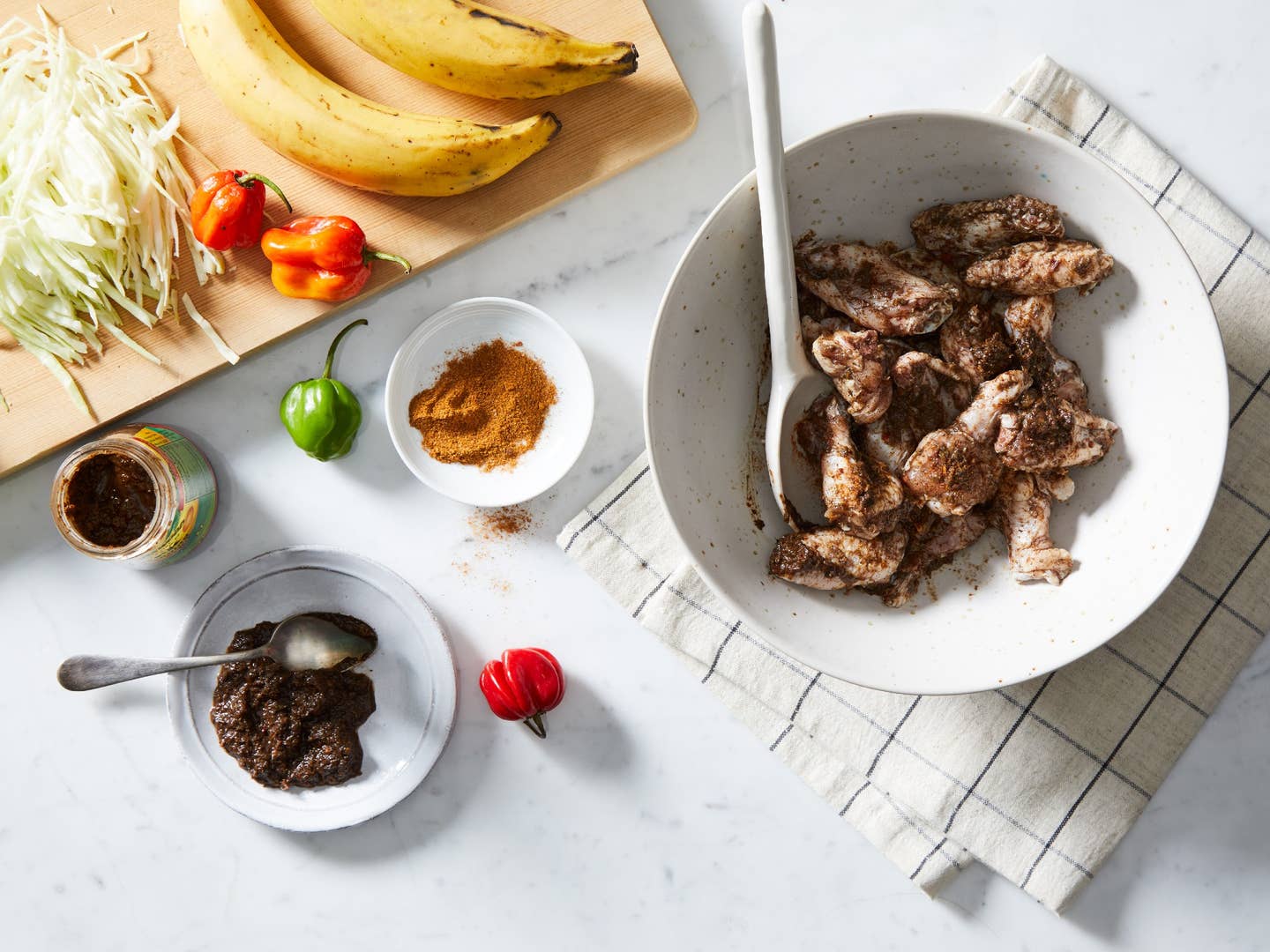 Culture
In the Absence of Key Ingredients, This Iconic Island Recipe Still Shines
Traditional jerk is a revered part of Jamaica's culinary heritage; for homesick Jamaicans living abroad, adaptations of the dish are a lifeline.
For a country with the most Christian churches per square mile, it may seem surprising that Jamaicans also treat jerk as something of a religion. With each bite of chicken, pork, and in some parishes, goat, you're connected with something far bigger than the dish itself and reminded of an important part of the island nation's history. Jerk is peppered with symbolism and each juicy morsel reminds us of the sacrifices that paid for our freedom. It reminds us that the Maroons—West Africans who successfully escaped enslavement and lived in the island's mountainous regions for decades—sustained themselves with slow-smoked wild boar encrusted in foraged indigenous spices. And this cooking process the Maroons invented is, of course, jerk.
Much like the rivalry among American Barbecue pitmasters, there is rivalry in the jerk world too, particularly in Jamaica. Some Jamaican parishes, such as Portland, are especially renowned for their jerk due to their artful spice blends and their use of traditional grilling methods. Fun fact: The most traditional jerk recipes include pepper elder leaves, a medicinal plant the Maroons used to treat upset stomach. Today, Jamaican jerk doesn't use pepper elder as much. However, there's another essential ingredient on which every jerk master depends: pimento. Also known as allspice, the native tree's berries, leaves, and wood are all foundational to the flavor of this revered national dish.
For decades, due to regulations imposed by both the U.S. and Jamaican governments, pimento wood was unavailable in the States. This was part of a decades-long effort to safeguard the plant's existence in Jamaica, where it is integral to the nation's culinary identity. In 2008, Gary Feblowitz and Jodi Schoenauer, co-founders of pimentowood.com, became the "only approved U.S. importer of Jamaican-sourced pimento wood, leaves, and charcoal." However, this year, one of the Jamaican government's greatest fears came to fruition when the wood of the pimento tree was added to the international endangered species list and embargo was reinstated on the ingredient's export. So how is a homesick Jamaican expat supposed to make jerk?
We Jamaicans living abroad have developed hacks for recreating this important taste of home. While these shortcuts may get a side-eye from people back on the island, privileged to have quality jerk within reach, they are a balm for the diaspora. My own recipe takes the core of the chemistry and technique on which jerk is based to create a moreish dish that is a meal, an antidote, and a connection.
I grew up in Jamaica's capital, Kingston, and when I moved to Toronto for culinary school in 2005, I quickly learned how to make do and create dishes as close as possible to the jerk I missed. Luckily, I was not alone. Jamaican chefs the world over have a ton of time-tested and approved hacks for making jerk without pimento leaves and wood. Some include premade jerk marinades and seasonings; others include slow cooking first, then finishing on a grill. I've tried many methods. However, in my estimation, the one that works best (which my father, who hails from Portland—Jamaica's jerk capital—enjoys eating) involves using a slow cooker or Instant Pot, both wet and dry jerk seasonings, and a couple drops of liquid smoke to approximate the flavor gained by the trademark slow-smoking process.
I prefer to use the mild version of Walkerswood Traditional Jerk Seasoning paste, (which is far from mild); it's delicious and redolent with Jamaican pimento berries. I also like to add a scoop of Grace Jamaican Dried Jerk Seasoning. Both brands are widely available in the U.S. Please, do not use jerk products that aren't made by a Jamaican company. It's not just about appropriation, but also, many don't use crucial ingredients, such as Scotch bonnet peppers and pimento berries, and taste more or less like sadness and the rubber atop a No. 2 pencil. I have spoken.
I like to use chicken wings for my recipe, though thighs and drumsticks work well, too. Don't yield to the temptation to add salt; both the wet and dry seasonings contain plenty. Massage the ingredients into the meat and let it marinate for an hour or so. The slow cooker eliminates the need for lengthy overnight marination.
Once you're ready, transfer the wings to the cooker and let them do their thing on low heat for a few hours. The cook time will vary a bit depending on the size of your wings and the make and model of your slow cooker, so keep an eye on them. You want the meat to be juicy but not quite falling off the bone.
After the wings are cooked, I like to transfer them to a hot grill or pop them under the broiler to char. This is the key to nailing jerk chicken's trademark crispy bits, a hallmark of the best-executed versions of the dish, like barbecue brisket's crispy burnt ends. Over the summer, my Jamaican friend in Houston, whose mom is a chef, showed me another hack his mom uses: finishing the slow-cooked jerk chicken in an air fryer. I was dubious, but it worked!
In 2018, when the James Beard Foundation launched its Savoring Jamaica dinner series, the organizers called on Kingston chef and revered barbecue and grilling master Gariel Ferguson to participate. Jerk and barbecue share many similarities; in the same way pitmasters strive to be the best at their craft, Jamaican-born chefs spend years mastering their own jerk recipes. This is not done out of duty, but rather out of regional and national pride. As one of the island's oldest and most important aspects of its culinary heritage, jerk is something its people fervently protect.
When I asked Ferguson to explain why the technique is significant to our people, his response was straightforward. "Jerk is freedom manifested in food."