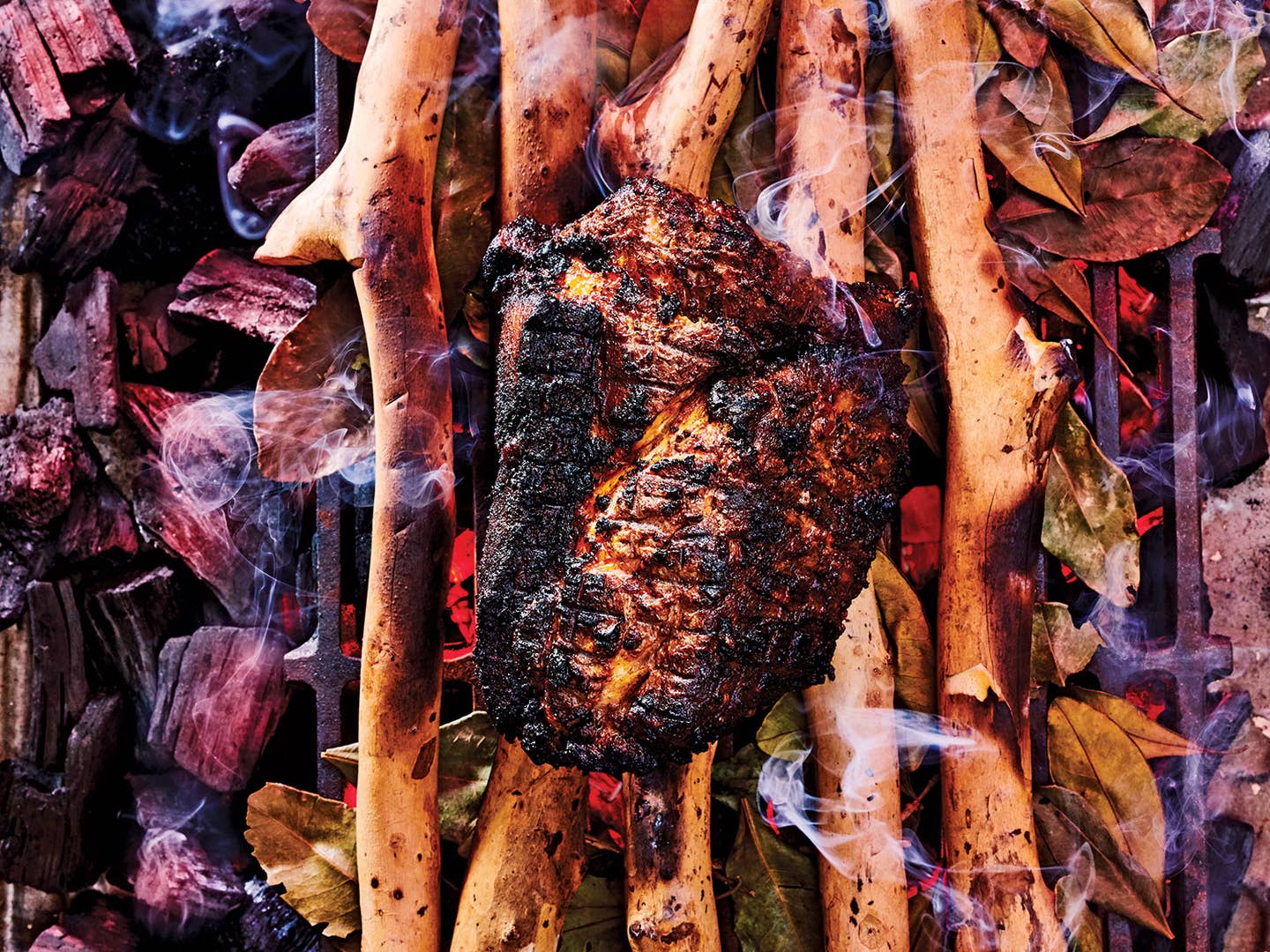 Techniques
Master Jamaican Jerk with This Definitive Guide
Learn the best way to get the true jerk experience, from the bold marinade to the smoky, flame-grilled cooking style
Few Caribbean dishes are as well-traveled, or as beloved, as Jamaican jerk, a humble meal of bone-in chicken or pork parts doused in a blend of spices and hot peppers, and cooked slowly over smoldering pimento wood branches. Peppered across the island, roadside jerk stands entice passersby with wafts of fragrant smoke rising from makeshift grills encased in sheets of tin siding. Supple, juicy, and crispy in spots where the meat has been charred by the fire, jerk is an integral part of Jamaica's economy too, with restaurants like the perpetually busy Scotchies or the relaxed Pepper's Jerk Center serving tourists and locals year-round. It's typically eaten with your hands alongside fried cornmeal "festivals" (dumplings), scorching-­hot Scotch bonnet pepper sauce, and cold beer.
Although jerk comes across as a leisurely beach food, it's actually a dish of resistance, born out of necessity and circumstance. The origins can be traced to the Maroons of the 17th century, a tribe of enslaved Africans who fled into the mountains of Jamaica's eastern Portland parish to escape Spanish-owned plantations. Here, the Maroons barbecued whole wild hogs, burying the meat in the earth to smother the smoke and keep the Spanish and British forces from discovering them. "They had to live off the land and find ways to survive," explains Suzanne Rousseau, co-­author, with her sister Michelle, of Provisions: The Roots of Caribbean Cooking.
Thanks to the popularity of bottled jerk seasonings such as Walkerswood and Grace brands, the flavors of jerk have become one of Jamaica's most famous exports worldwide. But Suzanne believes the roots of the dish have been lost. "Jerk is not a seasoning; it's a type of cooking," Michelle says. "It's like whole-hog barbecue [in the American South]." The singular combination of ingredients found on the island, and the technique of smoking with the leaves and branches of the pimento tree (also known as the allspice tree), are what make "jerking" so deeply connected to the island—so much so that it's become a part of Jamaicans' shared heritage. As Michelle says, "It's truly tied to our identity."
Jamaica-born chef Cheryl Smith—who serves jerk at her Brooklyn, New York, restaurant, Cheryl's Global Soul—says that even if it's not grilled over a smoldering pile of pimento logs, her version is still a tribute to the dish's history, and to the people of the island, past and present. "It's the ingenuity of Jamaicans," she says, "who figured out how to make something out of nothing. You've got some meat, some vegetables, some wood—and you've got a way to make a living."
A common misconception about jerk is that it refers to the blend of herbs and spices the meat is marinated in, but it's the low-and-slow smoking method that the name actually refers to. Nonetheless, the marinade—a fragrant mixture of Jamaican Scotch bonnet peppers, ginger, garlic, herbs, and spices—is a necessary component. While exact recipes vary among home cooks, some adding more chiles, others leaning more heavily toward fresh ginger and herbs, it's always a combination of ingredients that reflects the island's history.
"Jerk is about balancing all those flavors and ingredients," says Jamaica-born chef Andre Fowles of Miss Lily's, a restaurant with locations in New York City, Dubai, and Negril, Jamaica. The recipe can be broken down into three basic components, which work together to create a dynamic, harmonious sauce.
The most pronounced element in a jerk marinade (besides the heat) is typically allspice, the round, firm berries of the indigenous pimento tree. Once pulverized, they release a tart, musky aroma with a deeply savory quality. Other spices typically include cinnamon, nutmeg, and lots of coriander, which brighten the overall result. Pungent fresh aromatics, such as ginger, garlic, scallions, and thyme, are ground into the mix to add body and bite.
Jerk's burn comes from Scotch bonnet chiles, a variety of brightly colored hot pepper first farmed by the Taíno people, the original inhabitants of Jamaica and the Caribbean. In addition to their intense heat, Scotch bonnets are floral and fruity, qualities which are often accented in local condiments by the addition of tropical fruits. Use gloves when preparing them, and remove the seeds—the chiles pack enough punch without them.
Some jerk marinade recipes call for bottled browning seasoning, a combination of dark food coloring and concentrated vegetable flavors that Jamaican home cooks and restaurant chefs also use to intensify the umami of stewed oxtails or stewed chicken. Some cooks, like the Rousseau sisters and Cheryl Smith, use naturally caramel-colored, strongly flavored ingredients such as black coffee, blackstrap molasses, Jamaican rum, or soy sauce to build complexity and deepen color.
To grill or not to grill? Slowly smoking meat using hot coals with pimento branches and leaves is the best way to get the true jerk experience, but you can also get satisfying flavor from a high-heat oven roast. In either case, serve the chicken or pork with lime wedges and some extra marinade on the side.
"Good jerk has slightly dry, dark, crusty edges from the heat," Suzanne Rousseau says. This, along with the influence of pimento wood and leaf smoke, is the key to jerked meat that tastes like it does in Jamaica. The pimento tree is native to Jamaica, and its hardwood branches, baylike leaves, and dark, wrinkled berries are all important elements in the dish's history and evolution. Named by Spanish settlers in the 1500s after pimienta, meaning "pepper," the tree's peppercorn-like berries are known outside the Caribbean as allspice, which features prominently in most jerk marinades.
In Jamaica, jerk cooks will layer soaked strips of the hard, slow-burning wood—and occasionally the aromatic leaves—over their grill grates above burning coals before placing whole marinated pork shoulder or quartered chickens on top. The hot smoke gradually imparts the tree's distinct, nutty smoke and oils into the meat as it cooks, adding another savory layer rooted in the Jamaican soil. A good marinade will take you far, but for a proper home jerk, Jamaican pimento wood branches, leaves, and charcoal are available online at Pimento Wood.
If grilling is not an option, jerk can be cooked indoors using high oven heat. Since you won't be getting any smoke, chef Cheryl Smith recommends toasting the whole spices in a dry, heavy skillet until fragrant before adding them to the marinade, lending the finished sauce an additional layer of complexity.