Recipes
Jerk Chicken Wings
A Jamaican expat's indoor hack for the classic Caribbean recipe.
Serves

serves 2

Cook

4 hours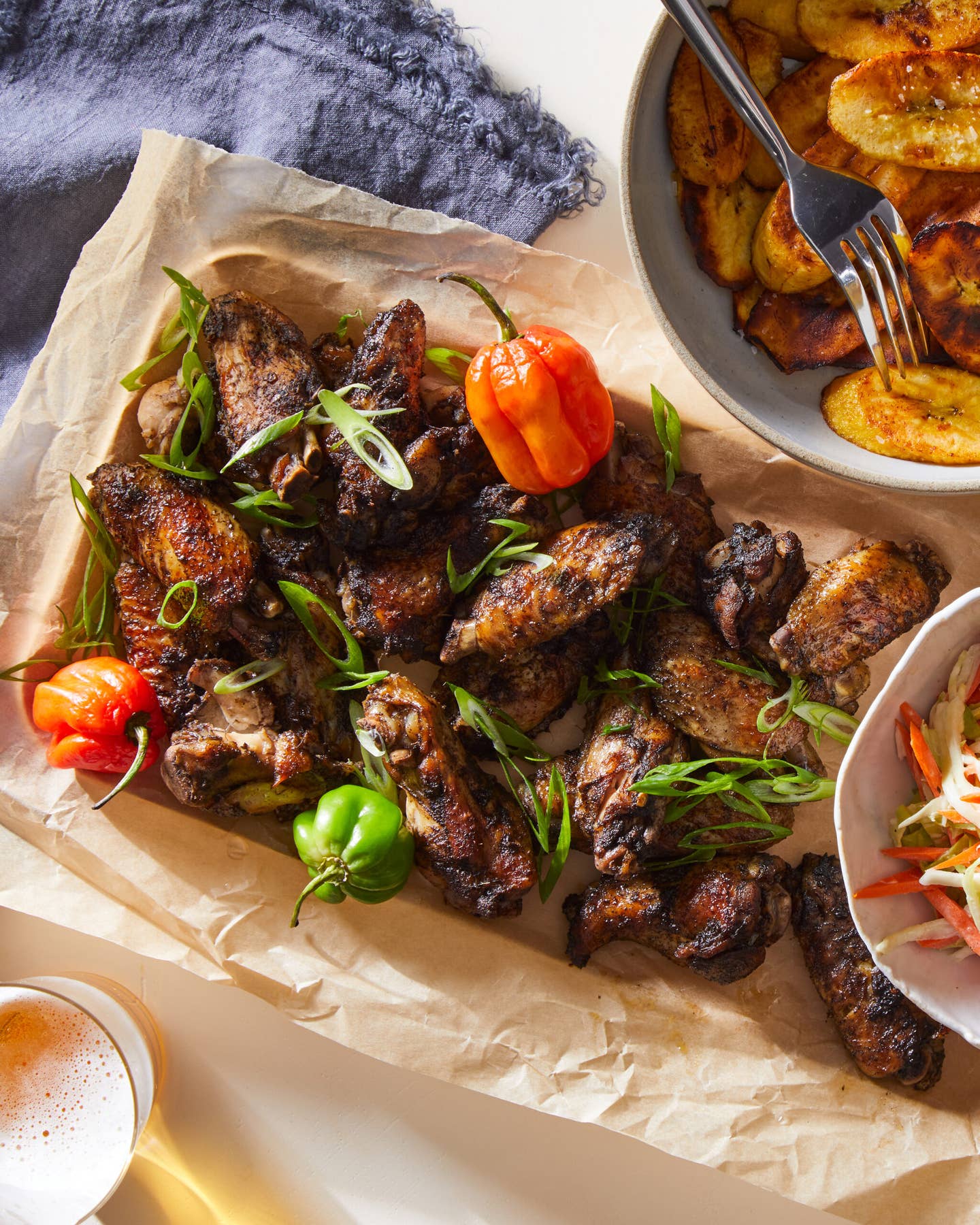 The slow cooker method is a fool-proof way to make juicy jerk chicken that holds onto all the seasoning and flavor of the classic Jamaican recipe. It also leaves you free to prepare traditional accompaniments like fried plantains and coleslaw while the wings tenderly cook.
Either a broiler or an air fryer will allow you to quickly crisp and char the skin without lighting a grill, making this recipe perfect for apartment-dwelling cooks and others without access to an outdoor cooking setup.
Depending on what type of slow cooker you use and the size of the wings, the cooking time will vary. If using a traditional slow cooker, you'll want to use the warm setting; in an Instant Pot or other multicooker, stick to low. Check the wings for doneness at the 3 hour mark and every 15 to 20 minutes after that for tender meat that's cooked through but not yet falling off the bone. Look for jerk seasonings and liquid smoke at your local Caribbean market, or order them online.
Ingredients
1 lb. chicken wings (drums and flats)
2 tbsp. Walkerswood jerk paste
1 tbsp. Grace Jamaican jerk seasoning
1 tsp. liquid smoke
Coleslaw and fried plantains, for serving (optional)
Instructions
Step 1
To a large bowl, add the chicken, jerk paste, jerk seasoning, and liquid smoke and toss to evenly coat the wings. Cover and transfer to the fridge to marinate for 1 hour.
Step 2
To the bowl of a slow cooker or multicooker, add the wings and any accumulated juices and ½ cup of water. Cover and cook on medium setting (or low if using a multicooker) and cook until the chicken is very tender, but not falling off the bone, 3–4 hours.
Step 3
Position an oven rack on the top shelf and preheat the broiler to high. Transfer the wings in an even layer to a large, rimmed baking sheet, then broil until the meat begins to char on one side, about 5 minutes. Using tongs, flip the wings and continue cooking to char the opposite side, about 5 minutes more. (Alternatively, transfer the wings to the basket of an Air Fryer and cook at 400°F for about 6 minutes per side.)
Step 4
Serve hot with coleslaw and fried plantains, if desired.