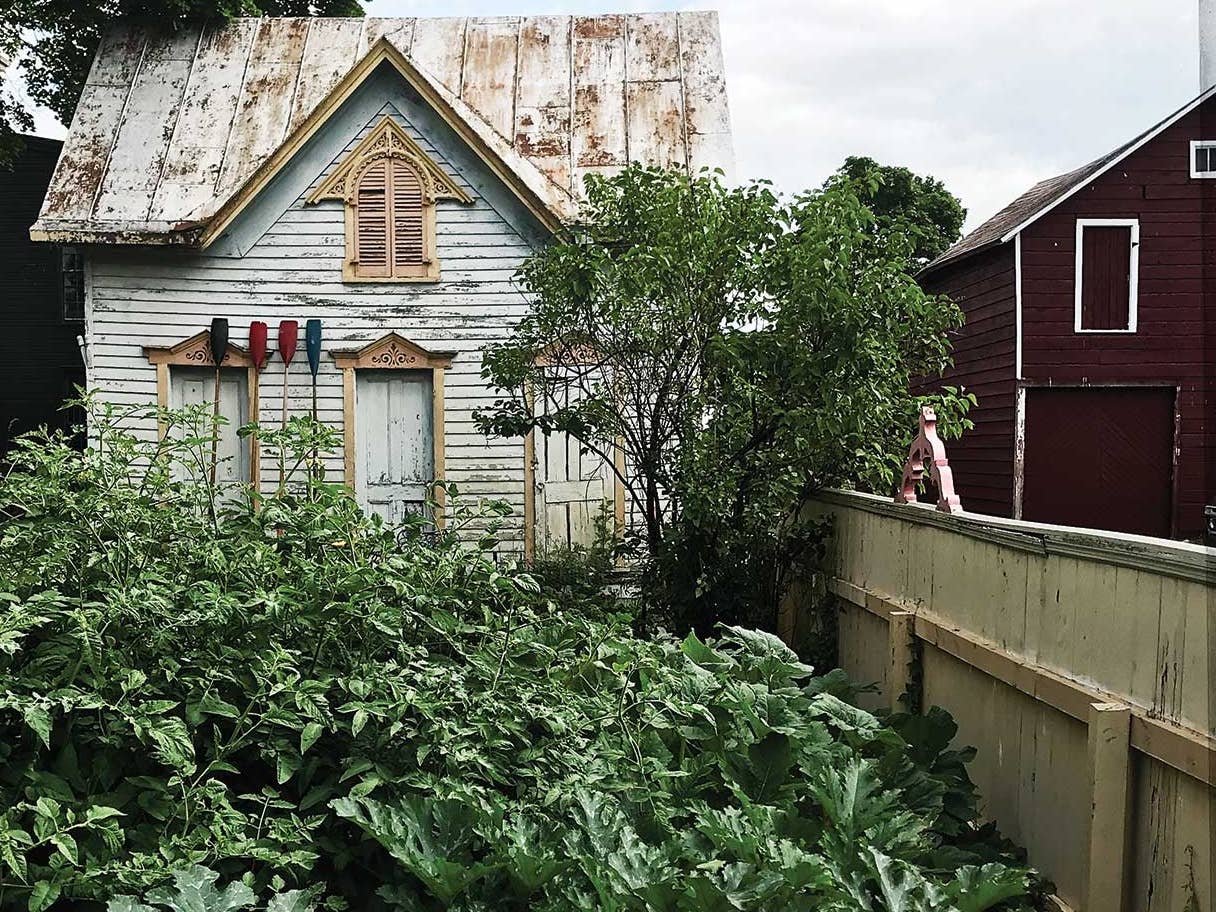 Culture
A Not-So-Secret Garden
In Athens, New York, Saveur-alumnae, Dana Bowen's ambitious kitchen garden feeds the neighborhood.
The kind citizens of Athens, New York, (population 1,603) thought I was crazy when, two months into quarantining here, I dug up my ­entire backyard to plant a vegetable garden. "The groundhogs will get it," said one neighbor, matter-of-factly. "You have invasive knotweed," warned another, as my teenage son tilled. (Google confirmed that guy was right.)
But what did I have to lose? Everyone already believed my husband and I were bonkers Brooklynites for buying the big pink-and-­yellow Victorian pile that sat vacant for years in the center of the village. The house may not have had heat or a water-­resistant roof, but it did offer views of the Hudson River, along with that yard, as sun-flooded as it was neglected. If vegetables grew as profusely as the weeds had, I'd be in business.
If ever there were a time to plant a neo-victory garden, it was now. I had been cooking all of my family's daily meals, and in the weeks between my monumental Price Chopper shops, our diet grew increasingly beige—depressing for most people, but downright demoralizing for someone like me, who develops recipes and teaches cooking for a living. So, when I arrived at a local farm to buy my seedlings, it felt like Christmas morning. Okra—hell, yes! Tomatillos, shishitos, and stripy Japanese eggplant—why not? Five different kales and all the heirloom ­tomatoes? Bring. Them. On.
"Have you gardened before?" was the question most neighbors lobbed at me from over the fence. Did I look like I was doing something wrong? Probably. But after decades of growing vegetables, I know that I garden the way I cook: always more of an inspired freestyle than a mapped-out plan. Raised beds and manicured paths are not my jam. I like to put things in the ground and see what happens.
Gardens are the kind of surprises you can count on. Sure enough, after a few weeks of watering and groundhog-deterring, this one was ready to burst. The spinach, lettuce, and chard were ready, and the squash plants were man-spreading their leaves over the broccoli, their yellow blossoms just beginning to unfurl.
"The Italian ladies in town used to fry those up," a retired schoolteacher told me one morning. I asked if I could cut some for him. "Nah, but I'll take a zucchini before they get too big."
Turns out, everybody will take a zucchini and tell you what they like to do with it. Two women renovating a house around the corner took one and baked it with breadcrumbs, herbs, and parmesan. The mayor took one and grilled it. A young mom with a baby on her hip took one, as well as a big bag of kale. "I've never seen a garden come up this quick," she said. "Did you plant magic seeds?"
There is, indeed, magic in the way ­gardens grow. The tomatillos with their poofy, lantern-looking husks that gradually fill with fruit. The celery leaves that become stalks. I'm still not sure how the Brussels will sprout, but I'm looking forward to finding out. Early mornings, I'd spend a good hour before the foot traffic commenced, staking up tomatoes and corralling fence-climbing cucumbers, awed by it all.
I was giving away more than my family was consuming, and still couldn't keep up with the bounty. So I began putting bags of vegetables on my picket fence, posting on Instagram about the produce ripe for the taking. "I've never cooked kale before," a young dog walker said as he grabbed one. I suggested sautéing it with garlic and olive or sesame oil. He returned the next day with his empty bag for a refill.
I started writing shorthand ­recipes on the bags: "Mixed greens for salad lovers" or "Turn me into a squash casserole." When the fence bags ran out, my phone would ding with Instagram DMs requesting curbside delivery. "Just kale, no zucchini," a regular wrote. On a single Sunday in July, I distributed 19 bags.
This wasn't a one-way street: My "­customers" brought me backyard eggs, homemade yogurt, pickled peppers. As the season progressed, neighbors lingered longer at the garden gate, and our chitchat turned into real conversations. We talked about our worries and uncertainties, our privilege and our rage. A few even came up to the porch for a socially distanced glass of wine. Maybe they were merely desperate for human connection, four, five, six months into COVID-19. Or maybe my new ­community was actually warming up to me.