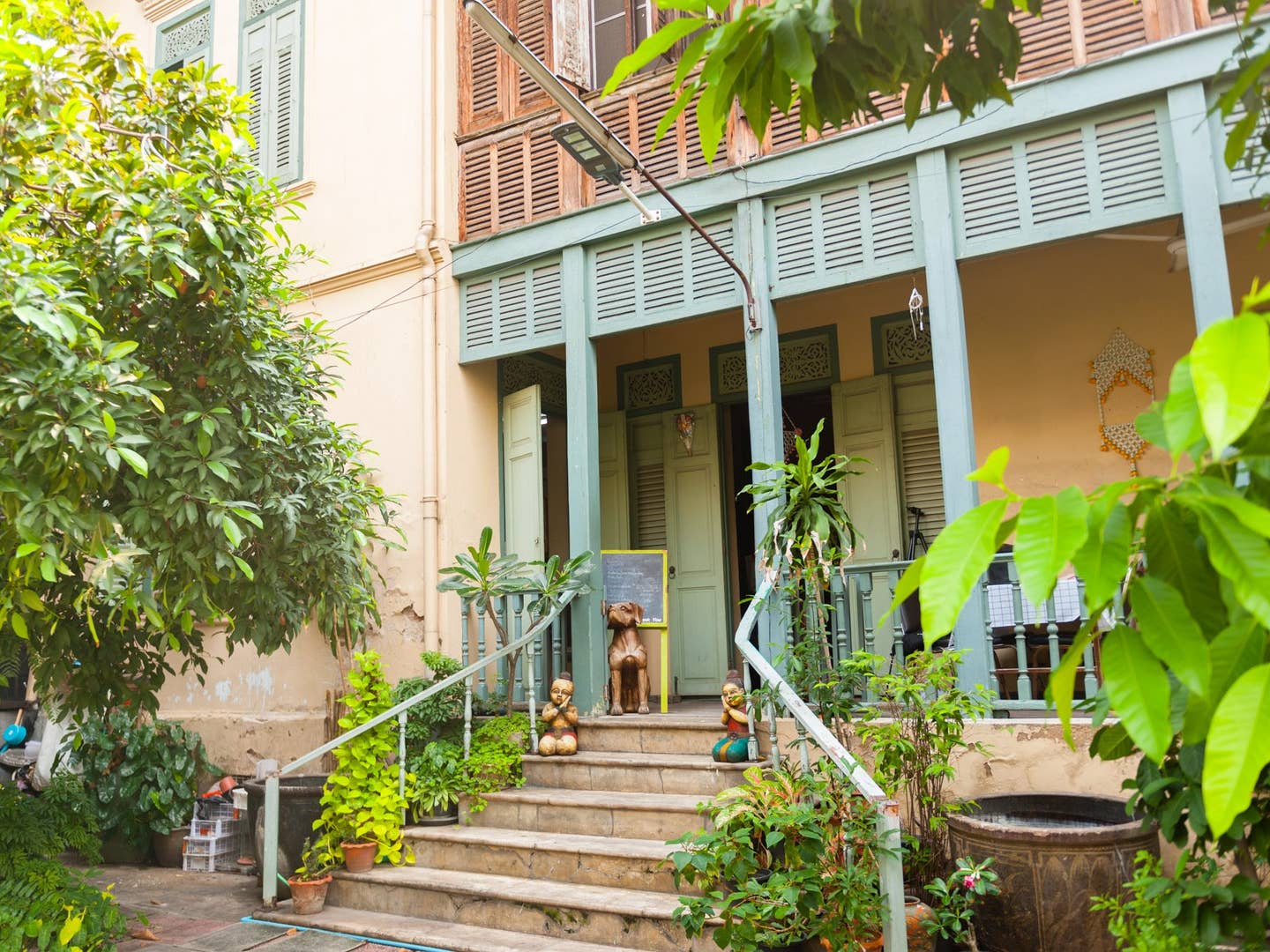 Travel
This Under-the-Radar Bangkok Classic Is Worth the Trip to Thailand
(Or to your local Southeast Asian grocer.)
Most people who visit Bangkok, where I've lived for more than 20 years, make a beeline for the pad Thai. And understandably so. The dish has strong links to Thailand's bustling capital city, and it's undeniably delicious. But when I have friends or family visiting, I prefer to steer them in the direction of a lesser-known local specialty: khao khluk kapi.
While pad Thai was invented in Thailand, it has palpable Chinese influences; khao khluk kapi, on the other hand, could be considered even more representative of Thai cuisine. For starters, it's based around the Southeast Asian nation's staple carb: rice. The long grains are seasoned and topped with indigenous ingredients that speak to the region's bright and diverse flavors, aromas, and textures, from sweet braised pork to tart green mango to bracing raw shallot to crispy dried shrimp.
To offer them a truly special version of the dish, I like to bring visitors to eat khao khluk kapi at the exceptional Baan Varnakovida. Housed in a 130-year-old mansion in Ko Ratanakosin—one of Bangkok's oldest districts—few culinary experiences are more emblematic of the city.
The restaurant is run by cook and owner Apavinee Indaransi, who goes by the name of Taew. Taew grew up in the crumbling, almost fairytale-like house, as did her parents and their parents before them. She and her aunt, who passed away last year at the age of 97, ran a catering business out of the house, and a decade or so ago, succumbing to popular demand, the pair decided to set up a few tables on the balcony and in the living room to accommodate diners. Taew did very little else to make her home more "restaurant-like," and while perusing the brief menu of old-school Bangkok-style dishes among the family photos, antique furniture, and knick-knacks, it's impossible to forget that you really are dining in somebody's home.
"The recipe comes from my aunt," she tells me, when I ask about the origins of her khao khluk kapi. "It's an old Thai recipe. There are so many steps to making it. Back then, people had a lot of time! And they were very meticulous about cooking."
Indeed, this dish brings together several elements, some of which involve the straightforward preparation of raw fruit or vegetables, while others are more nuanced. Below are the most important components to consider when making khao khluk kapi at home.
Rice is the backbone of this dish, and while cooking it may seem simple, successful Thai-style rice hinges on a few important elements.
First, the grains themselves: Seek out the highest quality long-grain Thai rice you can get your hands on. Often, the luxe and fragrant "jasmine" variety is the only option available outside of Thailand, and that's fine.
The second important element in cooking rice is hydration. If you're buying rice outside of Thailand, you probably only have access to "old" rice, that is, rice that may have been harvested a few years ago. These grains contain less moisture, which means you'll have to compensate by adding a lot of water. For this "old" rice, you're most likely going to want to start at a 1:1 ratio of rice and water, perhaps boosting to as much as 1:1½. Experiment, noting the particular rice you have access to, and tweak your ratio from there.
The third factor to consider is your cooking vessel. For this recipe, I've suggested cooking the rice in a small pot, but if you plan to cook rice frequently, consider investing in an electric rice cooker. Nearly every family in Bangkok uses one, and justifiably: these appliances work really well, every single time. No waiting for that initial boil or fiddling with timers; simply push a button and let the machine do all the work while you prepare the rest of your meal.
The full name of the dish, khao khluk kapi, can be translated as "rice tossed with shrimp paste." The eponymous kapi is not only a headlining ingredient, it's also an important staple in the central Thai kitchen. Despite its common English translation, kapi is traditionally not made from shrimp at all, but rather from krill, tiny crustaceans that are dried, fermented, and pounded to a pungent, salty mixture. It's frequently incorporated into spice and herb pastes—the foundation of Thai-style curries and other dishes—to provide both body and an unmistakable savoriness, and is often used as a seasoning in a variety of other regional dishes. 
"Elsewhere, when making khao khluk kapi, people just fry the rice with plain shrimp paste," Taew tells me, "but here, we cook the kapi with garlic and minced pork, making it richer and more fragrant, and covering up any unpleasant aromas."
Taew starts by frying minced garlic in lard until golden, before adding the pork and a high-quality shrimp paste from the Gulf of Thailand. She then adds water and simmers the mixture down to the consistency of a thick sauce. It should taste just a bit brackish—"but not too much," she cautions, explaining that the dish's other intensely flavorful accompaniments serve to counter the ingredient's characteristic saline funk.
While the seasoned rice forms the backbone of khao khluk kapi, it's no exaggeration to say that the element of the dish most diners look forward to is the muu waan—literally "sweet pork." To prepare this component, Taew pounds cilantro roots and garlic to a pulp, then fries them in lard until fragrant. She then adds a generous scoop of coconut palm sugar. "You want the sugar to burn," she explains. "It's a bit like a caramel."
Cubes of fatty pork collar go in next, along with Thai black soy sauce and water; then, the mixture is left to simmer until the pork is meltingly tender, its cooking liquid reduced to rich and syrupy sauce. While the sweet pork is bubbling, Taew explains that the meat can be prepared well ahead of time, adding, "it's even tastier if you make it in advance and leave it overnight."
Because cooks in Bangkok and elsewhere in central Thailand often strive to include a variety of flavors, textures, aromas, and colors in a single dish, khao khluk kapi doesn't end at savory rice and a sweet braised pork. Rather, Taew and other cooks in Thailand serve the dish with an assortment of toppings including punchy raw shallots; soft and sunny strips of omelet; crunchy fried dried shrimp; fresh chiles; lime juice; and tangy green mango.
"You have to use tart mangoes," Taew explains, calling my attention to the unripe fruit. "They add a sour flavor to the dish." She's also particular about how she cuts this particular ingredient, using a technique borrowed from papaya salad vendors: After peeling a mango, she makes a series of shallow, lengthwise incisions with her knife, then shaves down along the surface of the crunchy fruit, resulting in thin, irregular strands. This step requires particular precision, and a sharp knife. "Some people use a tool to grate the mangoes," she explains, "but it comes out too long, too thick. I prefer to do it by hand."