Recipes
Andy Ricker's Pad Thai with Pork and Shrimp
Serves

serves 2

Cook

1 hour 10 minutes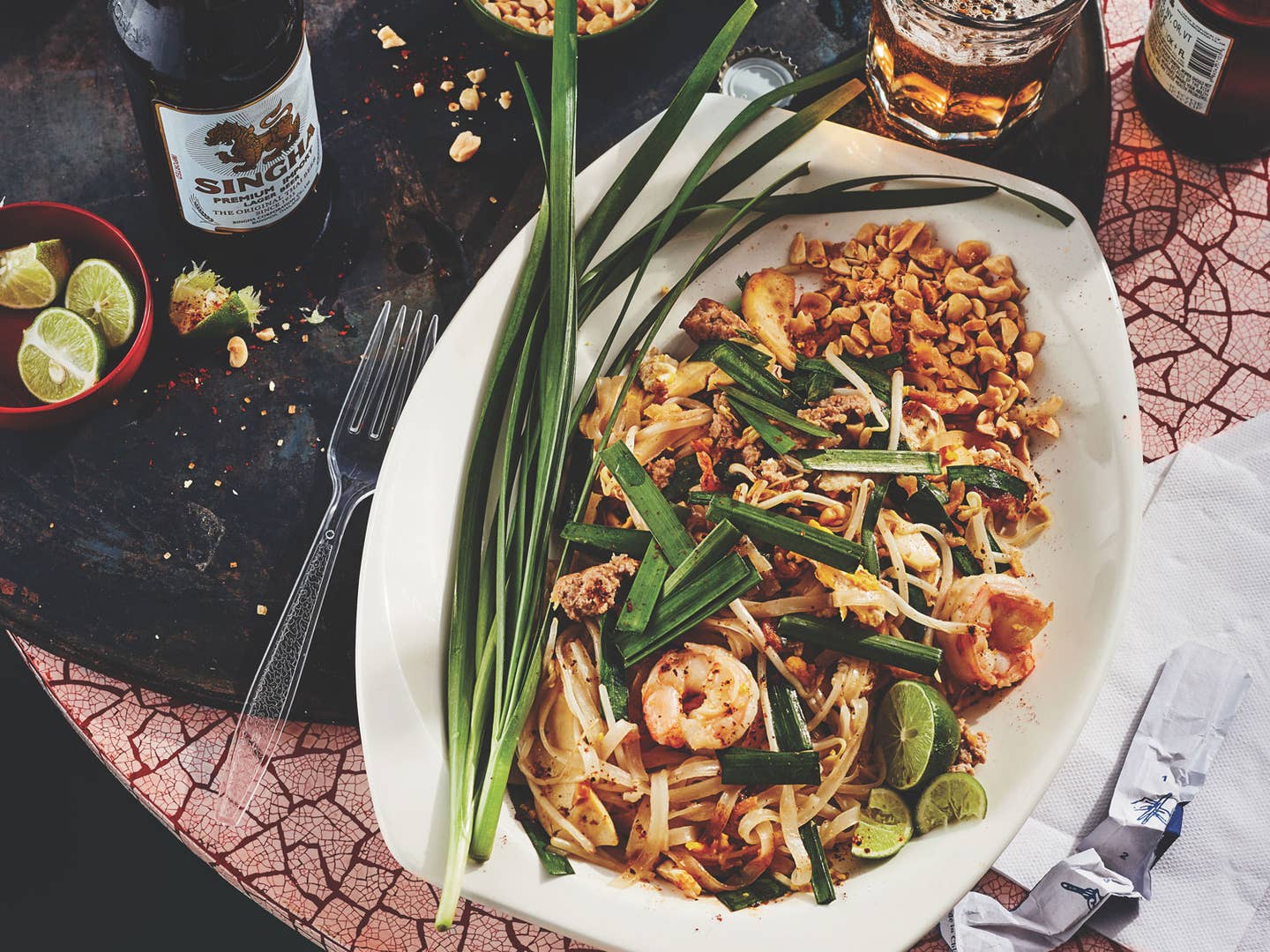 Maximizing the ingredients' contact with the wok is essential, so chef Andy Ricker advises against doubling this recipe, which is adapted from his book with writer JJ Goode, Pok Pok Noodles. If you are cooking for a group, take a cue from Thai noodle vendors and batch out however many servings you'd like to prepare in advance. The sauce recipe here makes enough for 6 batches (12 servings total).
Ingredients
For the sauce and stir-fry
1 cup Thai Tamarind Water
3⁄4 cup Palm Sugar Syrup
1⁄2 cup Thai fish sauce, plus more for serving
2 cups (4 oz.) wide sen lek (semi-dried, flat rice noodles)
1 Tbsp. plus 1 tsp. medium dried shrimp
2 Tbsp. lard or canola oil
4 medium fresh shrimp (2 oz.), peeled and deveined
3 Tbsp. (11/2 oz.) ground pork
1 large egg, at room temperature
1⁄4 cup unflavored pressed (extra-firm) tofu (11/4 oz.), sliced 1/4-inch thick
2 Tbsp. shredded Thai salted radish, soaked in cold water for 10 minutes, rinsed, and drained well
1 cup lightly packed soybean sprouts, plus more for serving
1⁄4 cup fresh garlic chives, sliced into 11/2-inch lengths, plus more for topping
1 Tbsp. chopped roasted, unsalted peanuts, plus more for topping
For serving
Lime wedges or halved key limes
Fresh banana blossoms, very thinly sliced (optional)
Raw cane sugar
Instructions
Step 1
Make the sauce: In a small bowl, add the tamarind water, the prepared syrup, and the fish sauce, and stir well to combine. (Cover and refrigerate leftovers for up to 3 months.)
Step 2
Make the stir-fry: Using kitchen shears, snip the noodles into 8-inch pieces. In a medium bowl, add the cut noodles and enough lukewarm water to cover them by 1 inch. Set aside to soak until very pliable, about 30 minutes. Drain, discarding the liquid, and set the noodles by the stove.
Step 3
In a small bowl, add the dried shrimp and enough cold water to cover them by 1 inch. Let soak for 10 minutes, then drain, briefly rinse, and pat dry.
Step 4
In a flat-bottomed wok or small, dry skillet over medium heat, add the rehydrated dried shrimp and cook, stirring frequently, until they are slightly crispy, about 10 minutes. Transfer to a bowl, and let cool.
Step 5
Return the wok to high heat (or place a heavy, well-seasoned 12-inch skillet over medium-high heat), add the lard or oil, and swirl to coat the inner surface and sides. Once smoking, add the fresh shrimp and pork, and cook, using a wok spatula or large wooden spoon to continuously stir and break up the pork, for about 15 seconds. Push the shrimp and pork to one side of the wok, then crack the egg into the empty side. (The egg white will bubble and puff.) Lower the heat to medium, and cook until the edges of the whites are lightly golden and crispy, about 30 seconds. Add the tofu, radish, and toasted dried shrimp to an empty area of the wok. Use the wok spatula to flip the egg (it's okay if the yolk breaks) and cook, without stirring, for 1 minute. Use the spatula to break the egg into several rough pieces, then stir everything together vigorously and continuously for 1 minute more. Add the noodles on top of the ingredients in the wok and cook, without stirring, for 45 seconds. (The moisture clinging to the noodles will steam up dramatically.) Vigorously stir everything together, then add ¼ cup plus 2 tablespoons of the prepared sauce, and stir again. Add the bean sprouts and cook, stirring occasionally, until the noodles are fully tender and have absorbed the sauce, and the bean sprouts are tender but still crunchy, 1–1½ minutes. Add the ¼ cup garlic chives and 1 tablespoon peanuts, and stir fry briefly.
Step 6
Transfer the pad thai to a serving platter. Sprinkle with a large pinch each of additional garlic chives and peanuts, and serve. On the side, place whole garlic chives or banana blossoms if using, and offer small dishes (khruang phrung) of toasted chile powder, fish sauce, and raw cane sugar for guests to customize their plates.