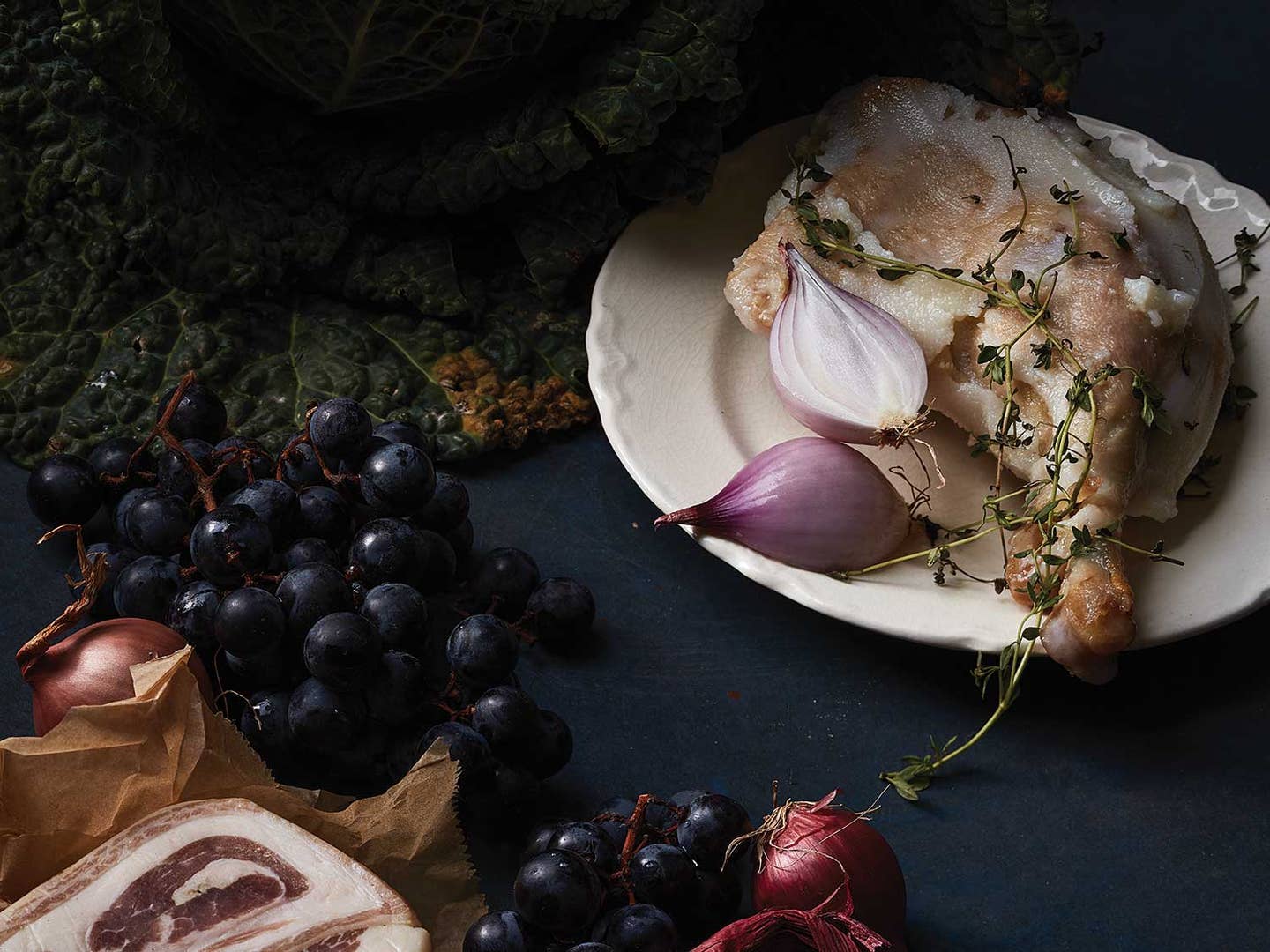 Culture
In French Gascony, Duck Fat Is King
Notes from a kitchen in Gascony, where no dish is complete without a healthy heap of duck fat
The seasons roll across the patchwork fields of corn in Gascony, as spring green shoots are followed by swaying summer stalks that give way to the harvest that fills silos each fall. And while the starchy dent corn is grown for cakes, breads, and la cruchade, a polenta-like local side dish, its highest calling is to fatten up mature ducks, to produce foie gras and render fat for confit. This magical transformation of grain into rich, savory delicacies is an age-old tradition in this corner of southwest France, and there is no better place to cook duck than Gascony.
I have called the region home since the late 1980s, when I stumbled across Camont, an 18th-century canal-side farmhouse, a pile of old stone and brick planted in the heavy clay soil of the Garonne River Valley about an hour from Bordeaux. Camont became my touchstone for all things good and Gascon. The land surrounding the historic farmhouse was overgrown with brambles and nettles but begging for care, and I soon succumbed to the Marie-Antoinette vision of the pastoral life, complete with a ripening orchard and a flock of docile sheep.
I can say now, from experience, that sheep only seem docile. It was the awkward scramble up a country road after 200-pound woolly escape artists that finally undid me, and I traded the ewes to a more experienced neighbor in exchange for several tidy packages of a nicely butchered hogget. I followed the sheep experiment with an equally frustrating pair of naughty billy goats who tortured every fruit tree in the orchard until they eventually ended up as spicy méchoui on a Moroccan spit.
I had to tone down my own farming ambitions a bit, and found that the best return on investment of time and attention has been the small flock of ducks that graze the gardens and farmyard. They taught me the economy of cooking whole animals, from savoring a simple egg to serving the noble cuts like the legs or breast, or using the small odd bits—gizzards, hearts, necks—to add flavor to more rustic dishes. I only had to look around me and mimic what my French neighbors did, season by season.
Every good Gascon cook knows that the king of the feathered and furred courtyard is the oddly strutting, oversize cross of a Pekin and Muscovy—the moulard duck. In late autumn, moulard drakes that have been growing for five months and weigh about 12 pounds or so are finished and fattened on whole corn for two weeks before they are harvested. It is this last two weeks of a high-carb corn diet that delivers the added flavor to the fat that is needed to cook and preserve the meat. This is what makes a true fat duck, the canard gras. In France, only these ducks are used for making confit, preserving the deeply flavored meat by slow cooking for hours in its own abundant fat. Of course, other smaller domestic ducks like purebred Pekins or Long Islands, and even wild mallards, can be adapted to these recipes easily with a little extra attention to cooking times and temperatures. The trick with duck is to cook it long enough to let the dense meat melt into perfect silky strands and release its flavors into a savory sauce. Ducks don't like to be rushed.
The first time I had a proper Gascon duck dish was at a friend's house in a small village clinging to the Garonne River at Lagruère. It was a typical family meal: a rich chicken broth to start; a golden pastry tourte made with mushrooms and leeks; a poached chicken and its stuffing. Next, a deeply crispy-skinned duck stuffed and surrounded with garlic cloves and green olives. Those two meat courses were followed by salad and desserts—plural. But it was the duck and its pungent treatment that really surprised me. There wasn't a hint of sticky cherry or cloying à l'orange sauce to mask the deep and meaty quality of the bird—there was nothing sweet about it. Instead, the high-toned flavors of garlic and olives were balanced with thyme and bay-infused pan juices. This revelation changed the way I approached poultry forever.
After that first meal, ducks continued to appear—in a celebration of confit parts to garnish an exuberant salade gasconne, or as a Sunday roast for family and friends, or in a hearty winter garbure, a soup from the Béarn region that uses a bit of ham and leg of duck to enrich a broth of cabbage and beans. In those meals came a second revelation. Fatted ducks, those reared for foie gras, produce that treasured golden lobe of buttery meat, of course. But they also render enough fat to cook and preserve a host of more humble pleasures, and in Gascony, stocking the pantry with glass jars filled with a tasty diversity of duck products is the goal every winter—confited legs and breasts, rillettes made from the carcass meat, tender gizzards for salads, patés, saucissons. Dishes that from the outside can seem like indulgences are in fact the base of a tidy rural economy, and there is much to learn from that.
Looking around my own Gascon kitchen, I see it's a jumble of old stone, iron pots, and stoneware full of salted duck, with golden ochre glaze dripping down the hand-formed sides, mimicking the fat within. There is a hoarse quacking outside the kitchen door as my current flock roams in the hibernating winter garden to pluck sluggy morsels from under sage leaves and finish any beans and tomatoes still dangling from their vines. Their strong farm legs will need extra-long cooking, like all truly free-range birds. But what is sacrificed in tenderness is more than made up for in rich flavor. Learning to cook and eat duck is a lesson in patience.
Those fat birds, feathers wagging as they rake the garden for escargots and greedily rush any grain provided, are the cornerstone of the cooking of southwest France. When friends visit and the table grows to many, I know they come to taste Gascony on a plate—that nutty, golden flavor of a well-cooked duck.
Floc de Gascogne is a local mistelle, a vin de liqueur made by blending partially fermented grape juice with armagnac made by the same producer. The name comes from the Gascon language's word for bouquet, and it is indeed usually sweet and floral. It's made in both white and rosé styles, and the Gascons typically enjoy floc very cold both before and after dinner.