When researching and testing recipes for our Mexico Issue, we turned often to these six cookbooks—irreplaceable in our library for Mexican and Mexican-American flavors and techniques.
by Josefina Velazquez de Leon
Ediciones J. Velazquez de Leon, 1947
For historical research on Mexico's traditional cooking, we're indebted to author Josefina Velazquez de Leon (great aunt of SAVEUR writer Mauricio Velazquez de Leon; see Queen of the Yucatan). Her first bilingual volume remains, 65 years after it was first published, an accessible guide to the Mexican kitchen.
by Patricia Quintana
Stewart, Tabori & Chang, 1986
For a straightforward guide to the fundamentals of regional Mexican cooking, we turn to Mexico City chef Patricia Quintana's well-curated overview of her country's cuisines. Its recipes for classic dishes--from the Yucatan's papadzules (tortillas in a toasted pumpkin-seed sauce) to stuffed shrimp from the Pacific coast of the northwest state of Sinaloa--are lucid and inviting.
by Rick Bayless
William Morrow, 2007
In researching this issue, one book we turned to repeatedly was Rick Bayless's primer on Mexican cuisine (now in its 20th anniversary edition). We love the range of recipes, from slow-cooked stews to quick dishes like guacamole, and Bayless's cooking notes and glossaries of ingredients and equipment will be a boon to anyone new to Mexican cooking.
by Fany Gerson
Ten Speed Press, 2012
Mexico is a dessert-lover's paradise, and Mexican pastry chef Fany Gerson's book is a fitting ode to all things dulce. Puebla's sweet potato confections; tres leches cake; frozen treats like paletas (ice pops); chile-dusted tamarind bonbons--the diversity of sweets is fantastic. After cooking from its chapter devoted to maiz desserts, we'll never look at an ear of corn in the same way again.
by Hugo Ortega
Bright Sky Press, 2012
Growing up in Puebla, Hugo Ortega helped his family hawk dulce de leche. This book, the chef's homage to the street vendors of Mexico, provides a deep understanding of the techniques employed by these cooks to make magic from just a few ingredients. Its 100 recipes, gathered from streetside cooks across the country, are accompanied by lush location photography and essential cooking tips.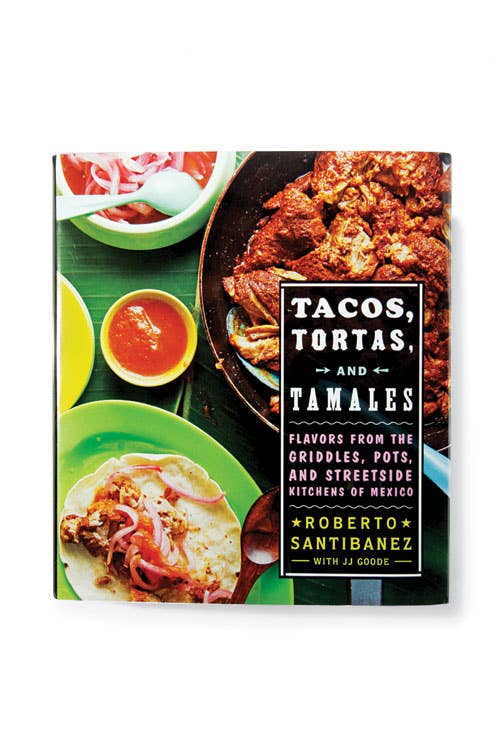 Tacos, Tortas, and Tamales: Flavors from the Griddles, Pots, and Streetside Kitchens of Mexico
SHOP NOW
by Roberto Santibañez
Wiley, 2012
Roberto Santibañez's new book is chock-full of recipes for the handheld meals we love: tacos with chorizo, chicken in adobo, and all kinds of other fillings; tortas stuffed with salt cod or chicken in green mole; goat cheese, jalapeño, and herb tamales. There are recipes, too, for home-cooked classics like tamal de cazuela, a masa and mushroom casserole, in this celebration of Mexico's everyday foods.