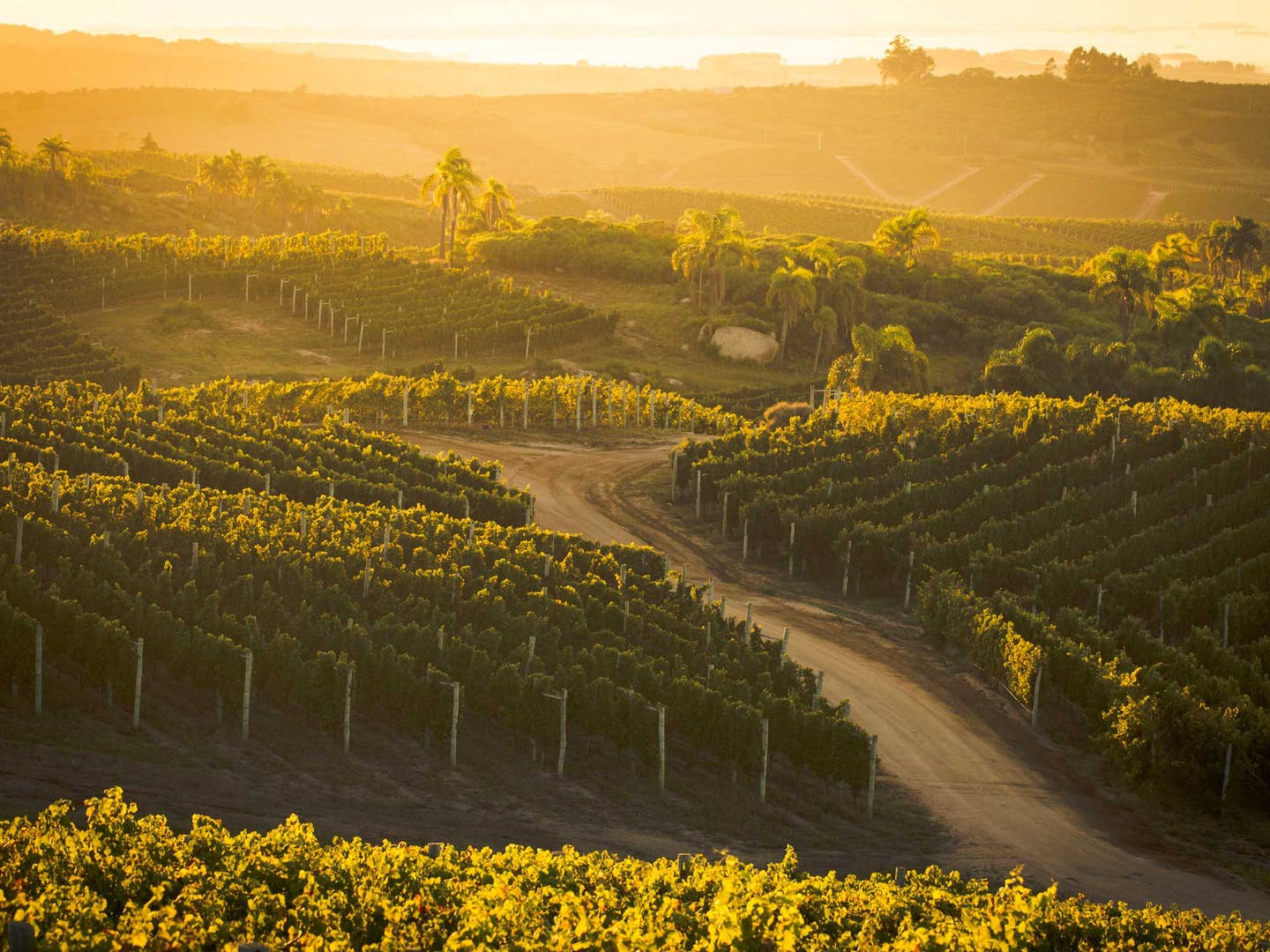 Drinks
Your Next Great Wine Trip is to…Uruguay?
The small town of Garzón is becoming a wine and food destination
A patchwork of vineyard parcels lay like verdant puzzle pieces across the rolling hills. The way they're planted, we could be in Burgundy or Tuscany. Then I spot plump capybara scurrying around and lolling in the shade and it's clear we're far from France.
This is Bodega Garzón, a winery with arguably the best terroir in all of Uruguay that's changing everything we know about the country's wine. If you've tried Uruguayan wine, it's most likely a tannat from the Canelones region. Bodega Garzón aims to change that. Their reserve tannat is excellent, but the white wines, including albariño, sauvignon blanc, viognier, and pinot gris are equally impressive, great for pairing with fresh meat and vegetables grilled over open flame and drizzled with olive oil.
And now, as Garzón has opened its doors to visitors with a tasting room, restaurant, and cigar lounge of epic proportions, the winery is a full-fledged destination.
Bodega Garzón's wine production, overseen by Alberto Antonini, is just one component of Agroland—a 10,000-acre sustainable agriculture business that raises cattle and produces pecans, almonds, honey, and 400,000 liters of award-winning extra-virgin olive oil (available in the U.S. exclusively at Dean & Deluca). It's all a grand experiment in agritourism at a scale never before seen in Uruguay, a small country tucked between Argentina and Brazil on the Atlantic Coast. The most prosperous, peaceful, and democratic country in South America is still under the radar for American travelers; the lion's share of its visitors come from neighboring Brazil, Argentina, and Europe.
The catalyst for all this development? Francis Mallmann, Argentina's most renowned chef, who opened a restaurant and five-room hotel on the village plaza in 2004. Garzón, a former railway ghost town, still has a population of fewer than 200 people, but it's fast becoming a multi-faceted destination. Beyond everything you can find at Bodega Garzón, Colinas de Garzón's new cheese and wine bar and panadería, and Lucia Soria's Lucifer restaurant, ensure you won't have a bad meal.
Ten minutes up a dirt road and you'll reach Agroland's expansive gated farmland. A hot air balloon ride or horse-drawn stagecoach tour offers a glimpse at the scope of the property. Owner Alejandro Bulgheroni, an Argentine businessman and international vintner, is the largest employer in the Maldonado region, with 900 employees shuttled to and from work daily on buses akin to what Google and Facebook provide in Silicon Valley.
Availability of public transportation is just one criterion for LEED certification, an ambitious goal tasked to architect Carlos Hartmann, who used local concrete and granite along with glass and steel for the modern structure. A 7,000 square-meter green roof with 70,000 indigenous plants—the largest green roof in South America—is the exclamation point for the mammoth project.
In the vineyards, five hundred-plus acres are separated into more than one thousand blocks, with a dozen grape varietals represented. The granite soil, biodiversity, and consistent Atlantic breezes here are ideal for winemaking, and Antonini's less-is-more approach allows for a pure expression of the land. "Why should we sterilize if we bring in good, healthy grapes?" he asks. "I believe that Mother Nature is right and I try not to interfere." He prefers concrete tanks to stainless steel, and ages wines predominantly in large casks versus smaller barrels, so as not to introduce too much oak.
Much like Bodega Garzón is pioneering a new wine region, Colinas de Garzón is jumpstarting Uruguay's olive oil industry. Here you can plant your own olive trees, test your tastebuds with a blind tasting, and blend your own oil with Arbequina, Coratina, Frantoio, Leccino and Picual varietals.
A young Mallmann protégé and fellow Argentine, 28-year-old Ricki Motta, heads the Bodega Garzón kitchen, where diners can watch cooks preparing food over showy massive open flames. The 120-seat restaurant has a wrap-around terrace, and between the vineyard panorama and kitchen action, there's not a bad view in the house, or a bad meal.
Stay: Francis Mallmann's five-room Hotel Garzón has just undergone a complete renovation, and his restaurant next door is all about the grill.
Shop: Alium is the coolest boutique in town. Owners Carolyn Prevett and Mariano Piñeyrúa design the merino wool blankets and cow's hide thermoses (to store hot water for maté) themselves, and the rest of the collection ranges from John Pearse dress shirts to colorful gaucho pants—bombachas.
Eat: Along with Mallmann's Restaurant Garzón, Lucifer is another great option, by chef Lucia Soria, who worked with Mallmann for years. It's also worth making the drive to José Ignacio for a meal at Parador La Huella, every local's favorite beach restaurant. The food here pairs wonderfully with Bodega Garzón's wines.