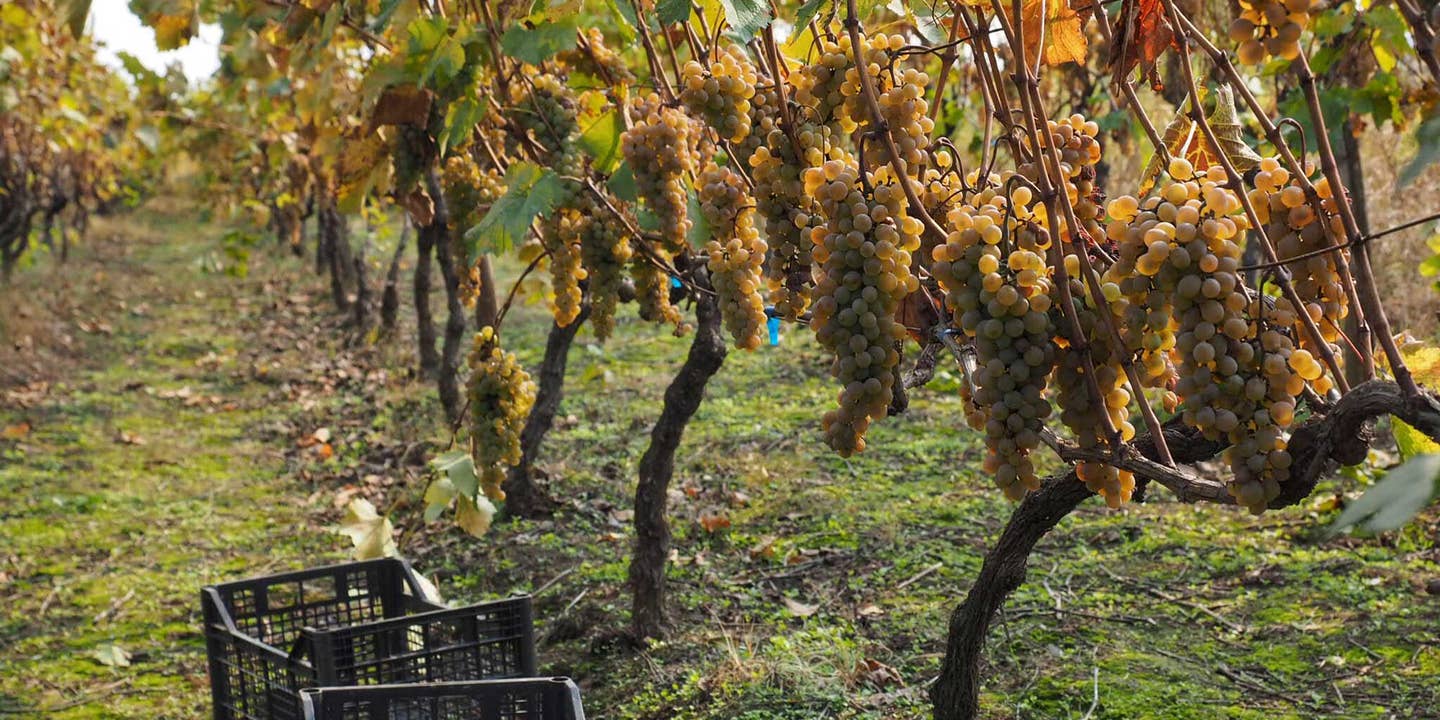 Drinks
Meet the Georgian Winemaker Who Sleeps in His Cellar and Makes Wine the Old-School Way
Winemaking has been an essential part of Georgian way of life for thousands of years—and it hasn't changed much during that time
"Here, drink this," says Georges Aladashvili, the winemaker of Ruisipiri Biodynamic Vineyard. He hands me what I take to be a glass of wine, but what I realize is some kind of liquor after a big sip. I struggle a bit, but declining to drink is not an option. "It will make the work more fun," he says.
I'm in Georgia, a country known for its generous and boozy hospitality. It is October and almost the end of harvest time here. We are in Kakheti, the most productive wine region of the country. The scenery is dominated by the snow-capped Caucasus Mountains and vineyards. It seems the nutrient-poor soils of Kakheti are ideal for growing grapes, and have been for thousands of years.
It took two hours and a handful of near-death experiences with Aladashvili, who studied winemaking in Switzerland. to get to the vineyard in Telavi, a small sub-region of Kakheti. Coming out of the car, I notice big holes in the ground and begin to consider the probability of my head being chopped off with a blunt shovel. "We are going to put some new amphoraes here," he says, and we proceed to a small shed next to one of his vineyards for some chamomile tea and cake.
Wine has been an essential part of Georgian way of life for thousands of years. It's something Georgians have always known but now have proof: a recent study show that wine-making in Georgia goes back at least to 6,000 B.C.
Winemaking is suitably old-fashioned here—grape-stomping fun included. Underground clay vessels, known as qvevri or amphorae, are a crucial part of Georgian wine-making and cultural heritage. The flavor profile of qvevri wines can vary from extremely "rustic" to clean and nuanced fruitiness. Some of the white wines are made with skin contact which results in deeper color, robust flavors, and red-wine like tannins. In recent years wines produced in qvevri has become fashionable, and you can find them in most trendy wine bars around the world. It's still quite niche but an increasingly popular category.
But despite that growing in interest the category, when you arrive at Aladashvili's winery in Ruispiri, you can throw words like "fashionable" and "trendy" right out the window. It's basically four walls and a roof. There is no polished tasting room. The most high-tech equipment they have is a vehicle, some sort of a cross between a moped and an old lawnmower, that is used for transporting grapes from the nearby vineyards.
I make my way to the wine cellar where the qvevri are buried underground. "Don't go in there," Aladashvili says. "You will disturb the wine. The wine is resting now." I was at first tempted to roll my eyes, but he said it with such genuine concern that I had to take a few steps back. After some negotiating, I was allowed to go in and take a few pictures. The ground is riddled with concealed qvevris. I notice a bed in the cellar. "I sleep here, Aladashvili tells me. "I don't have time for any social life during harvest."
Aladashvili has sold out his previous vintages, so he offers some wine from the current vintage, a sort of "Kakheti nouveau". The wine has recently finished fermentation and is deep orange in color. Had I been given it blind, I would have never guessed it's from the 2017 harvest. Instead of youthful berry-like aromas there was a bucketful of ripe fruit and nutty aromas.
It's a small operation. Aladashvili owns two hectares of vineyards and rents another five, producing approximately 7,000 bottles a year. In Georgia, indigenous grape varieties are abundant. Most of the varieties do not ring a bell, even among the most seasoned wine professionals.
I had promised to help a bit with the harvest, so we continue to a nearby vineyard where we harvest white mtsvane and rkatsiteli grapes. Boxes filled with grapes are loaded on the transport vehicle, and as soon as one of the workers was able to yank the engine on, the grapes were delivered to the winery.
After weighing our haul, the bunches are thrown into trough to be crushed by foot. But not before the winemaker pours us that big glass of chacha, that local go-to spirit. The juice stomped out from the grapes runs down a drainpipe into a qvevri, where it will undergo alcoholic fermentation. It's a simple and straightforward method which has remained unchanged for centuries—if not a millennium or two.