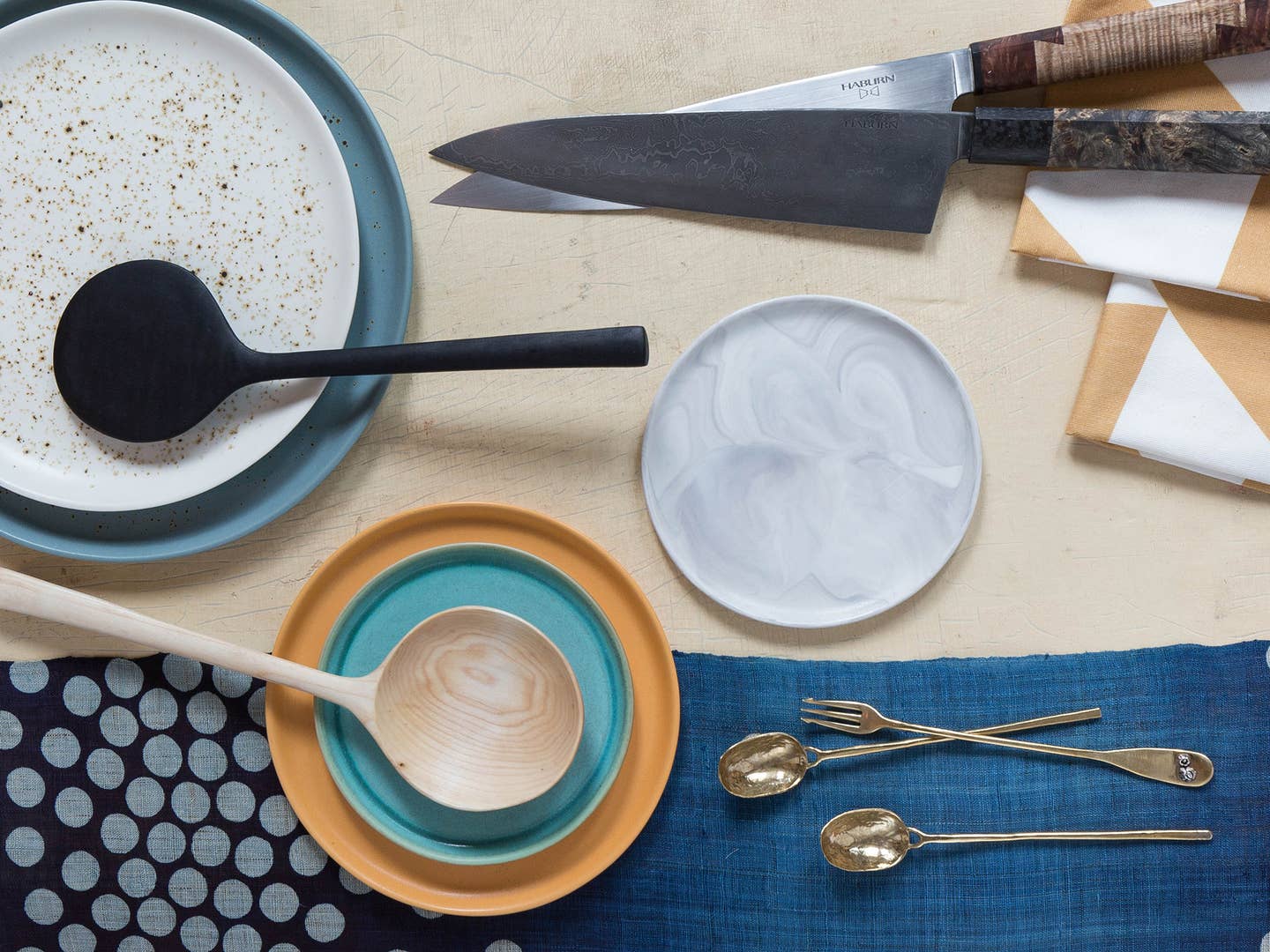 Shopping & Reviews
SAVEUR Gift Guides: All-American Handcrafted Products We Love
Artisan gifts sure to stand out
Carved wooden spoons, hand-thrown micaceous clay pots, and flame-worked glasses with unique imperfections—when it comes to outfitting our kitchens, we're looking for more than just utility. We want something that speaks to the allure of our favorite room, and all over America, artisans are channeling their creativity into handmade housewares. Some have backgrounds working with food, like pastry chef turned metal worker Ann Ladson; others, like napkin designer Annabel Inganni, draw inspiration from their childhood kitchens. Whatever the medium—glass, fabric, clay—each artisan brings past experience and singular traditions to the workbench. The "Made in America" stamp never looked better. Follow along with our legend below.
1 When Felipe Ortega was 17, he apprenticed himself to a 90-year-old blind Apache woman who had been working with clay all her life. He's been making his own micaceous clay cooking vessels—the flecks of mica help retain heat—for the past 46 years. Use them anywhere: on an open fire, on a gas or electric range, even in the microwave. Felipe Ortega; La Madera, NM; from $100 at felipeortega.com.
2 Using light and durable borosilicate glass, which can withstand dramatic temperature fluctuations without cracking, Jill Reynolds and Dan Spitzer make lumpy, wavy, charmingly irregular flame-worked glassware: pitchers, wine glasses, water glasses, the works. For their recent Perlina line, they added decorative glass beads. Malfatti Glass; Beacon, NY; from $48 at malfattiglass.com.
4,5 Ann Ladson's metal spice bowls and utensils are cast in bronze or sterling silver and hammered by hand. Her new collection of seafood forks features tiny silver barnacles affixed to their handles—a reminder of her time as a pastry chef aboard a catamaran. Ann Ladson; Charleston, SC; from $50 at annladson.com.
6 With indigo they grow themselves, Chinami and Rowland Ricketts dye hand-woven linens, like this geometric-patterned table runner. The husband-and-wife duo met in Japan as apprentices under the same dyer before returning to America and buying their farm. Ricketts Indigo; Bloomington, IN; from $48 at rickettsindigo.com.
3,7,9,11 Nate Mell and Wynn Bauer make their one-of-a-kind ceramics in their Philadelphia studio, but the DNA of their collection is global: Many pieces are thrown with clay made from sand and minerals they collect from around the world. The two began by creating custom tableware for local chefs, like Eli Kulp of Fork and Nick Elmi of Laurel. Their commercial line brings this same level of detail to the home table. Felt + Fat; Philadelphia; from $18 at feltandfat.com.
8,10 Realizing just how many scraps remained after he carved each of his rustic bowls and cutting boards, woodworker Joshua Vogel started using the leftovers to make wooden serving spoons. This maple-wood design is just one of many he honed after spending a full year experimenting with styles and techniques. The black spoons are rubbed with a solution of iron flecks in vinegar that oxidizes and tints the wood all the way through. Blackcreek Mercantile; Kingston, NY; from $110 at blackcreekmt.com.
12 Ian Rogers, a former aerospace equipment designer, creates hand-forged steel chef knives with handles made from exotic woods like redwood burl and curly Hawaiian mango. Since these intricate soft woods are much less durable than common hard woods, Rogers drew on his former engineering experience to stabilize the handles, using a special epoxy that ensures their durability. Haburn Knives; Vancouver, WA; from $375 at haburnknives.com.
13 Former clothing designer Annabel Inganni makes wrinkle-free cloth napkins in dozens of colors and patterns. "My mother had a large cloth napkin collection when I was young and I'd always set the table with them," she says, "and now, with my own linens, I love that I'm able to bring back those old traditions." In keeping with her fashion-world sensibilities, she releases two collections of the twill napkins each year. She recommends mixing and matching. Wolfum Napkins; Los Angeles; $40 a pair at wolfum.com.