Shopping & Reviews
SAVEUR Gift Guides: Food-Meets-Art Books for the Design-Minded
A gift for an artist, a creative cook, or someone who can't help but be a bit of both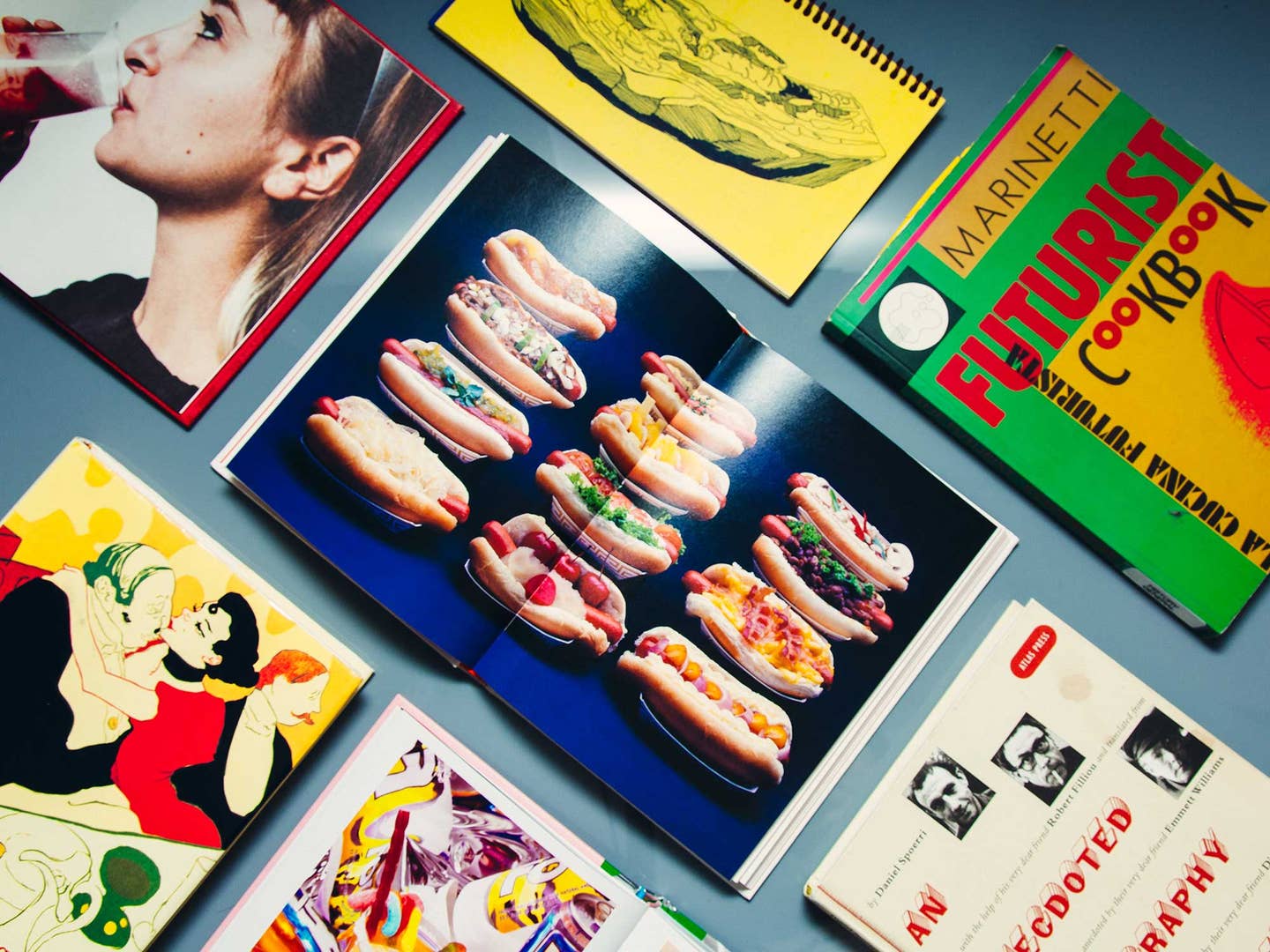 There are cookbooks, there are books about food, and then there are books that explore and perform food. For me, art and cooking are deeply intertwined—food is an incredible medium to explore culture and society, to stage an expression of hope or of passion, to engage people more deeply and humorously around a table. Bringing an artist's curiosity and creativity into the kitchen makes our meals more interesting, and if you're looking for a gift for an artist, a creative cook, or someone who can't help but be a bit of both, this list should provide some wonderful inspiration.
I've found a handful of beautifully strange food art publications, spanning almost 100 years, which embrace novel approaches to eating and cooking. All of these publications were created by or in collaboration with artists, and are all infused with a bit of wit, humor, and provocation. Each brings a new bent to food culture—from Toulouse Lautrecs' inventive takes on modern French cuisine, to Salvador Dali's paintings of melting fried eggs, to a photographer's grotesque pop art cocktail still lifes. Together, they posit a new form of engagement to recipes and entertaining, and show us how to approach food with exuberance and creativity.
Penned by F. T. Marinetti, the exuberant leader of the Futurist art movement in 1932, the Futurist Cookbook includes descriptions of "aerofood" (highly abstract dishes meant to be smelled and touched), directions for dining in an airplane, and a recipe for a "bachelor dinner," complete with food sculpted into the portrait of a blonde woman.
Salvador Dalí wrote a cookbook, and it's just as bizarre as you were hoping. Alongside actual photos of the artist at exorbitant dinner parties, there are fantastically deranged food paintings, including an bust of Joan of Art spurting blood all over a tower of crayfish.
This is the second iteration of a project by Hato Press to compile recipes from studio lunches. Hato curated the eclectic collection from a range of designers and studios across London. Recipe headnotes range from practical to quirky—one for "Chocolate Salty Balls" defends the need for testosterone in one all-female studio.
Toulouse-Lautrec's creativity and humor wasn't relegated to just paintings—he was famous in Paris for free spirited, inventive, and even bizarre dinner parties. He took creative license both in preparation and presentation of food, inviting commentary on the act of dining, as well as the evolving French cuisine of the time. This book includes his extensive recipes, as well as illustrated menus he made for private dinners. While the volume largely features real recipes, the book includes a description of a time the artist invited guests to a dinner of kangaroo, in honor of an animal that he saw at the circus, which he faked with cooked lamb.
They riff off of the concept of intoxication as a whole, pairing cocktails like "Immortality" with gaudy, bizarre still life photographs. It's hard to tell where the legitimacy of the recipes end and the absurdity begins—ingredients range from illicit drugs to inedible substances, and there are more than a handful of appearances of Four Loko. But you'll surprise yourself by finding some of them genuinely (strangely) delicious-sounding, like the "Scoby" with whiskey, ginger kombucha, a few droppers of Vital Energy Tonic, and fresh lime.
A lovely cookbook which adds insight in the form of recipes to the photographs of numerous 20th century iconic photographers, including Ansel Adams, Barbara Crane, and Lewis Balt. It was originally compiled in 1977 but left unpublished for 30 years.
This amazing book is a rabbit hole exploration of Daniel Spoerri's Topographical Map of Chance—an outline drawing of a table after a meal made in 1961. The entire book is spent chronicling each of the items on his dining room table, including milk, plates, rotting lemons, and dishware, with illustrations by Topor, alongside anecdotes and reflections from other authors and friends of the artist.
This "cookbook" is stunning and strange look into into our future relationship with meat. As we anticipate the need for a more sustainable food supply to feed 9 billion people by 2050, the staggering amount of resources required to produce meat poses the biggest potential challenge. The book's imaginative future meat-creations are based on extensive research into our food system and development in future meat alternatives.