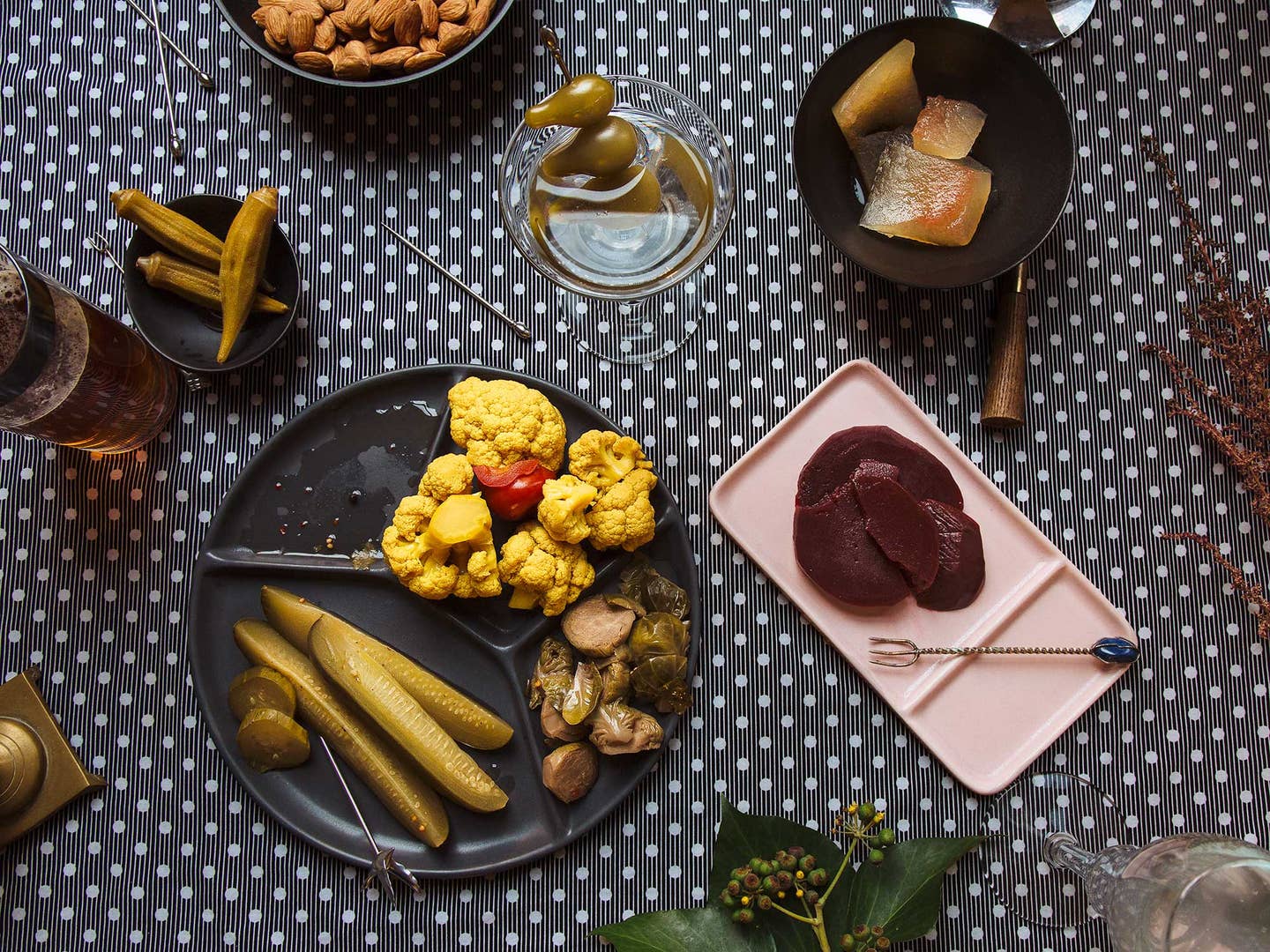 Shopping & Reviews
Saveur Gift Guides: The Very Best Pickles
The 10 best picks of preserved produce for your pickle-loving friends
I love pickled things and I love grazing. So an assortment of pickled fruit and vegetables spread out as a crudité at a party sounds pretty dang alright to me. I often daydream of spending my weekends in the kitchen, standing over a steamy canning vat and pickling everything in sight, but that dream has yet to come true. So I'd consider myself a lucky guy if I were to receive a jar of tart and tender pickles, especially any of my favorites below.
My love for pickles started young. I'm one of those weirdos that loves vegetables but not sugar, and I remember eating white bread sandwiches as a kid and feeling bummed that there weren't just pickles between the bread. My Texas heart flutters for a fried chicken or brisket sandwich with a ridiculous amount of pickles stacked on. If you work at a barbecue restaurant and have a "fixin's" counter, I'm really sorry if I took all the pickles.
Pickled things were one of humanity's first foods on the go. They allowed humans to spread out and survive harsh times. Pickles helped Columbus and his sailors reach North America. A determined Napoleon had people develop a better way to pickle. Pickles are awesome. And, I'm no doctor, but they're good for you. Cleopatra said pickles made her beautiful. So go buy your loved ones something sour.
Slightly sweet with a mild heat and great tang that really gives cauliflower some life. It would be great on a pickle plate or in a grain salad or as an accompaniment to a meat and cheese tray.
Beets are incredible on their own, but DAMN these are good. Serve with some rye bread and hard boiled eggs and a small chilled side of vodka, then call it a day.
These Brussels sprouts (yes, pickled sprouts) have an excellent smoky brine and keep their crunch. They make a great garnish for a Bloody Mary or stuffed in a pork chop.
First off, I'm angry I didn't come up with this name. Second, these pickles taste like summers on the Chesapeake. A great subtle crab boil brine that would go well with a cold beer and a slice of scrapple. Also fantastic in a Bloody.
I didn't even know pickled watermelon rind was a thing until this summer—now I can't get enough of them. These would be great on a small after-dinner cheese plate; they're also sweet enough to spoon over vanilla ice cream.
Black eyed pea salads are a staple of the western South. I love these pickled peas with some crumbled blue cheese, but if you simply slip them into a bowl with some corn chips, you'll be the hit of the party.
These tiny little green tomatoes make the best possible thing you could drop in the bottom of your martini. The super-salty brine has a lot of garlic and a little heat, just the thing to dirty up that martini.
These bright and acidic cherry tomatoes keep their texture which makes them perfect to add to a salad or a veggie tray.
Pickled okra was another thing I'd take as much as I could of at the "fixin's" table. Rick's okra taste like it was soaked in barbecue sauce; it'd go great with a hearty rich cut of smoked beef or submerged in a bloody Mary.
And a pickle pro tip: If you do wanna serve a plate of pickles at your next shindig, may I suggest a sectional plate from Felt+Fat. They allow you to serve an arrange of pickled goodness without mixing the brines together.