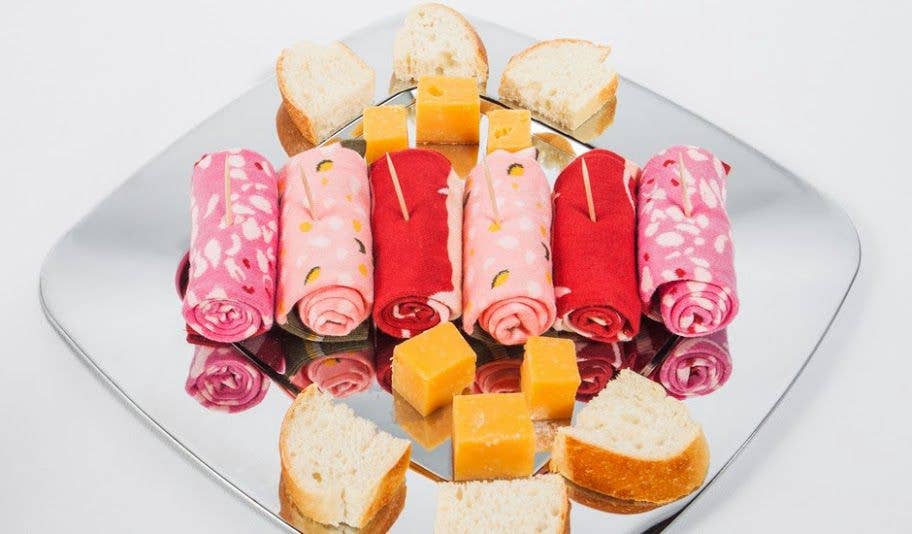 Shopping & Reviews
SAVEUR Gift Guides: The Best Food Novelty Gifts for $25 and Under
Stocking stuffers for everyone and an extra pair of prosciutto socks for yourself
I always run into two problems with holiday shopping budgets. The first is that it instills a deep sense of paranoia—what if the other person doesn't hold to the budget? What if they splurge and get me something super nice and all I got them was this t-shirt? Is this a test??
The other problem that is perhaps more widespread is finding something awesome for a certain amount of money. You're saving, sure, but you also don't want to give someone something you'll find regifted the next year. Fortunately, if you're shopping for a food lover, there are lots of options to keep you on-track spending-wise (and, ok, maybe two that blow the budget a little). Here are my favorites.
There are three types of people in this world: rice cracker people, Triscuit people, and Ritz cracker people (and then there are people like my grandmother who are actually all three of these people). For some reason, the Ritz crowd seems to be particularly attached to their cracker, and who could blame them? These crackers are buttery and salty, they go great with pretty much any cheese, and you can eat them one after the other straight out of the sleeve. And now, the lucky recipient can wear their favorite savory snack around their neck.
Here's the thing about pineapple cups: even though they conjure thoughts of tropical beaches and white sand, they're actually great to use all year long, because when it's not warm outside, it's easier to pretend when you're drinking out of a fruit. As Bed Bath & Beyond says, "Relax and unwind in style, today."
If you have a friend who can never decide on where to go for dinner, this clock is going to be perfect. Now they won't have to pick between tacos, pizza, and burgers, and neither will you. There aren't any numbers on it, but that's okay—it's taco-pizza-burger o'clock somewhere.
Everyone knows someone who loves pizza. That person is going to be crazy about this pillow, which is startlingly realistic-looking and filled with beans. In fact, it looks so real that maybe you should actually give it to your second most pizza obsessed friend—you wouldn't want any unfortunate pillow-eating incidents.
That glaze! Those sprinkles! They look so real, it's hard to imagine they won't melt a little after prolonged contact with skin. This Etsy page has a host of other under $25 options, so check out the blueberry waffles, cupcakes, and peanut butter and jelly sandwich accessories too.
Okay, okay, this is over $25. But think of it this way: Everybody needs socks. Most people want them. So basically, you're paying $36 for a necessity, one that, when rolled up and poked with a toothpick, looks like a beautiful cottony spread of charcuterie. But note, per the website, "DISCLAIMER: Socks are not actually edible."
For that family member who bakes, or that friend who eats lobster every time you guys go out for dinner. Both will appreciate an oven mitt shaped like a lobster claw.
Have you ever found yourself wishing you could find a gift that is both brine-y and festive? Fortunately, the search is over with this awesome pickle ornament. Since it comes in well under the $25 limit, you can buy at least two (because everyone knows you can't stop at just one pickle).
Minimalism is cool again, so in keeping with the trend, why not give your most artsy friend a Chinese takeout sketch? In addition to this takeout box, there's a wheel of brie, a hunk of lasagna, and a container of french fries.