SAVEUR Gift Guides: The Ultimate Snacker's Pantry
Go-to olive oil, vinegar, preserves, and mustard for spooning over toast or just eating with a spoon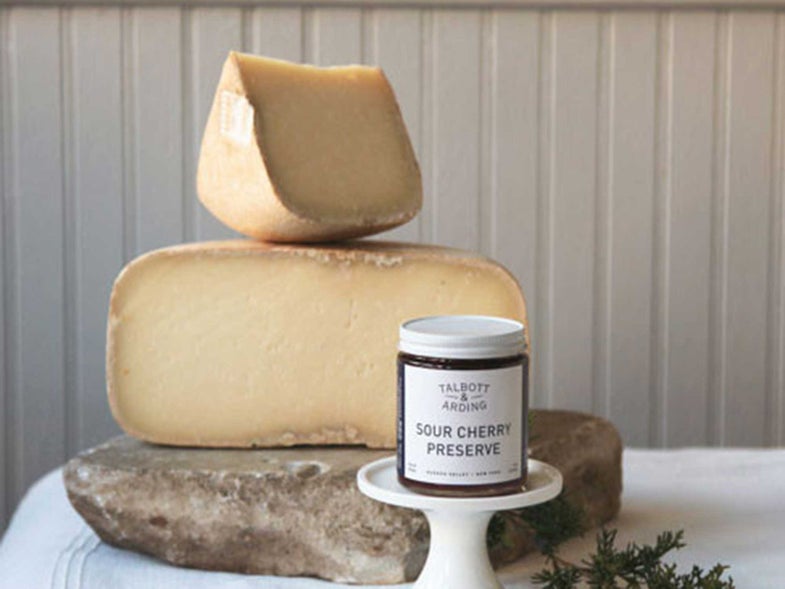 We may earn revenue from the products available on this page and participate in affiliate programs.
One of the pleasures of being an adult is stocking your pantry with boxes of mac 'n' cheese and Cheerios and eating them whenever you damn well please. I've always been a snacker, a cheese plate grazer, a dessert-in-lieu of-dinner, and cereal-for-supper kind of girl. So, for me, building a pantry is less about having convenient baking and cooking ingredients and more about stockpiling dips, treats, and sauces with which to build individual bites. This is your guide to stuffing a snacker's stocking (re: my stocking) with fancy honey, obscure mustard, and the best damn peanut butter they've ever had.
When I first started cooking, this was my bible. I knew what I liked to eat, but knew very little about where to get it and why it was good. Having spent my final year of undergrad in Ann Arbor, Michigan tucked into a table near the counter of Zingerman's Deli, I knew this place had pantry supplies on lock down. Should you ever happen through A-Squared, stop in for the best sandwich of your life and a shopping cart full of thoughtfully sourced oils and vinegars. Otherwise, just pop by the most excellent online marketplace you've ever browsed.
Confession: I really like Spanish olive oil. (I say confession because I live in an Italian household.) This one, made from arbequina olives in Catalonia, is nutty, and spicy, vibrant, and lemony; if I could fill my bathtub with it and jump in with a loaf of crusty Italian bread, I would. Put it on pasta. Drizzle it on your eggs. Spoon it over ricotta toast. Drink it for breakfast. But dear lord, do not cook with it. This stuff is too holy for heat.
It's a given that most pantries are stocked with wine, cider, and balsamic vinegars, but the thing you're missing is sherry vinegar. And not just sherry vinegar, but PX sherry vinegar, which is fruitier and more intense than the regular stuff. My good friend and sherry queen Talia Baiocchi brought a bottle of this stuff back from Jerez for me, and I use it in cocktails and on summer salads and fruit.
To borrow Stumptown's phrasing, all the diners in heaven serve Hair Bender. And despite the brand's proliferation, its most popular roast remains reliably good and unfussy enough to be brewed, pressed, or pulled.
There's nothing fancy about these dark chocolate fèves, but they're the best thing to have on hand for melting into brownie batter, baking luscious chocolate chip cookies, and snacking in a pinch. Valrhona fèves (sold at Whole Foods) are another good option. Sometimes I roast marshmallows on a chopstick over my gas stove burners and layer them with fèves for an urban s'more fix.
Even if my cabinets are bare, the fancy pasta and peanut butter long gone, there will always be chocolate. There may not always be Dandelion Chocolate, but when I come across it, I always buy a bar. The inverse of industrial, Dandelion sources and processes all its beans humanely and sustainably. Always fresh and silky, their bars (and labels) are mini-tutorials in the terroir of cacao beans and their dedicated growers.
Made in Seville from a secret recipe, these sweet olive oil tortas are a hybrid of savory cracker and sweet wafer that are best paired with a salty, crystal-laden cheese and a crisp slice of apple or pear.
An entire cabinet of my kitchen is dedicated to the three or four dozen sticky honey dozen jars collected from travels around the world, but the only one I continually re-purchase is Old Fields Farms Raw Honey from the Hudson Valley. Golden and pure, this is my platonic ideal, and I put it on everything from aged Gruyere to spoonfuls of peanut butter to scrambled eggs. Yep, even scrambled eggs.
These are, hands down, the best chocolate covered pretzels in the world. From my hometown of Findlay, Ohio, these thickly coated, perfectly salted pretzels play to my own childhood nostalgia, but have also been vetted by New Yorkers with a sweet tooth as incomparable as mine. Twice a year, my dad sends them by the double-dozen, and for one sweet week I eat chocolate-covered pretzels for breakfast.
Made on the Dalmatian Coast of Corsica, this thick, figgy, seedful spread is the thing to put out for cocktail parties alongside a tub of fresh ricotta. I keep two jars in my pantry—one for company and one for layering with saltines and sharp cheddar cheese.
In Hudson, New York, Talbott & Arding is the small-town provisions shop of your American dreams. Stocked with the East Coast's best cheeses, homemade seed-topped honey, scones and sausage rolls so buttery they make your lips shine, and a salmon rillete you'll want to eat with a spoon in one sitting (no sharing). It's no surprise the women who own the place know their way around a pot of preserves. Sweet-tart, luscious, and drippy, these sour cherry preserves are a decadent topping for hot oatmeal, whipped ricotta, and thick-cut buttered toast.
Kinda hot, a little sweet, and really creamy (thanks to the genius addition of egg), this Northern Michigan-made mustard is mixed in giant kettles and destined to dress up your turkey sandwiches, hot dogs, and deviled eggs. Put it on a baked sweet potato with some toasted almonds and paprika with a drizzle of maple syrup. Or don't. But I would.
When was the last time you had a peanut butter and jelly? It doesn't matter. As soon as you get your hands on this roasty, toasty, salty, crunchy butter, you're going to be devising vessels with which to shovel this stuff into your mouth. And likely, a renewed love affair with PB&Js will ensue.
I usually go for Grade B maple syrup. It's darker, richer, and a little more rustic than Grade A. But when it comes to gifting, Runamok of Vermont (where else?) does a damn good job at rarefying tree sugar. This is the stuff the sugarmakers set aside for themselves but have generously shared with everyman waffle eater. Consider making pancake batter on Christmas morning.
Doused in olive oil and baked to a crispy, sweet crunch, Earlybird of Brooklyn is crack-granola, and this pistachio-and-cherry edition is the "champagne and caviar" of baked breakfast grains. More disciplined eaters might sprinkle it sparingly over yogurt, but I just eat it by the handful.