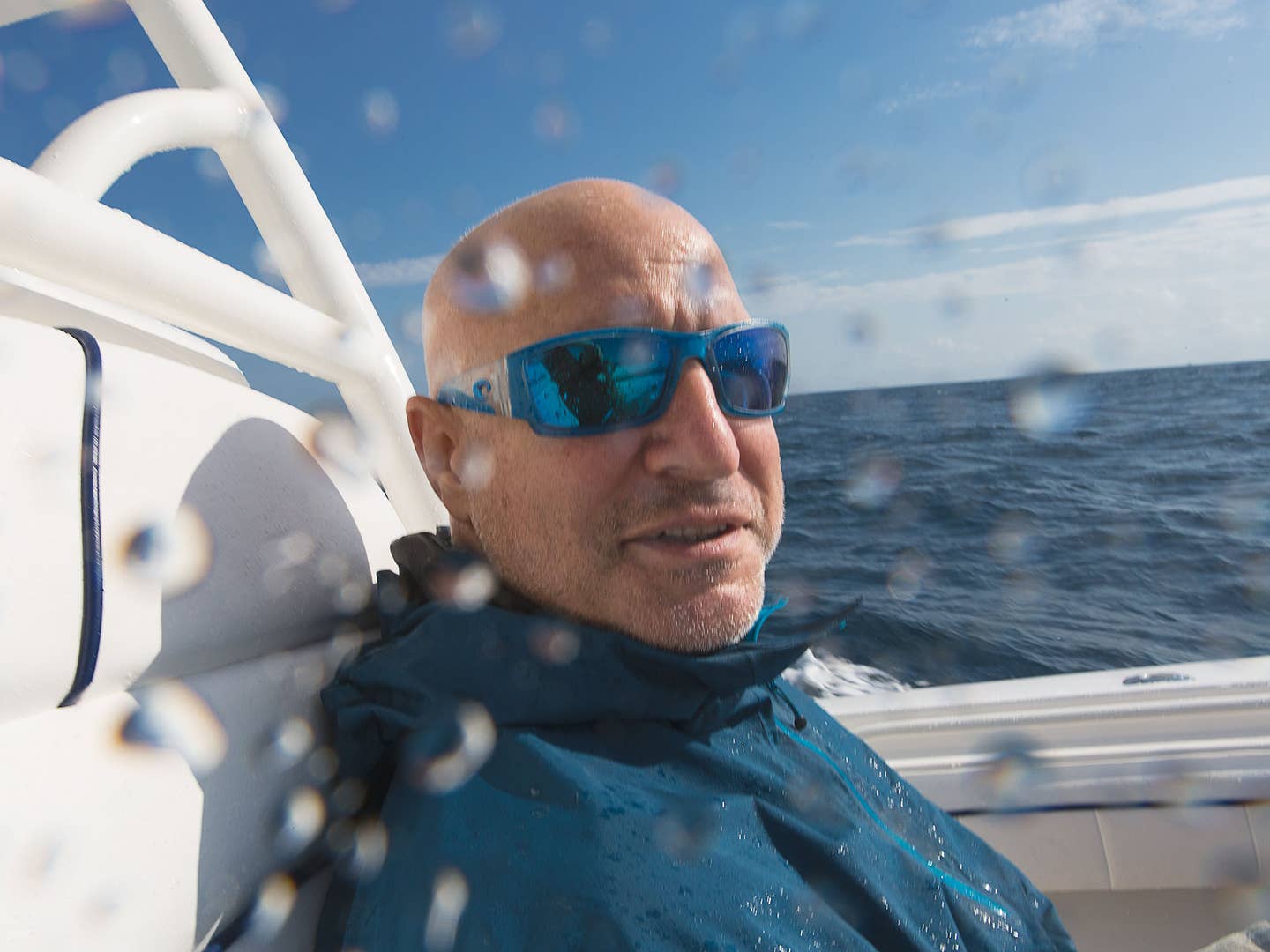 Culture
Tom Colicchio on What Makes Great Seafood
There's more to good fish than a fresh-off-the-boat catch, and more lessons from a day fishing with the Craft chef
When it comes to great seafood, there's more to know than just buying the freshest catch. As far as Tom Colicchio is concerned, how a fish was treated on a boat matters just as much as when it was caught.
That's why I'm with him on the coast of Miami Beach, past the barrier reef of Biscayne National Park, where the the sea floor drops from 12 feet to around 200 feet. The seas are rough and unrelenting ahead of the evening's forecasted storm. Needless to say, it's not a good day for this newbie angler; I can barely hold on to my dignity.
Colicchio helps the boat captain launch a 15-foot inflatable sea anchor so we can easily drift south into what's known as prime feeding ground for sailfish. Within ten minutes, a series of elaborate kites fly high above the boat before dropping lures 60 feet to the water's surface.
Game fish, like the men on this boat, appreciate a challenge, and they've learned to sense the vibrations of the smaller fish's struggle. The suspended bait and all its drama leads to spectacular strike: The predatory fish flies out of the water and takes it down.
One of America's most prominent chefs, restaurateurs, and advocates for sustainable seafood, Colicchio makes a point to buy directly from fishermen he trusts as much as possible. That seafood, often raw, has a prominent role on menus at his coastal restaurants in Los Angeles, New York, and at Beachcraft in Miami Beach.
Later, back at the restaurant, we plan to make ceviche, where every detail counts. "I've been on other commercial decks where the fish is beat up and left in the sun, compromising the shelf life," Colicchio says. In other words, seemingly simple, almost no-brainer, maneuvers on the boat can drastically affect the quality of what you eat at a restaurant or at home.
One preferred source, known as the black sea bass guru of the Mid-Atlantic, left a lasting impression on him during an offshore fishing trip. The fisherman took each fish off the hook and placed it directly into the ice—without letting a single one touch the boat deck.
This level of care and coddling extends to "bleeding the fish" and cooling it down properly once caught. Bleeding the fish means cutting it at a strategic spot, like the throat to force the blood out, which prevents discoloration and unsavory changes to the flavor and texture of certain kinds of fish. People debate how important bleeding is, but everyone agrees that putting it on ice is vital—even the best fish will spoil if it's not chilled immediately.
Colicchio also calls out some pointers for those of us who aren't buying fish on the docks every day. Start by finding the best-looking one the day you plan to serve it, and let yourself be flexible about what that fish might be. Look your fish in the eyes—they should be completely clear—and check out the cleanliness of the scales and gills. This is where you'll want to make sure the fish is free of parasites. Make sure it smells like the ocean and not like an old fish.
Several hours into the trip, a member of Colicchio's team pulls a banana out of his bag for a snack. This, according to the experienced anglers, is very bad luck. The superstition has varied origins, including banana boat wrecks and insect-infested ships, and may explain why we don't see any action in otherwise extremely productive waters. But we press on with the ceviche anyway.
Colicchio enjoys tinkering with the classic Peruvian style and opts for unusual components like gooseberries, sumac, and pink peppercorns with pieces of scallop. Today, he cures the red snapper in lime juice with passion fruit, honey, and aji amarillo chile paste, and presents it along with scallions, heirloom baby tomatoes, charred super-sweet corn, cilantro, and serrano pepper.
Guided by traditional South American techniques and with a super-sharp knife, he cuts the fish into chunks big enough to underscore the flesh's texture. Slicing, he says, is more appropriate for crudo, the Italian version of sashimi that's frequently dressed olive oil. Ceviche takes best to chunks.
He also enjoys using underappreciated fish to add more depth to ceviche: escolar for its high oil content and black sea bass and fluke on the East Coast. Red snapper is a more common fish, but it's his favorite from the Gulf. "The traditionalists say you can't do this or you can't call it that, but I think it's okay so long as it's good."
Beyond the fish, he stresses finding the right balance between herbal notes, acid, spice. Chop red onions, scallions, chiles, lime juice, and a fruit like mango, papaya, watermelon or whatever makes sense for the season.
Colicchio lets his fish marinate on its own for about 15 minutes in lime juice to keep the other ingredients clean. And when it's all done, he keeps it glacially cold with two metal bowls, one nested inside a larger one packed with ice. Because what's true on the boat is just as important once the catch is in your hands.
Galena explores edible culture for curious eaters, drinkers and thinkers. Last year, she awarded herself a fellowship to live in Paris and write while abroad. Life-changing adventures ensued in France, Japan and Germany, bringing her back to Miami Beach with endless inspiration. Follow her on Twitter and Instagram.