Recipes
The Key to Mastering Goulash, the World's Most Famous Stew
Everything you need to know about Hungary's national dish
Serves

serves 6

Cook

1 hour 45 minutes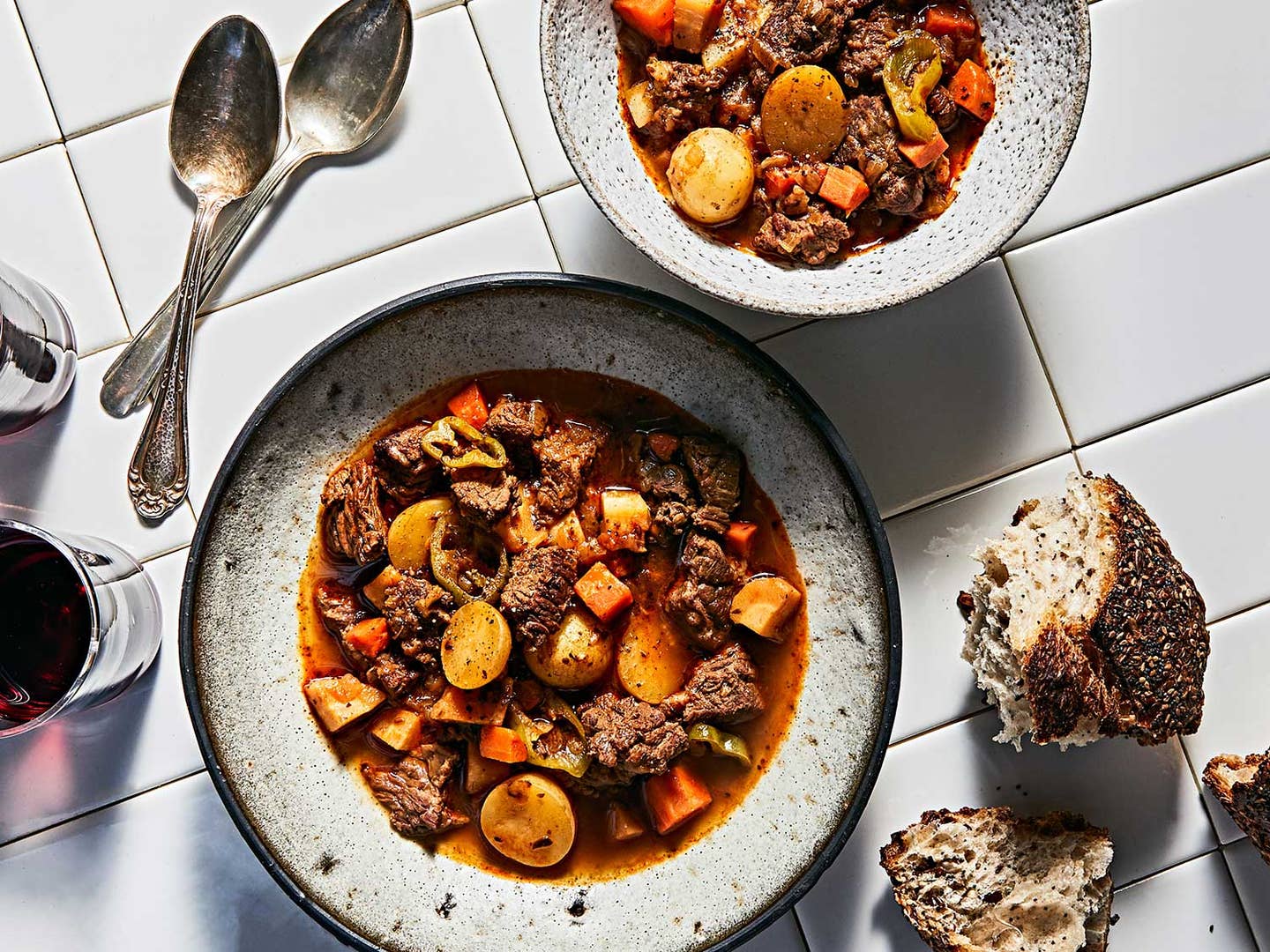 To understand the cuisine of Hungary, and the culture of this 1,100 year-old-tribe, it's helpful to know two things: Hungary was settled by the Magyars—nomads who migrated from the Ural Mountains around 800 A.D. and settled along the Danube, where there was rich grazing land (and later, enormously fertile farmland) for their cattle and sheep. Second, Hungarians have endured multiple invasions, and lived under enormously contrasting rule. What held them together was largely food and music, and an oversized national pride. That, and a few hundred thousand pots of goulash.
The first thing I did when I married a Hungarian 11 years ago was learn to say his country's national dish correctly. For the record, it's gulyás, pronounced GOO-yash, not goulash (the "ly" in the Magyar language sounds like "yah"). The second thing was to learn just how much paprika it takes to make a pot of gulyás a Magyar would recognize as their own (hint: a lot).
"How much paprika did you use?" my husband, András, asked me, the first time I cooked gulyás for him. Two tablespoons, I told him. He smiled. "That's a good start."
Gulyás didn't start out as the heady, richly red stew we all know and love today. This formerly humble shepherd's soup likely dates back to the 9th century, in the earliest days of the nation's history. Gulyá translates literally to a herd of cows, and gulyás are the herdsmen. Traveling in groups of five or six, the gulyás would herd their famous long-horned grey cattle around their 36,000-square-mile, landlocked terrain, selling them off, keeping leaner cattle for themselves. The meat would be spiced, cooked, and dried, then stored in a bag made from sheep's stomach before their journeys, creating a portable meal that needed only water to rehydrate. The herdsmen might supplement the soup with the long-storage ingredients they carried in their saddlebags—onions, cured bacon, or lard—and stir it together in large cast-iron cauldrons, or bogrács, over an open fire. If they lost a head of cattle to illness, or had a fortuitous run-in with a wild boar, they would kill it, and add the meat to the pot—enriching their stew.
The portable nature of gulyás helped its popularity spread like wildfire, from Bratislava to Vienna and Prague, and soon far beyond—making its way from a peasant dish of the masses onto the tables of lesser nobility. By the 15th century, peppers arrived from America, possibly via the Turkish invasion. (Explorers had brought spicy peppers from Central Mexico to Spain, which spread to the Balkans and eventually, the Great Hungarian Plain.) They were widely received. Dried, crushed, and made into a powder, dubbed paprika, this potent spice lent vibrant, warming flavor and color to shepherd's stew, evolving it into what we know as goulash today.
By the late 17th century, the dish was beloved by Ottomans, Christians, Muslims, Hungarians, Czechs, Poles, and Ukrainians alike, and well beyond. (Today, goulash is widely found from Albania to Italy, and even as far as the Philippines and Ethiopia—where you'll find fish goulash, or asa gulaš—on any family menu). But it wasn't until the split of the Austro-Hungarian empire, in the early 1800s, that Hungarians declared gulyás their national dish—possibly to note the distinction between their culture and their Austrian oppressors. The distinction, and pride in the dish, stuck.
Understanding gulyás's origins was only the first step in replicating one so good, my own people would return for second helpings for decades to come.
Long before I was married, I started studying Hungarian cuisine. Cuisine of Hungary, by Hungarian-born American restaurateur and food and travel writer George Lang, was a worthy starting point. Later, at a tiny used bookstore in Maine, I fell hard for Cooking with Love and Paprika from Hollywood's most beloved Hungarian, Joe Pasternak. I spent years reading and absorbing these tomes, but I've never made either of their versions of gulyás. After András proposed, I acquired English translations of Hungary's various beginner cookbooks—gifts from his well-meaning friends. Titles like Cooking the Hungarian Way, by Magdolna Hargittai, and Hungarian Cuisine, by Gyorgy Hargitai, all had versions of gulyás in them, of course. Hargitai's is made with pig's knuckles and beans soaked overnight, which, while intriguing, was a solid pass for me.
It wasn't until my husband and I decided to host a lagzi, a Hungarian wedding party, in the Bakony Mountains, the summer after we married, that I got serious. We'd planned to cook gulyás in a giant bogrács, the traditional way, for 40 guests. András's mother, who I affectionately call kisci anya (little mother), hunted down her dusty 1960s cookbooks like Kis Magyar Szakácskönyv by Gundel Károly. She could teach me to make a proper gulyás, but like any good journalist, I also craved reference points. In this 215-page book with no regard for chaptering or alphabetical order, the third recipe is gulyás, as if to say: this soup is your priority; everything else can wait.
I dove in hard, studied the facts, learned the ins and outs of the bogrács, and most importantly, made fast and furious friends with paprika—in copious portions. The gulyás we served that day, at our lagzi, is still one of my top five meals, a decade later. But it bears slim resemblance to the sometimes tough, overly thickened versions I find in the U.S.
Hungarians have steadily immigrated to the United States, bringing their beloved national dish along with them, but three main waves brought the majority of the approximate 1.5 million Hungarians to the New World. The first recorded Hungarian to settle in the U.S. was Agoston Haraszthy, who settled in Wisconsin in 1840 (and later moved to California, importing 100,000 European vine cuttings into Sonoma and later being called the Father of American Wine Making). The first large wave of Hungarians arrived in the U.S. in 1849, after the defeat of the 1848 Hungarian Revolution (goulash first appeared in an American cookbook in 1914).
In the late 19th and early 20th centuries, another 650,000 to 700,000 ethnic Hungarian speakers migrated to the U.S., seeking better economic conditions. Finally, another 40,000 Hungarians came in 1956, during the Soviet reign over Hungary and a failed 1956 revolution. By 1969, according to the Gallup Poll, gulyás was reported as one of the five most popular meat dishes in American cooking. Occasionally bastardized with cubed steak or hamburger replacing stew meat, and elbow macaroni (instead of handmade dumplings)—the many versions are still widely beloved and associated with Hungarian cuisine.
While there's lots of room for interpretation, most Magyars agree that caraway and onions are essential building blocks for a proper gulyás. The meat could be beef (neck or shoulder), but the addition of pork doesn't hurt. Vegetables could include peppers, carrots, potato, and paprika—or as seen below, parsnips. Tomato, like the paprika, is a modern addition. You might see wine (though this isn't traditional, or in my opinion, necessary), and variations like székely gulyás—made with sauerkraut, and other well-loved offshoots, are worth a dabble.
A true gulyás should be a rich soup, not a classic stew—never thickened with flour. Time is your best friend here, letting the flavors deepen and the soup concentrate, with help from the natural starch in the potatoes, as it simmers. (If you're short on time and find yours lacking body, use tomato paste to add richness, but carefully so as not to upset the balance of the acidity, which should be present but understated.)
The finishing touch in many a gulyás is csipetke, or pinched egg noodles. In any authentic Hungarian cookbook, you'll find the recipe cross-referenced or published on the opposite pages. I love gulyás this way most of all. But if you're new to this heady soup, start with this classic from northwestern Hungary, no bogrács or noodle-making required—and absolutely a bowl worthy of Magyar national pride.
Start by cooking onions in oil in a large cast-iron skillet over medium heat. Coax the flavor out until the onions are soft and translucent. Then, raise the heat and add the meat, browning about 6 minutes, to give each piece a good, crusty sear (which translates to flavor down the road).
Add in your paprika, marjoram, caraway, and garlic—at this point the onions and beef will keep these spices from burning, but there's still enough heat, and time remaining, to allow these flavors to deeply develop, and coat and flavor not just the broth, but the meat itself.
Next add in your carrots and parsnips along with the water. Broth isn't needed here—this is a shepherd's stew after all, and the broth makes itself while it cooks. Simmer, covered, to tenderize the beef, just under an hour.
Once the beef begins to show signs of tenderness, about 40 minutes in, add the potatoes. Continue cooking, uncovered, until the potatoes are fork-tender, and they start to thicken the broth (thanks to all that natural starch).
Add in the tomatoes and peppers, and continue cooking until they soften and break down (you should taste them more than see them), about 10 minutes. Season well with salt and pepper. If your broth needs deeper flavor, cook on low for up to 20 to 30 more minutes; as long as the temperature is low, it will only increase the flavor and tenderize the beef.
Ladle the soup into bowls and serve with rye bread, and sour cream and dill on the side, if desired (for tempering heat or boosting flavor).
Ingredients
4 Tbsp. sunflower or canola oil
2 yellow onions, chopped
1½ lb. beef chuck, trimmed and cut into ½-inch cubes
Kosher salt and freshly ground black pepper
¼ cup sweet paprika
2 tsp. dried marjoram
2 tsp. caraway seeds
2 cloves garlic, finely chopped
2 medium carrots, cut into ½-inch cubes
2 medium parsnips, cut into ½-inch cubes
1½ lb. medium new potatoes, peeled and cut into ½-inch cubes
1 tomato, cored and chopped
1 Italian frying pepper, chopped
Rye bread, for serving (optional)
Instructions
Step 1
Heat the oil in a 5-quart Dutch oven over medium. Add the onions, cover, and cook, stirring occasionally, until soft and translucent, about 10 minutes. Increase the heat to high. Add the beef, and season with salt and pepper. Cook, uncovered, stirring only once or twice, until the meat is lightly browned, about 6 minutes. Stir in the paprika, marjoram, caraway, and garlic, and cook until fragrant, about 2 minutes. Add the carrots, parsnips, and 5 cups water. Bring to a boil, then reduce heat to medium and simmer, covered, until the beef is nearly tender, about 40–50 minutes.
Step 2
Add the potatoes and cook, uncovered, until tender, about 25 minutes. Stir in the tomatoes and peppers; cook for 10 minutes. Season with salt and pepper. Serve, with rye bread if desired.