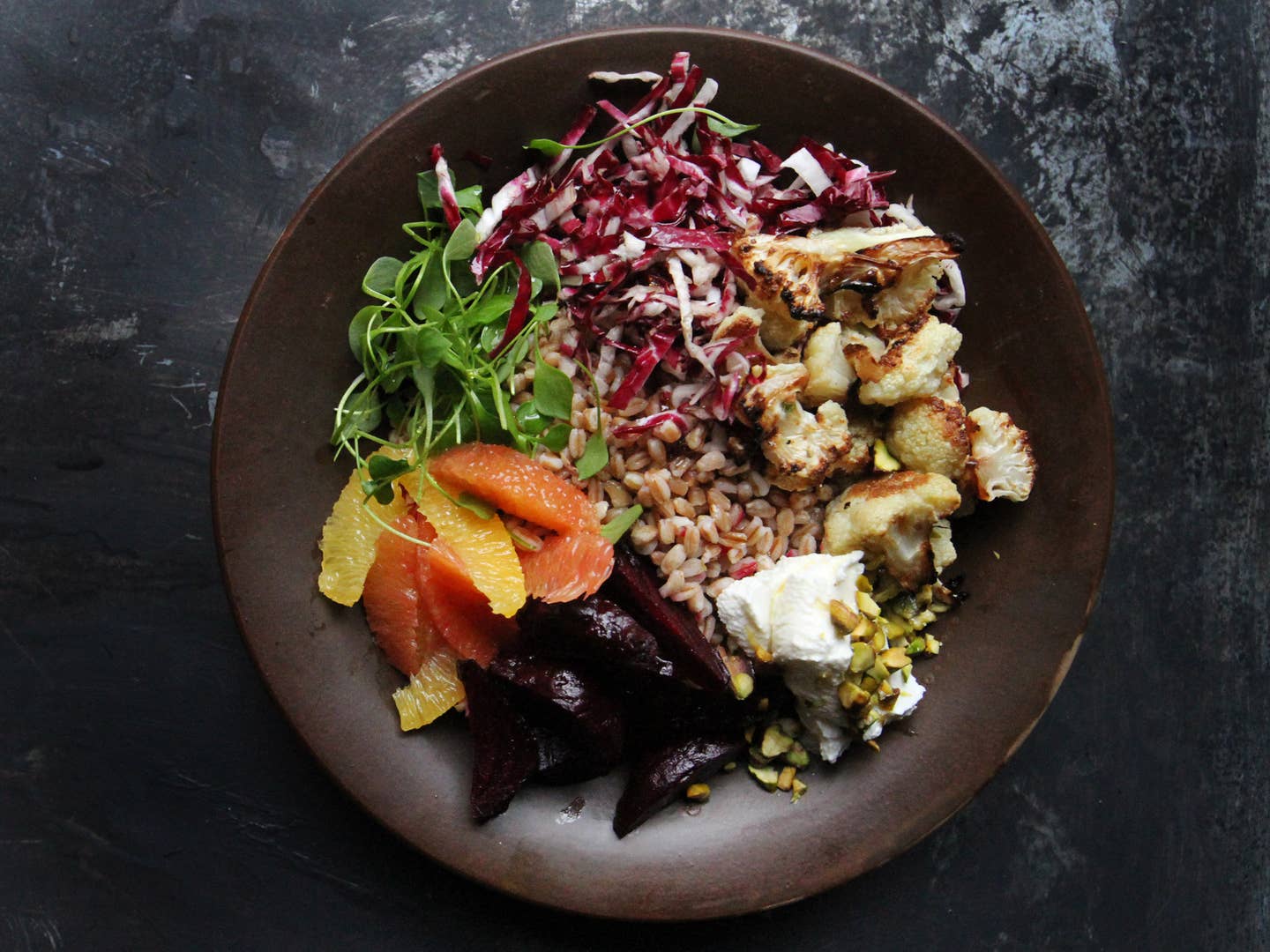 Techniques
How to Build a Great Grain Bowl With Whatever's in Your Fridge
Follow our formula for a happy desk lunch
I am by far not the healthiest person around. Just look at my Instagram account and you will see it littered with pizza—sometimes dumplings and tacos—but mainly pizza. That is all going to change in 2016.
Okay, it probably won't. But that doesn't mean I can't add a healthy dish into the mix every so often. Enter the grain bowl: nourishing and good for you, but when made right there's enough going on to make you as happy as that slice of pizza would.
Grain bowls are one of those meals that you can literally throw together, more a choose-your-own-adventure than a recipe. Here are the basic building blocks.
Pick a grain. Any grain. Quinoa, farro, bulghur, brown rice. I keep a lot of random grains in my cupboard, and they all work well. I usually just boil them until tender, which typically takes 15 minutes or less. Congrats, you just built your foundation.
Pick a protein. Hardboiled eggs, beans, canned tuna, chicken, beef, pork, fish. It doesn't have to be complicated, and leftovers are welcome here. Leftover roast chicken? Throw it on! Need to use up some canned tuna? Drain the liquid and add it in.
Pick some vegetables. Again, most anything in your fridge works. Roast hearty ones like broccoli or thinly slice tender ones like endives. I love some leafy greens and plenty of herbs so the bowl feels more like a salad.
Garnish it up. Attack your pantry. Use those spare tablespoons of seeds and nuts. Feta or ricotta's always welcome, as are dried fruits.
Don't forget to dress it. Oil, vinegar, salt, and pepper are all you need, and grain bowls can even handle being dressed in advance. I'm a big fan of honey and citrus juice if you want to mix it up. If you're going with an Asian theme, use some sesame oil, soy sauce, mirin, and hot sauce.
Whatever you have on hand in your fridge or pantry, chances are you can make it into a simple and healthy meal, any time of year.