Green Cabbage Salad with Charred Cabbage Vinaigrette and Hazelnuts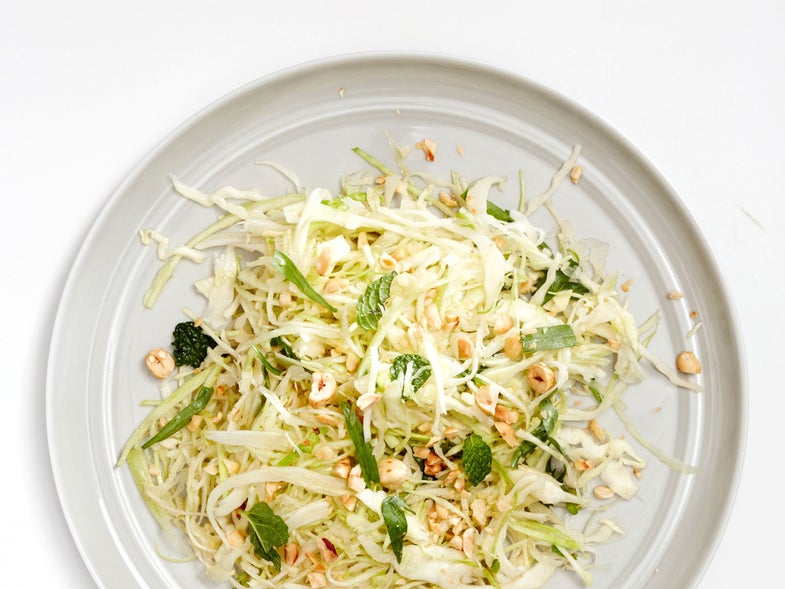 Chef-owner of New York City's Wildair and Contra, Jeremiah Stone combines the juice from grilled cabbage with vinegar and browned butter and tosses the resulting vinaigrette with raw cabbage and hazelnuts for an all-season slaw that showcases everything the brassica has to offer.
Featured in: How to MacGuyver Your Dinner
Yield: serves 6-8
Time: 1 hours 15 minutes
Ingredients
2 medium heads green cabbage, cored and quartered
2 tbsp. champagne vinegar
1 tbsp. mirin
Kosher salt
1⁄4 cup whole blanched hazelnuts
2 tbsp. unsalted butter
Juice of 1 lemon
6 tbsp. packed small mint leaves, torn by hand
2 tbsp. packed tarragon leaves, torn by hand
Instructions
Heat a 10-inch cast-iron skillet over high for 5 minutes. Add three of the cabbage quarters and cook, turning once, until charred on the outside, about 10 minutes. Transfer the charred cabbage to a blender along with 1 raw cabbage quarter and purée until very smooth, at least 1 minute. Pour and press the cabbage purée through a fine sieve set over a bowl and discard the solids.
Pour the cabbage juice into a small saucepan and bring to a boil. Cook the juice until reduced to 1⁄2 cup, about 16 minutes. Remove the pan from the heat, stir in the vinegar and mirin, and season the vinaigrette with salt.
In a small skillet, toast the hazelnuts over medium-high until fragrant, about 6 minutes. Transfer the hazelnuts to a cutting board, let cool, and roughly chop. Return the skillet to the heat, add the butter, and cook, stirring, until nutty and browned. Scrape the browned butter into the vinaigrette and stir to combine.
Thinly slice the remaining 4 cabbage quarters and place in a large bowl. Pour the lemon juice over the cabbage, season with salt, and toss the cabbage until coated in the juice. Let the cabbage stand for 10 minutes, then lift it from the bowl, lightly squeezing it to release any excess liquid. Transfer the cabbage to a serving platter and toss with the mint and tarragon. Drizzle the salad with the vinaigrette and sprinkle with the hazelnuts before serving.