Grilled Halloumi and Cherry Salad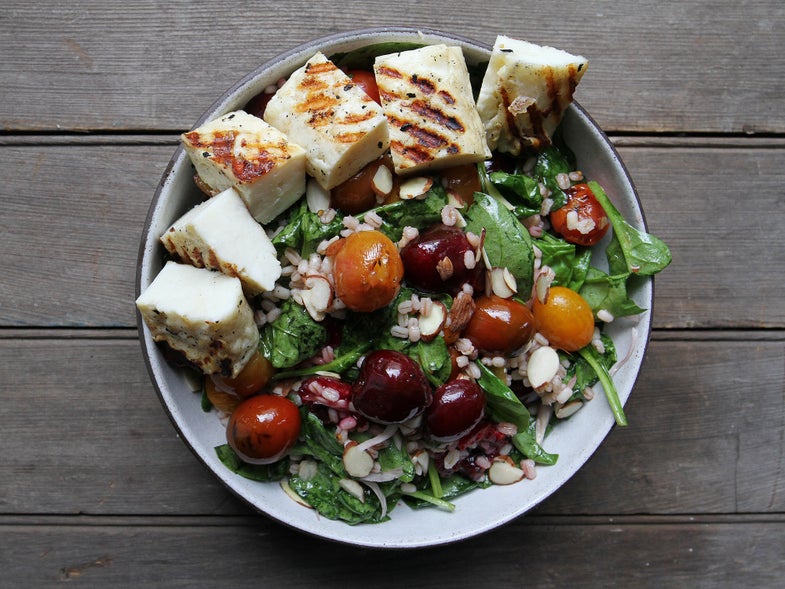 We've been getting a lot of cherries in the office lately. Usually we're happy just popping them straight into our mouths, but I decided to switch things up a bit with the last bing cherries that were hanging around the kitchen by highlighting them in a savory dish. I like to throw them on the grill for a few minutes, which really brings out their sweetness. I then add grilled halloumi cheese (halloumi is quite meaty with a springy texture and has a high melting point, so it's perfect for throwing on the grill), cherry tomatoes, spinach, barley, and a handful of toasted sliced almonds for crunch. In place of the barley, you can use any grain you have in your pantry—try quinoa, farro, or wild rice. —Farideh Sadeghin, test kitchen director
Grilled Halloumi and Cherry Salad
The sweetness of cherries balances the saltiness of halloumi in this simple summer salad, perfect for a side or a main dish.
Time: 45 minutes
Ingredients
1 cup pearl barley
16 oz. halloumi
8 oz. cherries, pitted
8 oz. cherry tomatoes
1⁄4 cup olive oil
Kosher salt and freshly ground black pepper
1 large shallot, thinly sliced
3 oz. baby spinach
2 tbsp. champagne vinegar
2 tbsp. sliced almonds, toasted
Instructions
Bring a medium pot of water to a boil; add barley and cook until tender, about 25 minutes. Drain, and rinse barley under cold water to cool.
Light a grill. Toss halloumi, cherries, and cherry tomatoes with 2 tablespoons olive oil, salt, and pepper; cook, turning as needed, until charred, 6-7 minutes for halloumi and cherries and 3 minutes for cherry tomatoes. Cut halloumi into 1 1⁄2-inch pieces.
Soak shallot in water for 10 minutes, then drain. Toss in a large bowl with barley, halloumi, cherries, cherry tomatoes, remaining olive oil, spinach, vinegar, and almonds. Transfer to a serving platter and serve immediately.