Recipes
Grits with Brussels Sprouts, Quince, and Goats' Milk Curd
Serves

serves 4-6

Cook

3 hours 45 minutes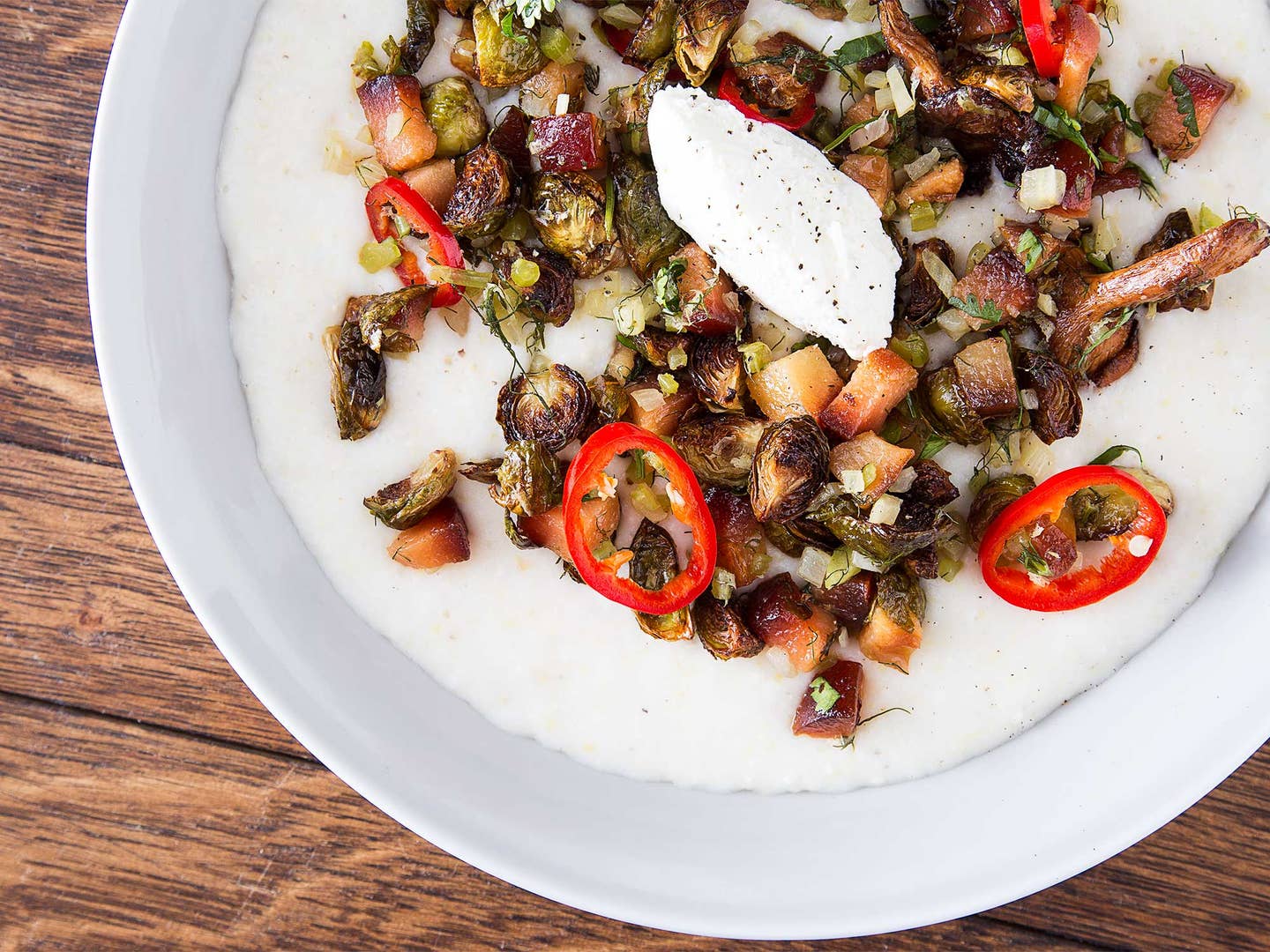 For his take on grain bowls, Chef Aaron London of Al's Place in San Francisco tops creamy corn grits with whatever toppings he has on hand. Here, earthy roasted brussels sprouts and chanterelle mushrooms mingle with aromatic poached quince and homemade cheese curds.
Ingredients
2⁄3 cup plus 1/2 cup heavy cream
2⁄3 cup plus 1/2 cup whole milk
1⁄2 cup buttermilk
1⁄2 cup goats' milk
2 cups coarse white grits
3 1⁄2 tsp. kosher salt, plus more
2 cups sugar
3 tbsp. tamari
2 tbsp. fresh lime juice, plus 1 lime
1 orange
Finely grated zest of 2 lemons, plus 1 lemon
1 chile negro, stemmed and seeded
2 quince, peeled
1 lb. small Brussels sprouts, trimmed and quartered
4 oz. chanterelle mushrooms
1⁄3 cup olive oil
Freshly ground black pepper
1⁄2 cup finely chopped celery
1⁄2 cup finely chopped fennel
1⁄3 cup roughly chopped fennel fronds
1⁄4 cup finely chopped shallots
1⁄2 cup rice wine vinegar
1 tbsp. sugar
2 Fresno chiles, stemmed and thinly sliced
2⁄3 cup crème fraîche
2⁄3 cup finely grated Parmigiano-Reggiano
Instructions
Step 1
Make the goats' milk curds: In a small saucepan, combine 1⁄2 cup each cream and whole milk, plus the buttermilk and goats' milk, and bring to a simmer over medium heat. Remove pan from the heat and let stand for 30 minutes. Gently pour through a cheesecloth-lined sieve set over a bowl and refrigerate. Let drain for at least 8 hours or overnight.
Step 2
Make the grits: In a large saucepan, bring 10 cups water to a boil. Whisk in the grits and 2 teaspoons salt. Reduce the heat to maintain a simmer and cook, stirring occasionally, until the grits are tender, about 2 hours, and keep warm.
Step 3
Meanwhile, poach the quince: In a medium saucepan, combine the sugar with the tamari, lime juice, and 2 cups water. Using a vegetable peeler, remove the peel from the lime, orange, and lemon in strips and stir into the pan along with the chile negro. Bring to a boil and cook for 15 minutes. Pour the liquid through a fine sieve into another saucepan and add the quince. Return to a boil and cook until the quince are very tender, about 2 hours. Transfer the quince to a cutting board, remove and discard the cores, and chop the flesh into 1⁄4-inch pieces.
Step 4
Heat the oven to 325°. On a baking sheet, toss the Brussels sprouts and mushrooms with 2 tablespoons olive oil, salt, and pepper and roast, tossing occasionally, until crisp and golden brown, about 30 minutes. Transfer the sheet to a rack and let cool.
Step 5
Toss the remaining 3 tablespoons olive oil with the celery, fennel, fennel fronds, and shallots along with the Brussels sprouts, mushrooms, and quince.
Step 6
In a small saucepan, simmer the remaining 1 1⁄2 teaspoons salt, the vinegar, and sugar, stirring, until dissolved. Pour the hot vinegar into a small bowl, stir in the Fresno chiles, and let stand for 1 hour.
Step 7
When the grits are tender, stir the remaining 2⁄3 cup each cream and whole milk into the grits along with the crème fraîche and Parmigiano. Divide the grits among serving bowls and top each with the Brussels sprouts salad. Sprinkle the salad with the pickled chiles and top with a dollop of the goats' milk curd before serving.