Recipes
Homemade Crème Fraîche and Preserved Lemon Salad Dressing
Serves

makes 1 cup

Cook

1 day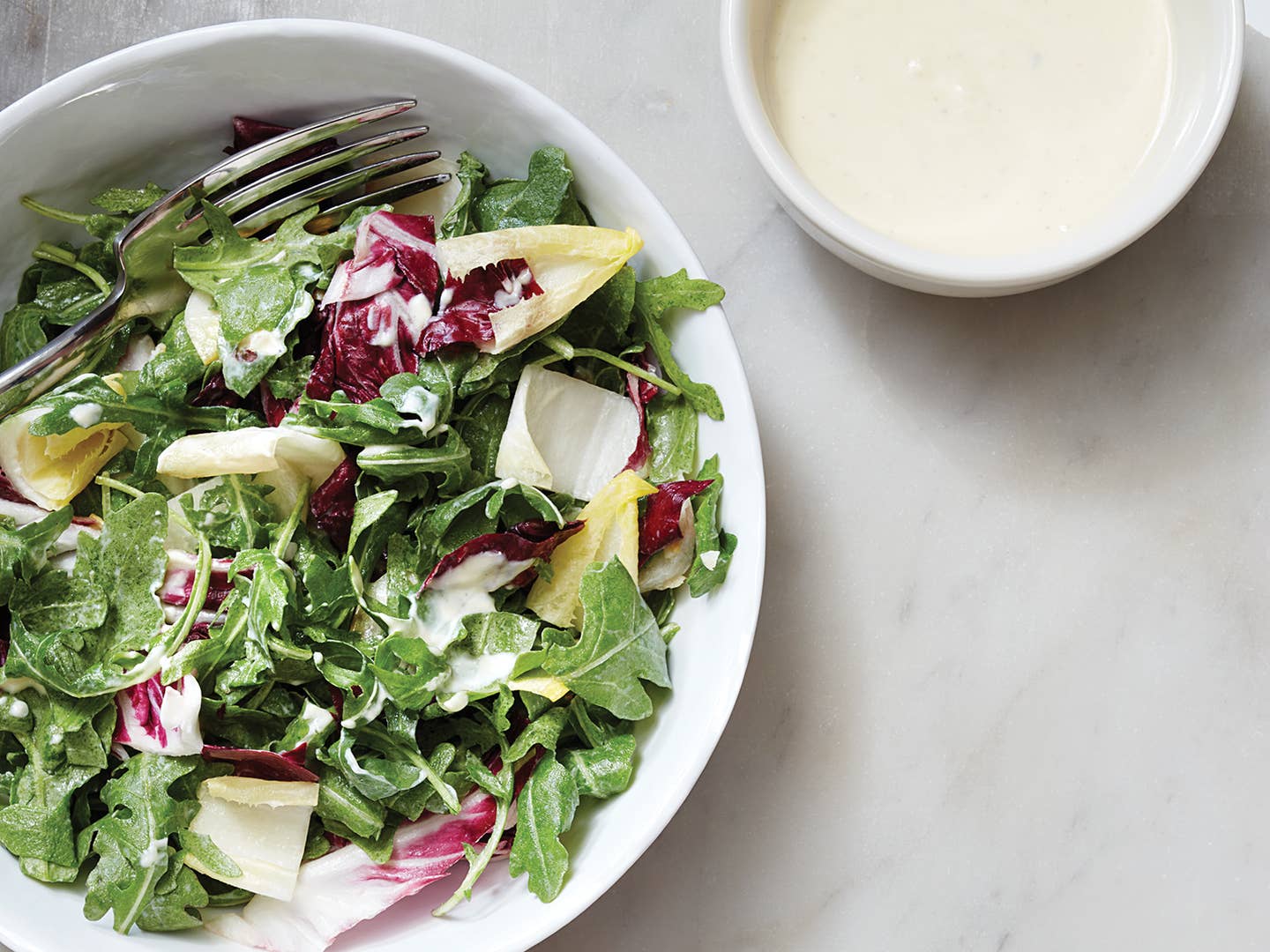 Crème fraîche: It's one of those expensive grocery-store items that's so easy and cheap to make at home yourself, you really have no excuse not to have it in your fridge at all times. Alana Chernila, author of The Homemade Pantry and The Homemade Kitchen, picks up a pint of cream on every grocery run, mixes it with a little cultured buttermilk (or buttermilk culture, a powder you can order online), and the next day, voilà, a bowl of slightly sour, thick, lush crème fraîche. "It's perfect for adding tang and richness, and it doesn't have that weird pucker of sour cream," says Chernila, who finds herself adding it to salad dressings, drizzling it on tacos, and folding it into pumpkin pie. It will keep for up to three weeks in the fridge—more than enough time for you to pick up some cream and make yourself another batch.
Ingredients
For the Homemade Crème Fraîche
2 cups heavy cream (not "ultra-pasteurized")
3 tbsp. buttermilk
For the Dressing and Salad
3⁄4 cup homemade crème fraîche
3 tbsp. lemon juice
3 tbsp. olive oil
2 tbsp. minced preserved lemon rind (homemade or store-bought)
Kosher salt and freshly ground black pepper
Arugula, endive, and radicchio leaves, for serving
Instructions
Step 1
Make the crème fraîche: In a clean glass pint jar, stir the cream with the buttermilk until evenly combined. Cover the jar with a cheesecloth and secure it in place with a rubber band. Let the cream stand at room temperature for 24 hours or until thickened to your liking (the longer it stands, the thicker the crème fraîche becomes). Once it's thickened, refrigerate the crème fraîche until ready to use. You will have 2 cups.
Step 2
Make the salad dressing: In a small jar, combine 3⁄4 cup crème fraîche with the lemon juice, olive oil, and preserved lemon and season with salt and pepper. Close the jar and shake to emulsify the dressing. To serve, dress bitter or peppery salad leaves like arugula, endive, or radicchio with the creamy, tangy dressing.