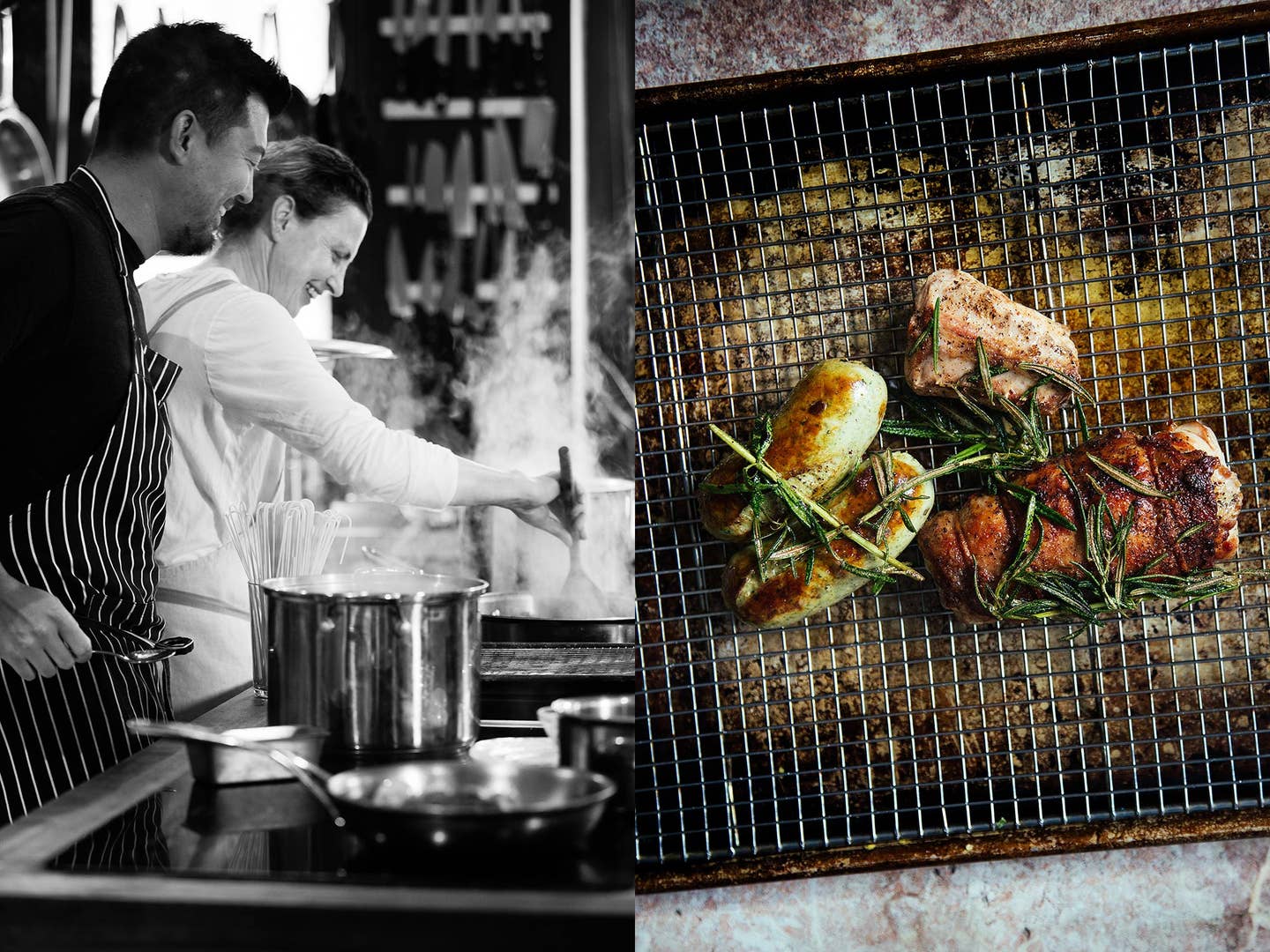 Culture
These Italian Chefs Want You to Cook More Rabbit
Rita Sodi and Nick Anderer whip up two hopping-good spins on a lean protein we love
In parts of Italy, rabbit is as common a meal as pasta, and like everything else in the boot, how you cook it and what you serve it with varies from place to place. So when Nick Anderer and Rita Sodi get together to make rabbit, they bring two very different dishes to the table.
Rita Sodi, chef-owner of I Sodi and Via Carota, makes a simple coniglio in padella that requires not much more than brining the meat to enhance its juiciness, browning it for flavor, and reducing a quick pan sauce. But Nick Anderer, chef-partner of Maialino, creates a savory version that incorporates rabbit sausage as well as dark olives, plenty of acid, and salty prosciutto and soppressata. Together they show off the range of this lovely lean protein: on one end, it can be as simple as a more flavorful alternative to chicken; on the other, it's as complex and rewarding to cook as duck or beef.
Sodi grew up on a farm outside of Florence and has always cooked with her family, but she only learned the complexities of a restaurant kitchen when she opened her West Village restaurant, I Sodi. Her style marries simplicity and comfort with a sophisticated awareness of its strengths. Anderer's background could not be more different—he was born in Indiana and grew up in New York with a Japanese mother and German-American father, and he learned to cook while studying abroad in Rome. He now cooks at Maialino and Marta, two classic New York restaurants focused on Roman-style cuisine.
In the video above, Anderer points out that even though they approached the dish with the same ingredients, his final product looks little like Sodi's version, in part because Sodi's rabbit remained intact on the bone while Anderer elected to deconstruct his rabbit after roasting it. But Sodi is fine with it; she says the important part is to cook the meat with the bone in. Sodi calls Anderer's rabbit "beautiful" and "tasty," and even admits to being a bit jealous that he used all parts of the rabbit. While they may not always agree on how to cook this Italian dish, they both can agree that rabbit is a dish that's worth cooking.