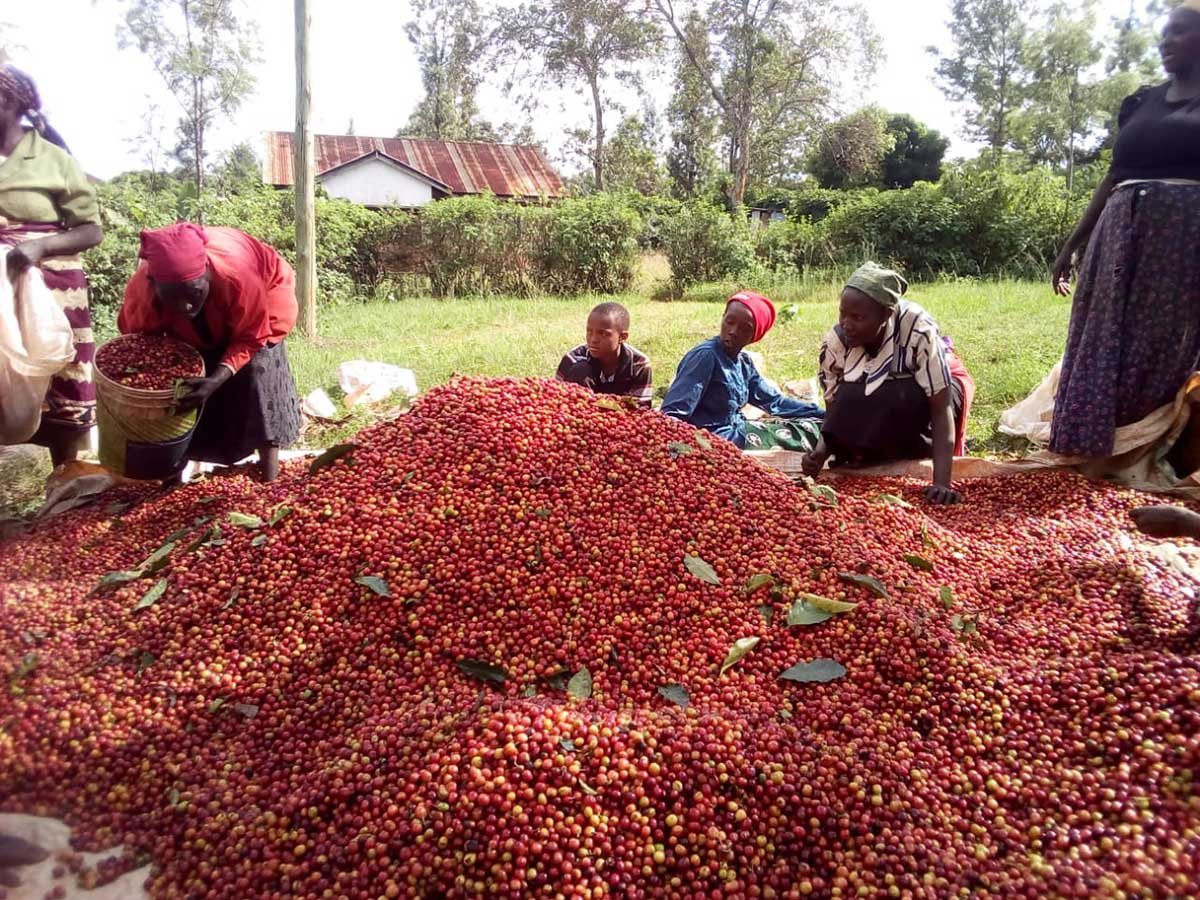 Drinks
How Kenya Is Becoming a Nation of Coffee Drinkers
Long known for its high-quality exports, Kenya is exploding with new cafés and specialty coffee shops
Across the world, the first thing many people reach for in the morning—after hitting the snooze button on their alarm clock, perhaps—is a hot cup of coffee. The caffeinated beverage, which has long been popular in countries where coffee plants are indigenous, has become deeply ingrained in our daily rituals, energizing us for the day ahead. But in Kenya, despite a long-standing tradition of growing coffee for export, this wasn't always the case. Kenyans have traditionally favored tea, likely a remnant of British colonization, but coffee has been present in the country since the late 1800s, when colonial settlers moved closer to the city of Nairobi, bringing large coffee estates with them.
The coffee didn't arrive without controversy, though. While European traders were benefiting from coffee production, they made it illegal for natives to produce coffee commercially until 1955, believing that the locals would diminish the high quality of the coffee beans. Today, the production of coffee beans continues to be a main economic driver for the country, but has only recently become a popular drink choice for locals. For Stephen Nderitu, a barista at the Cin Cin Bar inside the luxurious Fairmont Norfolk hotel in the heart of Nairobi, coffee was something that very gradually became a part of the local culture. "Within the last ten years or so the consumption of coffee [in Kenya] has increased greatly," says Nderitu. You can see it in urban centers across the country, in the form of dozens of comfortable, work-friendly coffeehouses serving up signature drinks and specialty blends.
Of all the coffee roasters that have flourished under the coffee boom, none are more symbolic to the country's growth than Java House. The Kenya-based roasters started their chain of coffee shops more than ten years ago, when coffee still wasn't a popular drink choice, especially outside of the home. In America at that time, chains like Starbucks were rapidly expanding their empires, popping up on city blocks and in shopping centers everywhere you looked. But in Kenya, the introduction of coffee shops brought something more than just coffee to the culture—it was a place to spend time with friends or discuss business in a way that didn't exist before. "Coffeehouses also serve as relaxed hangouts for the cosmopolitan urban populace," says Nderitu, "plus the free Wi-Fi attracts professionals looking for a workspace away from their office environment." As the job market evolved, and more and more Kenyans were finding less conventional work opportunities, they turned to places like Java House to meet and work. The coffee itself evolved as well: "Previously, the coffee consumed locally was not refined or flavored," explains Nderitu, which is another reason why it was less desirable to locals, who were interested in the flavored lattes and custom concoctions available elsewhere. Since the early 2000s, the company has been able to transform itself into a multimillion-dollar business, and it's effectively changed the way that Kenyans think about and drink coffee.
Economic growth has also played a significant role in coffee's rise to popularity: Nairobi, in particular, is expanding dramatically, with urban development on the rise, new direct international flights from New York City to Nairobi via Kenya Airways, and a growing GDP, with more and more people spending their income in the city's new cafés and restaurants.
It also doesn't hurt that Kenyan coffee is some of the best in the world. According to Paul Smith, CEO of Java House Group, the secret is in the soil. "Kenyan coffee is grown on rich, volcanic soil found in the highlands," explains Smith. "[The] rainfall is well distributed throughout the year where this coffee is grown. The conduciveness of the climate is our secret." There's a distinct, delicate sweetness to Kenyan coffee, which some say is due to the natural landscape—a combination of the soil, the high elevation, and the proximity to the Equator.
Kenya's coffee boom isn't limited to the locals, either. According to a recent report from the USDA's Global Agricultural Information Desk, Kenya exported over 800,000 bags of coffee in 2017 and 2018—a steady increase of 6% from the previous two years. The U.S. has since become the largest importer of Kenya coffee, surpassing European countries such as Belgium and Germany, who previously held the top position. The Java House Group also recently acquired a new partnership with a Chinese online retailer called Green Chain, enabling them to export beverage products, many of which are available in Kenyan supermarkets, to China. Globally, Kenyan coffee is becoming increasingly popular, and its unique high quality gives it an edge over its competitors.
Despite this global reach, and the coffee's reputation as a premium product, local coffee farming still has its challenges. "There is always demand for Kenyan coffee because of its quality," explains Joan Wangari Kariuki, a local coffee grower and owner of the Mountain View Coffee Farm in Kiambu County. "The problem is that the industry is highly regulated, which does not favor small-scale farmers. [This] exploitation, and low payments, [hurts farmers] while middlemen make a killing." Kariuki found out the hard way, once she took over her family's business, that small-scale production of the coffee crop could be very costly. "Coffee farming is expensive if you want to yield quality crop," she says. "It took four years of intense work to revive the coffee trees to the required standard. At times, I almost gave up, but I was determined. I had been putting in money with no cash returns."
Local coffee farms, like the one Kariuki inherited, have been struggling for a long time, due to neglect, mismanagement, and low payments on coffee beans—if a payment comes through at all. Exploitation from brokers, too, has led to the creation of an unsustainable farming industry, but thanks to new global opportunities breathing life into the sector, there have been positive changes over the past few years. Organizations like the Fairtrade Foundation, which helps women take ownership of these farms, and TechnoServe's Coffee Initiative, which aims to establish new coffee cooperatives and strengthen existing ones across East Africa, have been impactful in evolving Kenya's coffee trade. As coffee farming conditions continue to improve, and more and more Kenyans find their way to their country's incredible local supply, Kenya's coffee obsession will only grow stronger.