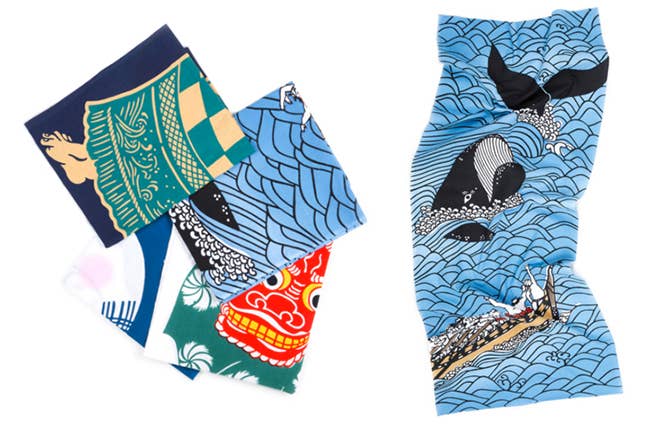 Shopping & Reviews
9 Genius Kitchen Tools to Steal From Kyoto, Japan
Bring Japan's awesome crafts home without buying a plane ticket
Geishas, temples with ski slope roofs, Nintendo headquarters—many of Japan's most recognizable icons and monuments can all be found on the streets of Kyoto. Once Japan's capital city for over 1,000 years, it's D.C. to Tokyo's New York. In its kitchens, you'll find some of Japan's oldest culinary traditions—matcha, kaiseki, wagashi—made to perfection, which is why after a recent visit, we lifted a few of the most brilliant tools of its kitchens to make cooking better back at home.
Persimmon Apron, $63
Right now, as you read this, there's a man up a flight of stairs on a residential street in Kyoto at the shop Tezomeya, slowing stirring handspun cotton and leathers in barrels of indigo and vegetable dyes. These aprons, dyed with naturally water-resistant persimmon dye, are especially durable and wear beautifully over time. Persimmon Apron from Tezomeya
Aritsugu Chef Knife, $270
If a teleporter dropped you into the center of Kyoto for one hour, the place to head would be Nishiki Market. Locals call it "Kyoto's Kitchen," and inside the 400-year-old market inside a covered arcade, you'll find everything from wasabi root (where the wasabi paste served with your sushi comes from) to Japanese honey, as well as the pinnacle of Japanese chef knives at the vendor Aritsugu, which has been crafting knives since 1560 like this lightweight one perfect for precision fish and vegetable work. Fine carbon steel gyuto from Saito Knives
Triangular Spatula, $21
Made from eco-friendly bamboo, this spatula's ingenious shape will get the last bits of your favorite jam or mustard from the jar. Triangular spatula with smooth edged bamboo from Nalata Nalata
Sakura Cherry Blossom Shoyu and Whiskey Barrel Aged Shoyu, $24
What's the difference between your regular soy sauce and this sakura and whiskey barrel aged juice? Layers and layers of flavor. The floral cherry blossom sauce is great with veggies and fish, and the whisky-barrel shoyu is just right for meat marinades, like this one used in our Soy Sauce Marinated Ribs Whiskey barrel aged shoyu and Sakura Cherry Blossom Shoyu from Umami Art
Matcha Starter Kit, $44.82
Matcha's gaining popularity in the states, but it's been a part of Kyoto food and drink culture for centuries. Kyoto's Ippodo tea shop makes a matcha starter set that's user friendly enough for anyone who wants to pick up the ritual in minutes. Matcha starter kit by Ippodo
Kanaami-Tsuji Copper Serving Tray and Server, $106 for Tray, $66 for Server
Kyoto is Japan's tofu capital (don't let any bland version you may have tried stateside color your opinion of it), and this striking handwoven tray and server was especially made for presenting it, but they can be used to present anything to stunning effect, such as fish and fried foods. Kanaami-Tsuji Copper Server and Tray
Mortar and Pestle
Maybe you want to make coconut chutney or curry paste completely from scratch, even when the canned stuff is pretty decent, or you want to mash your guacamole like the restaurants do, tableside with a massive molcajete. Or you see a recipe call for a tablespoon of ginger-garlic paste and you just cannot, for the life of you, imagine that your cobbled-together version with finely minced ginger and garlic could be as good. So you begin to wonder, maybe I do need one of those, even though it's heavy and bulky and you have nowhere to put it. You do. Buy a mortar and pestle, suffer a half hour at most of buyer's remorse, and then be a slightly better cook forever.