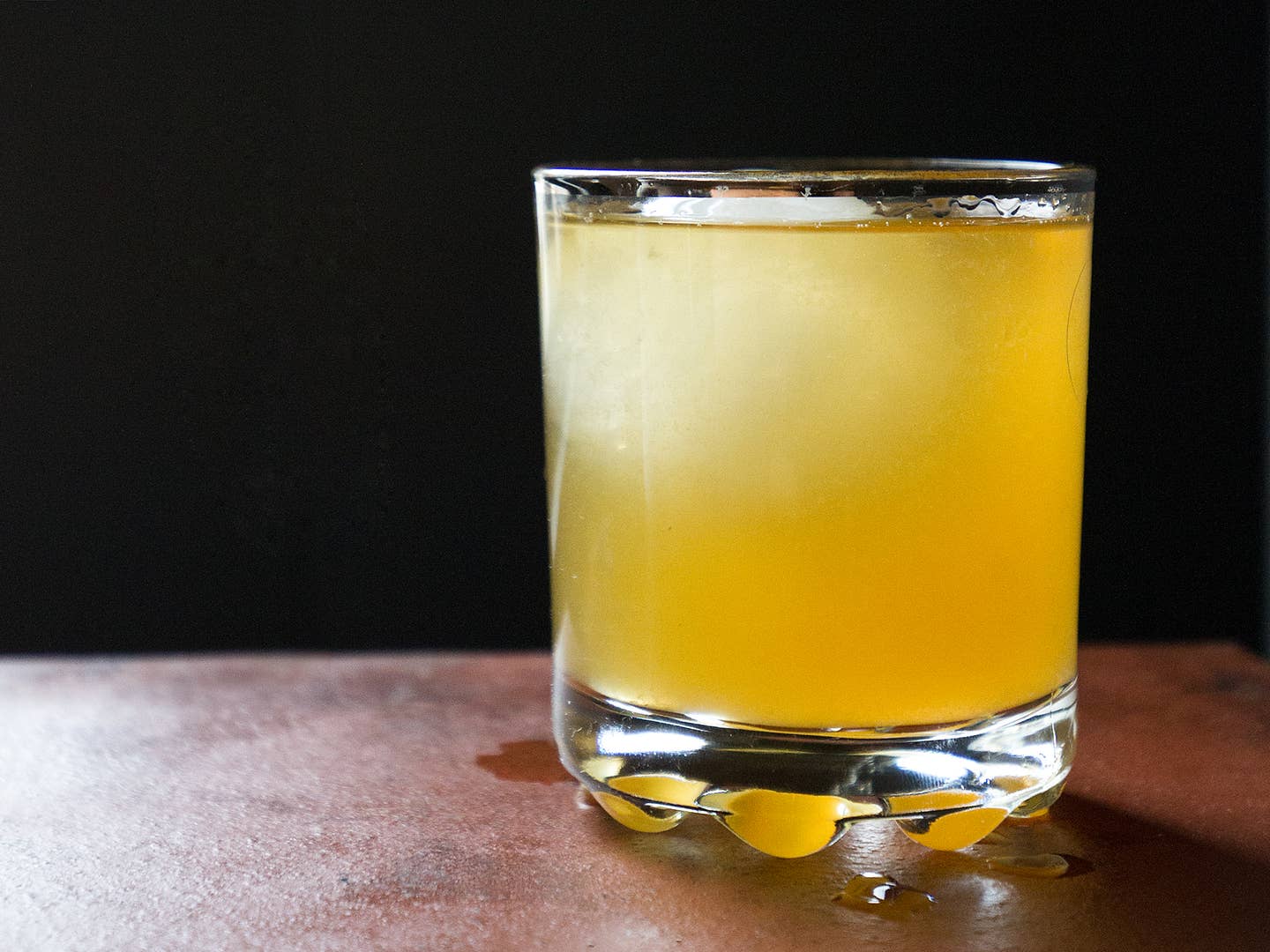 Drinks
The Making of a Modern Classic Cocktail
On the tenth anniversary of the Penicillin, we look back on how the ginger-laced scotch drink became an international sensation
What is a modern classic, where cocktails are concerned? Have the new century's mixologists created the new martini or daiquiri? Have they even produced something on the level of a Cosmopolitan, the last mixed drink to become a household name?
I've had the chance to ask many bartenders this question over the years. And they always have an opinion. It's a subject of healthy and continuing debate, you see. Most people have a set of criteria a drink must meet to be crowned a classic, and a few of these are matters of general agreement. Ubiquity is a factor; the drink must have traveled beyond the bar and city where it was invented. So is practicality: it should be relatively easy to make at any decently equipped bar. Reputation is important; the cocktail should have found wide acceptance among pros. Finally, it should show endurance, not burn faddishly for just a few years, but climb steadily in popularity.
Only a handful of drinks had found such legs during the ongoing cocktail revival, which, over the past 15 years, has transformed and improved backbars and drinking habits in cities from Melbourne to Moscow. The Old Cuban, a sort of champagne mojito created by Audrey Saunders of Pegu Club fame, can be found on menus in London and Paris. Tommy's Margarita, the curacao-free variation of the tequila classic created at Tommy's Mexican Restaurant in San Francisco, is so common that it's served everywhere from the fanciest penthouse lounge to a Manhattan Denny's.
But the drink that bartenders typically cite first, almost without fail, is the Penicillin. The drink turns 10 this year, and shows no sign of fading. Unlike the classic drinks of the past (martini, manhattan, old-fashioned), whose smudgy, bitters-stained birth certificates were misfiled long ago, we know the exact who, when, and where of almost every modern classic cocktail. The Penicillin is no exception. It was created at New York's ur-neo-speakeasy, Milk & Honey.
The drink's inventor is Sam Ross, an Australian who relocated to New York. Ross had been a big noise in Melbourne, where his family ran an innovative cocktail bar called Ginger. Ginger was a cheeky, rough-and-ready place that simultaneously took its drinks seriously and itself not seriously at all. There were drinks with squid ink and crystalized Campari rims. It once put out a drink list where every cocktail had Jagermeister in it.
Ross moved to New York in 2004 and quickly landed positions at Little Branch and Pegu Club. Fellow bartenders' descriptions of him at the time run along the lines of "cocktail little bastard." Ross cops to it. "I'm 21," he recalled. "I'm an idiot. I've got haired spiked out to here. It was my glamour punk phase." At Pegu, he would rearrange other bartender's speed racks when they weren't looking.
Just one year after his arrival, Ross came up with his calling card. "I did a riff on the Gold Rush [cocktail], which was one of our big sellers," he recollected, naming the honey-laced whiskey sour that Milk & Honey made famous in its early days. He turned to a box of assorted samples from the Compass Box Whiskey Company, including Asyla (a blend of grain and malt whiskeys) and Peat Monster (a mix of Islay and Speyside whiskeys). "I used Asyla. Now, our ginger juice was sweetened, so it acts like a syrup. I split the sweetening between the two, the ginger and the honey. And it was great. Then I grabbed the Peat Monster—might as well play around with the smoky whiskey." He added just a touch of the peated whiskey. The garnish was a piece of candied ginger.
The result was smoky, spicy, juicy, and strong, a stiff drink that tantalized nearly every taste bud as is cascaded smoothly—almost too smoothly—down your gullet. The name, said Ross, was inspired by "Chicken Noodle Soup or 'Jewish Penicillin,' a dish that can cure whatever it is that is ailing you. I felt like this was a drink that could have the same desired effect."
Ross went to bed not thinking much of his experiment. But others chose not to forget it. Nine months later, at Milk & Honey's sister bar Little Branch, one of the cocktail waitresses, Lucinda Sterling, came to Ross with a table's-worth of orders for "Bartender's Choice"—a standard menu item at bars owned by cocktail legend Sasha Petraske that places the selection of drink squarely in the hands of the barkeep.
"She said I should put a Penicillin out because every table needs to experience one of them," recalled Ross.
"I believe that drink helped change the stigma of the scotch and its use in bars today," says Sterling. "People can enjoy the characteristics of the whiskey in a balanced and refreshing drink, versus a cocktail bogged down by its weight."
But it was Los Angeles, not New York, that first fully embraced the drink. In 2007, L.A. restaurateur David Myers hired Ross to consult on Comme Ça, a new French-style brasserie he was opening in West Hollywood. "The cocktail scene in L.A. was fairly non-existent," says Ross. He trained the staff on the short, but serious cocktail list, which included his own Penicillin. That staff included bartenders who went on to be name mixologists as the L.A. cocktail scene matured. When they opened other bars, they took the Penicillin with them.
"I noticed how much cocktails were language [then]," said Eric Alperin, who moved to L.A. to open The Varnish, still arguably the most famous cocktail bar in town. "The Penicillin and Gold Rush all of a sudden became these cocktail talking points. L.A. was just so hungry for it."
In the years to come, through the twin forces of the Internet and rampant bartender travel, the drink spread to the far corners of the world. That it tastes damn good certainly helps its cause. But Ross thinks there are other reasons.
"The Penicillin's uniqueness is its simplicity, but also its complexity," he posited. "It's a fairly easy drink to make once you've done the ginger syrup, but its got enough complexity to wow you."
It is known enough that it is riffed on, as true classics are wont to be. Early on, Marcos Tello, a former bartender at The Varnish, created the Medicina Latina, which substitutes tequila and mezcal for the blended and peaty Scotches. At Door 74 in Amsterdam, the Mr. Antoni replaced the blended scotch with genever. At Lobos Plantation, a tiki bar in Sydney, the Penicilin employs tequila, jalapeño jam, and a pinch of smoked salt.
Ross remembers the first time he realized the Penicillin had taken on a life of its own. "I think it was when [Brooklyn Brewery brewmaster] Garrett Oliver approached me to do a Penicillin beer," he said. "That was when I went, 'Wow.'" Oliver makes experimental brews on a regular basis. He had at the point, however, only made one based on a cocktail: the manhattan. The Penicillin was his second such hybrid.
Matters amped up a couple years ago when Dewar's approached Ross with the idea of creating a special blend of its famous whiskey solely for making Penicillins. After extended talks, the deal eventually fell through, but Ross is still hopeful that he can forge a partnership with another distiller.
Despite its stature, you can actually still get a Penicillin at the place where it was invented and get it made by the man who invented it. Ross and his partner, Michael McIlroy, inherited the original Milk & Honey space, from their former boss, Sasha Petraske, and remade it as their own bar, Attaboy. Strangely enough, Ross now needs to persuade drinkers seated across the bar from him at Attaboy that he's really the man behind the 21st-century's biggest cocktail. The drink is too famous at this point, too famous for one little barman in a sliver of a bar on the Lower East Side to have created it. Customers are confident the drink came out of Los Angeles, not New York. Or they think Ross is too young to have done it, because everyone knows that the Penicillin is a Prohibition-era drink.
"I've had to convince people that I came up with it," Ross says. "At my own bar!"
Meanwhile, the drink continues to go from bar to bar, gaining in stature. A year or so ago, I took a stool at The Bar Room, a midtown Manhattan tavern. The Bar Room benefits optically from a gorgeous back bar made of African mahogany, a 19th-century relic rescued from the vanished Harvey's Chelsea House. On this particular night, two featured cocktails were written on the bar's enormous mirror in letters big enough for any customer to notice. One was the old-fashioned, a classic that goes back two centuries. The other was a drink that goes back, well, a decade: The Penicillin. Not bad company.