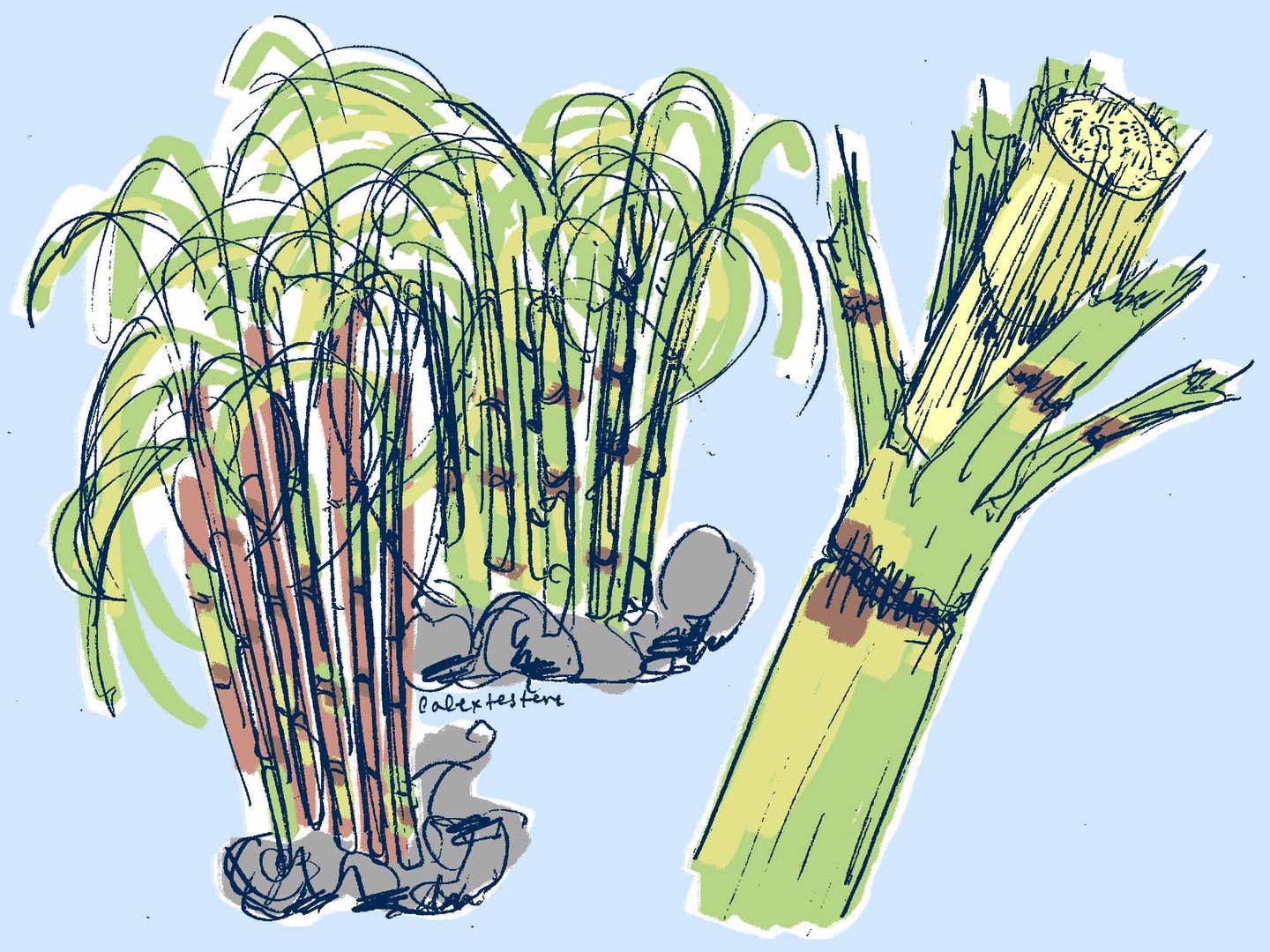 Drinks
Rum from Martinique Tastes Like Martinique
Where most rum is made from molasses, in Martinique fresh-pressed sugarcane carries traces of time and place
One day some years ago I found myself experiencing a kind of sweetness I'd never encountered before. I was on the Caribbean island of Martinique, on assignment to write about rum, and had stopped by a distillery owned by the Neisson family since 1932. Grégory Vernant Neisson, a fourth-generation owner, was showing me around one of the half-dozen distilleries still in operation on the French island. We saw steam-powered cane crushing equipment and a serviceable old still, and then rounded an outbuilding to find ourselves amid a cluster of sixteen shiny stainless steel holding tanks, each about a dozen feet high.
Placards on the tanks were coded with scribbling, and I asked for an interpretation. "Every tank you see here is rum from a different parcel of land," Neisson explained. Each was distilled from sugar grown on a different plot—some toward the south end of the island, where it was flatter with sandy soil. Others were made of cane from sloping land and volcanic soil in the north. He pointed to a ridge above the distillery. "It's sugar from there that gives me my best rum," he said. "It has altitude and good sun, and I get a good concentration of sugar in the cane."
When I was growing up in suburban New Jersey in the 1970s only two kinds of sugar were known to exist: white and brown. White was everyday—it converted the cardboard blandness of breakfast cereal into something almost enchanting. The brown variant was more feral, lurking in the dark recesses of the kitchen cabinet, surfacing mostly to make apple crisp on snow-day afternoons.
So Neisson's extensive rainbow of sugars caught me up short. Because I'd long believed that rum—a sugar distillate—was an industrial product, without any trace of the land and climate where it grew. The vast majority of rum produced worldwide starts as molasses, which is a byproduct of sugar making. Distillers order up tankers of the syrupy stuff as if it were any other global commodity, like white flour or corn syrup. Some molasses might come from Brazil, some from the Philippines, all feeding into a homogenized industrial system. The idea of terroir in rum seemed implausible, like tasting the sunshine that caressed corn used to sweeten a soda.
But rum from Martinique—it's spelled rhum in French—is different than most others. In Martinique (and also in Guadeloupe), it's largely distilled from freshly-pressed sugarcane, which for logistical reasons must be grown near the distillery (the cane juice starts to sour a day after pressing). And as my visit to the Neisson distillery suggested, distillers can take as much pride in their sugarcane fields as distillers of cognac do in their vineyards.
In Martinique, those subtle variations in distillate from varied sugarcane fields creates a palette from which blenders can craft something striking and unique. (Neisson half-jokingly referred to his blender as his "saucier.") It's not an exact science, but some varieties of sugarcane and some locales where it's grown might produce a mustier, earthier rum; others may result in something that smells fleetingly like a freshly mown lawn. J.M rums are made from sugarcane grown on the slopes of a towering volcano, which gives it a subtly different character than that from the nearby Saint James distillery, whose cane is grown closer to the sea.
The clear, unaged rhums are the best to experience fresh, grassy aromas and sweet, funky flavors. Aged versions that sit for several years in a cask (often a used bourbon barrel) gradually lose these qualities to the vanillins and tannins of oak, resulting in an ethereal amber liquid that can taste like a close cousin to brandy.
With their outsized flavor and aroma profiles, French rums can be trickier to work into cocktails (especially the unaged varieties), overpowering or conflicting with other ingredients. Perhaps that's the part of the reason Martinique eschews a complex cocktail culture, preferring a simpler approach. Most everyone drinks the local rum either straight up, or in a ti'punch (short for petit punch)—a beguilingly unaffected mix of a little sugar, a squeeze of lime peel (to express the oils), and a couple fingers of rum. An ice cube is optional. The only other ingredients required to make it absolutely perfect? Some sunshine and a comfortable chair, preferably in sight of palm trees.