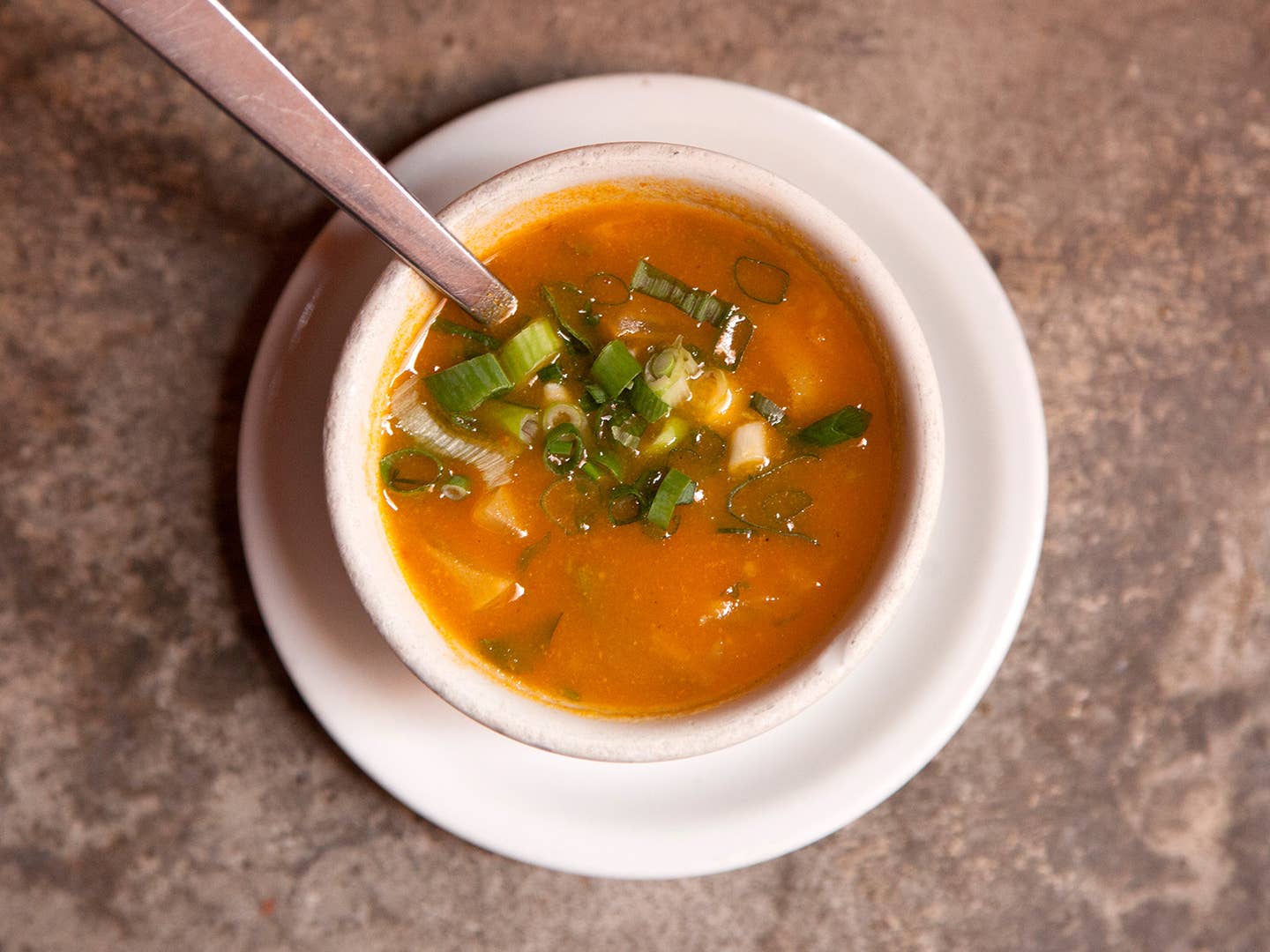 Travel
In Brazil, Finding Comfort in Cow's Foot Soup
Mocotó has been the signature dish at one of São Paulo's most famous restaurants for more than 40 years
"My father started cooking through memories," says Rodrigo Oliveira, at his restaurant Mocotó in Vila Medeiros, a working-class neighborhood on the outskirts of São Paulo. His father, José Oliveira de Almeida—who goes by Seu Zé—was born in Sertão, the drought-stricken and impoverished backlands of northeastern Brazil. It's a place that includes parts of nine different states but has no exact borders, giving it an almost mythic presence in the Brazilian imagination. Almeida, now in his 80s, arrived in São Paulo in a mass migration in the 1960s. He opened a small grocery store in 1973, selling products from his home region, including carne de sol (sun-dried meat) and rapadura (unrefined cane sugar).
The shop also had a small, homestyle stove, so in addition to the pantry sundries, Almeida decided to sell a traditional dish from the Sertão: caldo de mocotó, a hearty cow's-heel soup. It didn't matter that he had never cooked a day in his life. He missed eating mocotó and thought other Sertanejos in São Paulo might too, so he began trying to recreate the dish of his youth, purely from memory. "He started cooking in his own way, guided only by taste," Oliveira tells me, as I take a spoonful of the comforting stew.
The exact origins of caldo de mocotó in Brazil are murky at best. Some say the dish was how slaves working in charqueadas, factories that made dried and salted meat in the southern state of Rio Grande do Sul, used up the scraps no one wanted—similar to Brazil's national dish feijoada, which is believed to have first been made with black beans and pig parts like feet, ears, and tails. Others claim mocotó was adapted from the Portuguese recipe for mão de vaca com grão, a stew of cow feet, chickpeas, and vegetables that's most commonly eaten in the Ribatejo province, though its roots date back to Portugal's colonization of Angola.
Another theory is that mocotó appeared simultaneously in different impoverished communities all over Brazil, a dish of ingenuity born out of necessity. In the Sertão, if you killed an animal, you ate everything: not just the feet, but the throat, lungs, liver, you name it. "People like my father came from nothing. And I mean nothing," Oliveira explains. "He and his family were starving in the northeast."
Caldo de mocotó was the only recipe Almeida could afford to make in São Paulo. At times the butcher wouldn't even charge him for the cow's feet, but instead thank him for taking the undesirable cut. Almeida's goal was to make a more balanced version of the mocotó he grew up with, which "was too fatty and [had] too much seasoning," he says.
Almeida took great care in the preparation, treating the feet as if they were filet mignon. He obsessed over cleaning them, meticulously removing the hairs and trimming off the excess fat. Everything was cooked in the same pot: the meat, vegetables, and spices—each ingredient a memory of his homeland. "There were so many textures, so many layers of flavors that it was impossible to have two spoons that tasted the same," says Oliveira. "This is how he taught me to cook."
Customers began coming to the store just for the soup. By 1979, Almeida was able to open a bar nearby, which is where the Mocotó restaurant is still located today. There were just a handful of dishes on the menu at first, each cooked low and slow: mocotó; mocofava, a recipe created by Almeida's brother Gercino that combines mocotó with butter beans and various meats; sarapatel, a pork offal stew; and a few appetizers made from other leftovers like pork intestines and spleens. In the mid-1980s, the shop closed, but the bar became a full-blown restaurant, adding more dishes and expanding its collection of cachaça, the Brazilian spirit made from fermented sugarcane juice.
As the years went on, Oliveira became more involved in the business, working his way up from helping out at the store to taking over the restaurant kitchen in 2001. Almeida didn't like changes to his recipes, so even as the head chef, Oliveira would only tinker with the mocotó when his father was away. He ultimately made just one change: instead of relying on cornmeal or wheat flour to give the stew body, he used grated manioc, which made for a lighter, more flavorful mocotó.
As the family recipe evolved under Oliveira, so did Mocotó, turning into one of the most influential restaurants in Brazil. Mocotó's torresmo, or pork rinds, have become iconic, and a version of its dadinhos de tapioca, fried tapioca cubes, can now be found at nearly every boteco, or bar, in the country. Oliveira even earned a Michelin star at his fine-dining restaurant Esquina, which used to be next door to Mocotó and was visited by some of the biggest names in the food world, from Ferrán Adrià to Anthony Bourdain.
Despite its rise to fame, Mocotó remains a neighborhood restaurant at heart. It's still the spot where locals stop for a bowl of mocotó to soak up the cachaça before going home. And for Oliveira, it's still an important reminder of where his family came from.