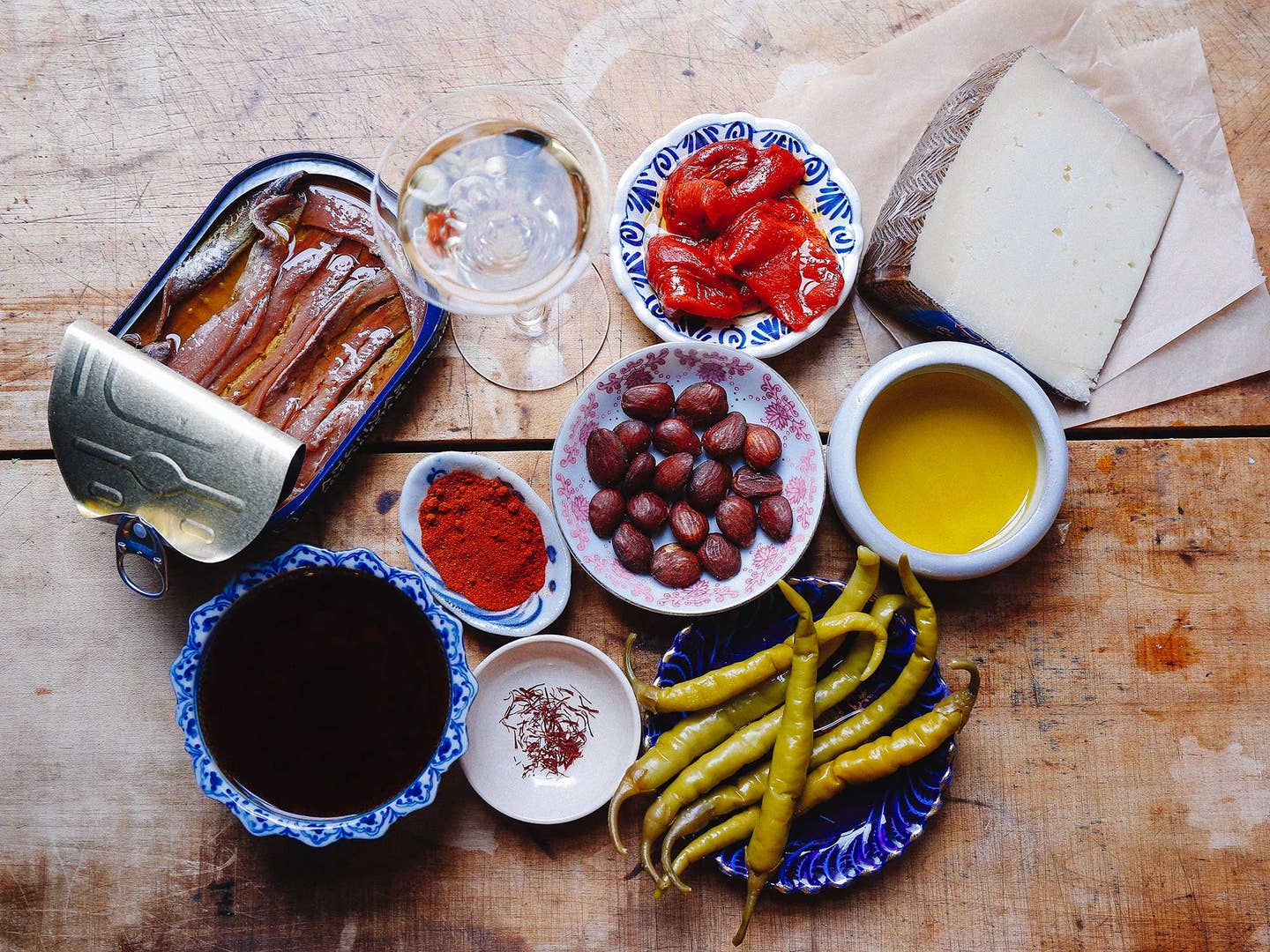 Techniques
10 Essential Spanish Ingredients for Your Modern Spanish Pantry
Chef Katie Button of Cúrate Tapas Bar on the olive oil, sherry vinegar, and secret weapon canned goods she can't live without
Katie Button is not Spanish. The South Carolina-reared chef's first foray into Iberian flavors was also her first restaurant gig: After discovering her passion for cooking at home, she dropped out of a PhD program to work as a server at one of megawatt chef José Andrés' Washington D.C. outposts. At her recent dinner at the SAVEUR Test Kitchen, she even jokingly quips that her Spanish husband Félix, a hospitality veteran who's also her front-of-house captain, "keeps her in check" when it comes to replicating traditional dishes.
But that's not to say she herself is not an expert in Spanish cooking: her rapid ascension through the ranks—that initial serving gig turned into a kitchen one, which was followed by a stint in the pastry kitchen of the famed elBulli, in Roses, Spain—is just one part of the testament to her passion for both honoring the cuisine at its roots but also making it accessible to diners on this side of the Atlantic. It's that two-pronged mission that defines the ethos of her lauded Asheville, North Carolina tapas bar, Cúrate, as well as its newly-released cookbook Cúrate: Authentic Spanish Food From an American Kitchen.
Taking a break from dinner prep, she tells me of the book, "It's not a tapas book, it's a Spanish home-cooking book. It's definitely geared towards the home cook—we converted everything and tested everything."
But that wouldn't have been as easy even four or five years ago. As Button explains, the wide availability of authentic ingredients is a relatively recent phenomenon, making this a particularly exciting time to be an at-home chef diving into the peninsula's cuisine.
"We opened Cúrate six years ago, and at the time, it was much more challenging to find some of these ingredients," says Button. "I've seen it change, even in Asheville, which means means it's changing all over."
With that in mind, we asked Button to share the top ten essential ingredients for the modern Spanish pantry—now available at a grocer near you—so you can work your way through the Cúrate cookbook.
Also known as Spanish paprika, this distinctly smoky spice is completely different from Hungarian paprika. It's available in three grades—sweet, hot, and bittersweet—but Button suggests keeping at least the sweeter mild version on hand and adding bits of cayenne pepper to dial up the heat. To obtain the smoky flavor, she recommends buying a "pimentón de la Vera" (we like Santo Domingo), which is named after the region where the peppers are grown and smoked with wood. She says, "Pimentón is my go-to ingredient to add just a little bit of flavor, but there are some dishes where it's really forward, like the conejo en salmorejo (braised rabbit) where it's a main ingredient."
Button recommends using a bright, fresh olive oil as a finishing note to salads. While she's fortunate enough to have a friend in Spain who presses a small amount of olive oil for Cúrate, she acknowledges Spanish olive oil can be hard to find stateside, where markets often focus on Italian olive oil. She says, "At the restaurant, I use Molina La Condesa, which you can order, but at home, I usually get California Olive Ranch oils. Their 100% Arbequina really reminds me of the Arbequina that you would find in Spain, so that's a good alternative."
While trickier to find than your garden-variety vinegar, this complex ingredient tastes like the sherry it's made from (and the barrels it's stored in), giving it woody undertones and an unusual richness. Sherry producer Lustau is Button's recommendation for finishing, but she suggests keeping a less-expensive option on hand for cooking. "I'll use sherry vinegar for finishing salads, boquerones, and other dishes where it will really shine."
As any Spanish tapas lover knows, anchovies are a staple that make for excellent snacks on their own, with a bit of olive oil and vinegar, or skewered with peppers and olives. Button's favorite brand for anchovies is Ortiz: "The ones you can find in the little glass jars are good, but the ones that are called La Gran Anchoa are amazing. They come in these boxes and they're these large anchovies. I think anchovies like that are meant to be eaten on their own or with tomato bread, or pan con tomate."
Like so many Spanish foods (dry sherry, Marcona almonds), Manchego cheese is perfect for the cuisine because of its pronounced nuttiness. As with paprika, Button keeps at least two grades of Manchego on hand for different uses: a softer, less-cured version for melting and a harder, aged number for cheese plates or in salads. "Manchego aged for six months maximum or less would be perfect for melting on the canelones, which are the braised pork-chicken liver-beef rolls, but for appetizers and salads, I like a harder Reserva-type cheese. A year is the minimum as far as the age on that," she says. We recommend the Manchego's cheese from Murray's Cheese.
These pickled peppers can be found jarred. Button keeps them around because they're a quick and easy way to make something elegant when you have last-minute guests. "They have so many uses, whether you're snacking on them alone or putting them out for friends on a bigger board with cheeses and nuts. Banderillas are one of the main uses for me—they're these little skewers that you can stack with Spanish canned products."
Grown near the Spanish town of Lodosa, these small, conical peppers are roasted and jarred. "You can stuff them with goat or Manchego cheese and Serrano ham, then sear them in a pan for a really nice dish," says Button. "I'll also confit them with garlic and rosemary, low and slow, and they get even sweeter. I'll jar them up again and use them on sandwiches, salads, and with meat." While the chef doesn't have a specific brand, she suggests making sure they are from Lodosa for the most authentic pepper.
While most associate saffron just with paella, Button loves to use the seasoning in her version of a traditional Spanish dessert called brazo de gitano, a sponge cake stuffed with cream. Her tip: "Don't buy saffron in clear glass jars—it's light-sensitive so the flavor can change. Make sure you buy it in a dark envelope." At SAVEUR, we love the superior grade saffron from The Spice House.
Native to North Africa, these more rounded almonds are distinguished by their rounder shape as well as their buttery quality. Button considers them an essential for sweets: "My favorite, although they're a little bit harder to find, are the ones with the skins on them because they have so much flavor. The ones without the skins are pretty widely available, roasted and salted, and they're still delicious. I use them in traditional cookies made with lard, almonds, flour, lemon zest; I also want to try making a pie crust with them since they're buttery like pecans." Grab Marcona almonds from Despaña.
While you can use a generic dry sherry for cooking, Button prefers Lustau Fino because, and this is the best tip yet, "it's enjoyable to drink it as well!" In addition to being ideal for sipping and pairing, the use of Fino in cooking adds a certain level of depth in flavor that can't be achieved using white wine. As Button explains, "The wines are allowed to oxidize and get all those yeast-y flavors that then translate to the food. I use sherry a lot of quick sauté dishes like spinach with pine nuts and raisins; and also mushrooms. Mushrooms and sherry are a match made in heaven and they should always be together forever."