Recipes
Brazilian Chile and Tomato Salsa (Molho Lambão)
Serves

makes 3 Cups

Cook

20 minutes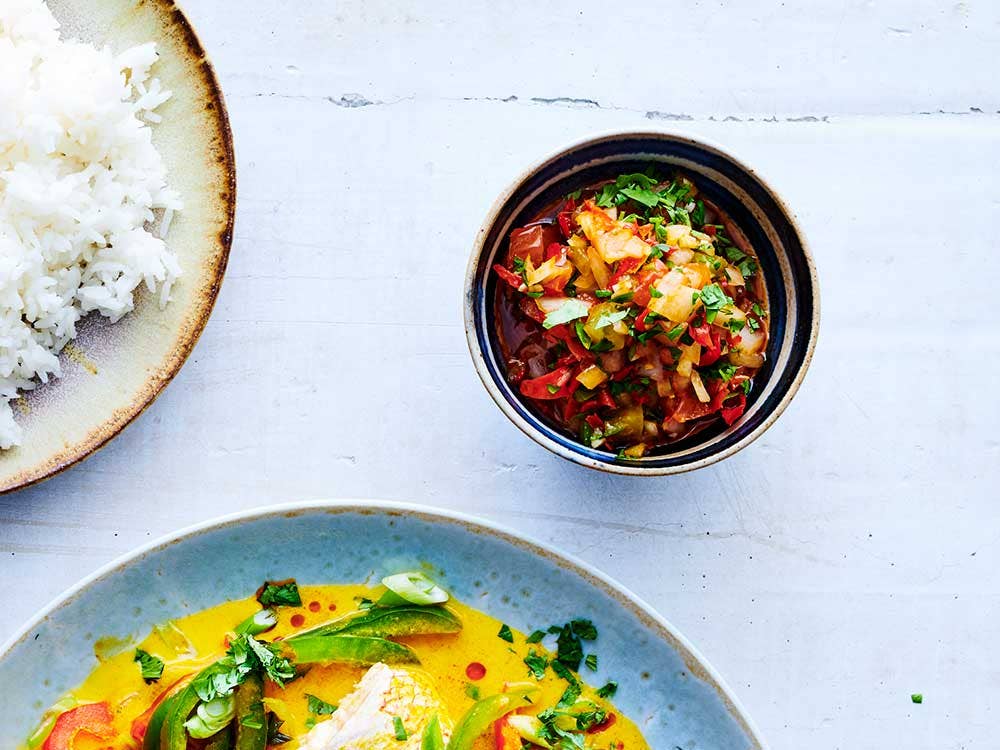 Bahians like to ­finish this chunky salsa with a bit of juice from the moqueca, or whatever dish it is meant to accompany. The term lambão comes from the Latin lambere, "to pass the tongue over something." In Bahia, the traditional mala­gueta chiles are said to ward off negative energy associated with some of the orixás, or spiritual beings. Look for malaguetas and pimenta de cheiro at farmers' markets, or substitute drained jarred malaguetas from a Brazilian grocer and fresh serranos.
In Salvador, Brazil, a festival honors the sea goddess Iemanjá, ensuring that there will always be an abundance of fish
Ingredients
1 cup (3 oz.) red malagueta chiles, seeded and stemmed
2 cheiro, or substitute fresh serrano chiles, stemmed and seeded
3 garlic cloves (½ oz.)
Kosher salt
1 large green tomato (8 oz.), chopped
1 medium yellow onion, chopped
1 cup extra-virgin olive oil
1⁄3 cup fresh lemon juice
1⁄4 cup fresh cilantro leaves and thin stems, finely chopped
Instructions
Step 1
In a small mortar and pestle, combine the chiles, garlic, and a pinch of salt; crush to a fine paste. (Alternatively, use a small food processor.)
Step 2
Transfer the chile paste to a medium bowl, then add the green and red tomatoes, onion, olive oil, lemon juice, and cilantro; stir well. Taste and add more salt if needed. Serve spooned atop moqueca.