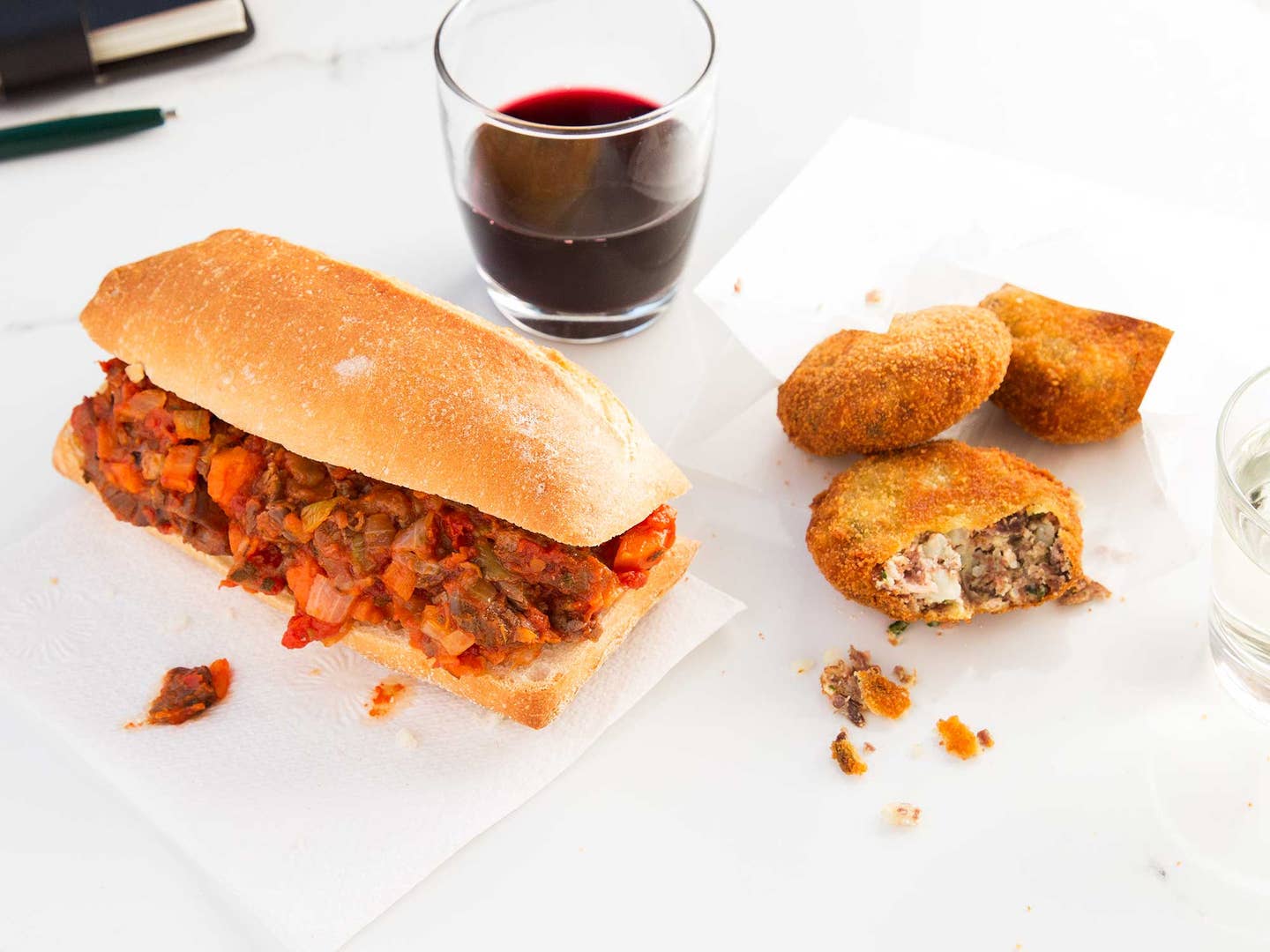 Travel
The Teeny-Tiny Roman Market Stall Making Some of the City's Best Fast Food
Tasting Rome co-author Katie Parla shows how pocket-restaurant Mordi e Vai is preserving Rome's old flavors for a new crowd of eaters
When wife and husband duo Mara Cipriani and Sergio Esposito first raised the shutters at Mordi e Vai, their stall in the Testaccio Market, it was 90 degrees outside. If you have spent even a minute in Rome's swampy summer heat, you know these are less than ideal conditions for consuming hot food of any kind, much less meaty Roman classics like braised meat on crusty bread. Yet that's precisely what was on the menu at Mordi e Vai that day in July 2012, and every day since.
"When we first opened, people scoffed and asked 'who wants to eat meat or tripe sandwiches in this heat?'," Esposito reminisces. "I told them, forget the weather! Come here and try the allesso," referring to the house specialty, tender simmered brisket. The sandwich is one of several items served at Mordi e Vai that has virtually vanished from Roman tables.
Esposito's pitch was clever and it has worked. Today, Mordi e Vai is by far the busiest stall at the Testaccio Market and year-round, hundreds of people queue up every day for sandwiches filled with brisket in various forms, as well as tripe with tomato sauce, kidneys and onions, tongue with salsa verde, and tomato-braised intestines.
In spite of their current success, Cipriani and Esposito were taking a huge risk when they opened their 20-square meter stall near the market's Via Beniamino Franklin entrance. It was among the first market stalls in town to sell Roman fast food: hot, homemade meals rooted in local flavors intended to be eaten on the fly. Market dining may be a standard feature in other cities—even as close as Florence and Naples—but in Rome, the format was virtually non-existent before Mordi e Vai opened.
Nearly four years later, the Testaccio Market has become a point of reference in the city for market dining and Mordi e Vai has been joined by nearly a dozen stalls serving meals of various genres, from gourmet panini to gluten free pasta. Mordi e Vai remains by far the most popular, likely because its offerings most faithfully showcase the city's traditional flavors and deliver them in a portable, affordable format.
After years in the food business—Cipriani owned restaurants while Esposito worked in the city's slaughterhouses—the couple recognized a dearth of quick and affordable dining options that were anchored in Roman tradition. "We wanted people to taste the flavors of the past without having to sit down to a full meal, wait for their food, or pay restaurant prices," Esposito explains.
The dishes, which are displayed behind the plexiglass counter, include a range of local classics, some of which have disappeared from menus as Roman cuisine has evolved. The aforementioned allesso, for example, rarely appears on home or restaurant tables, while picchiapò, is even less common. To produce the former, Cipriani simmers brisket with vegetables and aromatics. The finished product is sliced and served on bread soaked in the meat's savory juices. Picchiapò, on the other hand, is made from allesso scraps, which are shredded, then cooked in a tomato sauce enriched with onions and chili. It, too, is served on a sliced roll, which absorbs the deep flavors of this forgotten Roman classic.
Mordi e Vai
Nuovo Mercato Comunale di Testaccio, Via Beniamino Franklin, 12/E
+39 339 134 3344