Roman Beef Croquettes (Polpette di Bollito)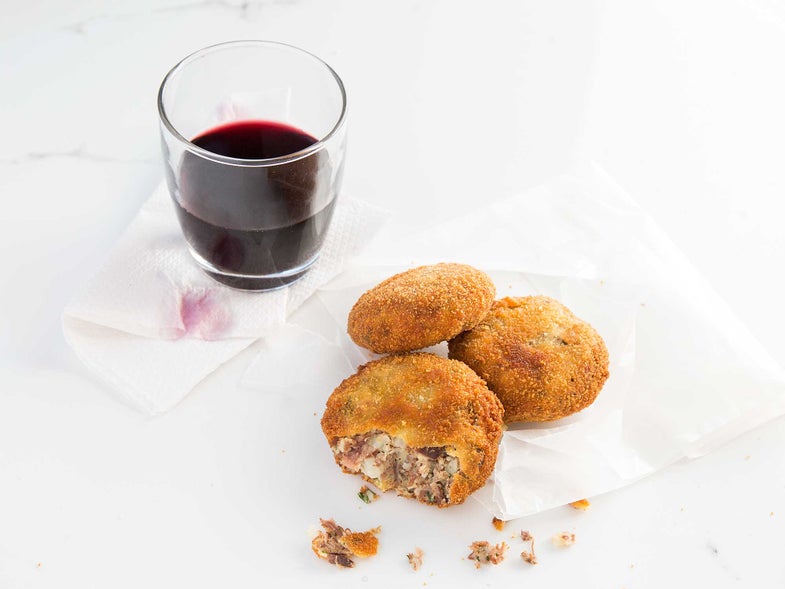 Crispy on the outside and tender on the inside, these fried croquettes made with braised beef make great party appetizers. This recipe is adapted from Tasting Rome: Fresh Flavors and Forgotten Recipes From an Ancient City by Katie Parla and Kristina Gill.
Featured in: The Teeny-Tiny Roman Food Stall Making Some of the City's Best Fast Food
Yield: makes 16
Time: 11 hours
Ingredients
1 lb. beef shin, trimmed
Kosher salt
1 cup dry white wine
10 whole black peppercorns
3 carrots, peeled and halved
2 medium yellow onions, quartered
2 whole cloves
1 large potato
3 1⁄2 oz. mortadella, thinly sliced
1⁄3 cup grated Parmigiano-Reggiano
2 tbsp. finely chopped flat-leaf parsley
4 large eggs, lightly beaten
1 cup all-purpose flour
1 cup fine breadcrumbs
Vegetable oil, for frying
Instructions
Salt the beef, cover it with plastic wrap, and refrigerate it overnight.
The next day, in a medium saucepan, cover the beef with 6 cups water. Add the wine, the peppercorns, carrots, onions, and cloves and bring to a boil. Reduce the heat to maintain a simmer and cook until the beef is tender, 1 1⁄2 to 2 hours. Transfer the meat to a plate and shred it with tongs or two forks and transfer it to a food processor. Strain the broth through a fine mesh sieve over a bowl and discard the solids.
Meanwhile, in a small saucepan, boil the potato until tender, about 40 minutes. Transfer to a bowl and, when cool enough to handle, peel and cut into 1-inch pieces. Add the potato and mortadella along with 1 to 2 tablespoons of the reserved broth to the food processor and pulse until it forms a paste. Transfer to a medium bowl along with the Parmigiano-Reggiano, parsley, and half of the eggs. Season with salt and pepper and mix well to combine. Refrigerate 1 hour.
Remove the beef from the refrigerator and form into 16 patties, about 2 1⁄2-inches wide and 1⁄2-inch thick. Heat 2-inches vegetable oil in a 6-qt. saucepan until a deep-fry thermometer reads 350°. Place flour, remaining eggs, and bread crumbs in separate shallow dishes. Working with 1 patty at a time, dredge in flour, dip in eggs, and coat in bread crumbs. Working in batches, fry patties until golden and crisp, 3 to 4 minutes. Transfer patties to paper towels to drain and serve hot.