Roman Braised Beef with Tomato and Onion (Picchiapò)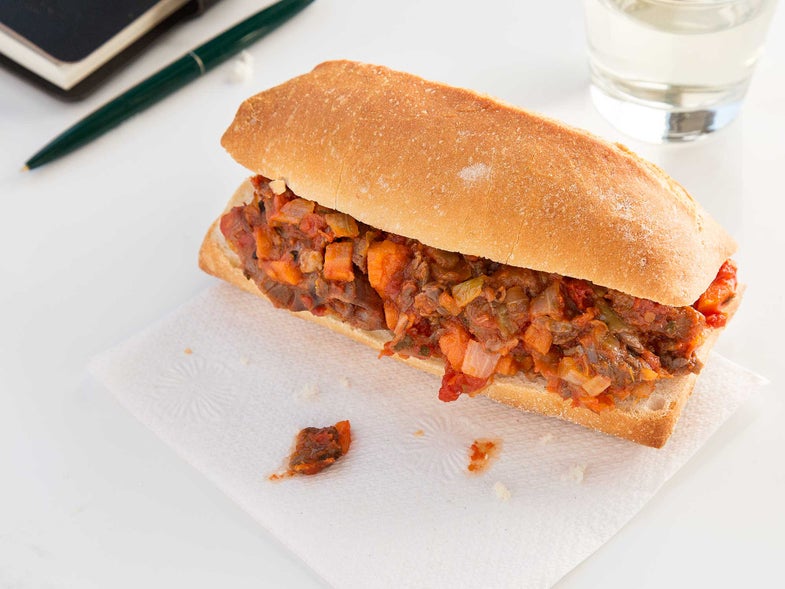 Beloved throughout modern trattorias and osterias in Rome, this simple, rustic dish of shredded beef braised in tomatoes and onions make a great stew and a fantastic sandwich filling. This recipe is adapted from Tasting Rome: Fresh Flavors and Forgotten Recipes From an Ancient City by Katie Parla and Kristina Gill.
Featured in: The Teeny-Tiny Roman Food Stall Making Some of the City's Best Fast Food
Yield: serves 4-6
Time: 10 hours 40 minutes
Ingredients
1 lb. beef shin, trimmed
Kosher salt
1 cup dry white wine
10 whole black peppercorns
3 medium yellow onions, 2 quartered and 1 coarsely chopped
3 whole cloves
2 medium carrots, peeled and halved
2 tbsp. olive oil
1 tbsp. fresh marjoram
1⁄4 tsp. crushed red pepper flakes
Freshly ground black pepper
1 (14-oz.) can crushed tomatoes
Ciabatta rolls, for serving (optional)
Instructions
Salt the beef, cover it with plastic wrap, and refrigerate it overnight.
The next day, in a medium saucepan, cover the beef with 6 cups water. Add the wine, the peppercorns, the quartered onions, the cloves, and the carrots and bring to a boil. Reduce the heat to maintain a simmer and cook until the beef is tender, 1 1⁄2 to 2 hours. Transfer the meat to a plate and shred it with tongs or two forks. Coarsely chop the carrots and set aside.
Heat the olive oil in a large skillet over medium-low. Add the chopped onion and cook until soft, about 10 minutes. Add the marjoram, chile flakes, salt, and pepper and cook until fragrant, about 30 seconds. Add the tomatoes and cook until the sauce has thickened, about 15 minutes. Add the shredded beef and the carrots and cook 15 minutes longer, or until the sauce has thickened slightly. Season with salt and pepper and serve on its own or on a ciabatta roll.