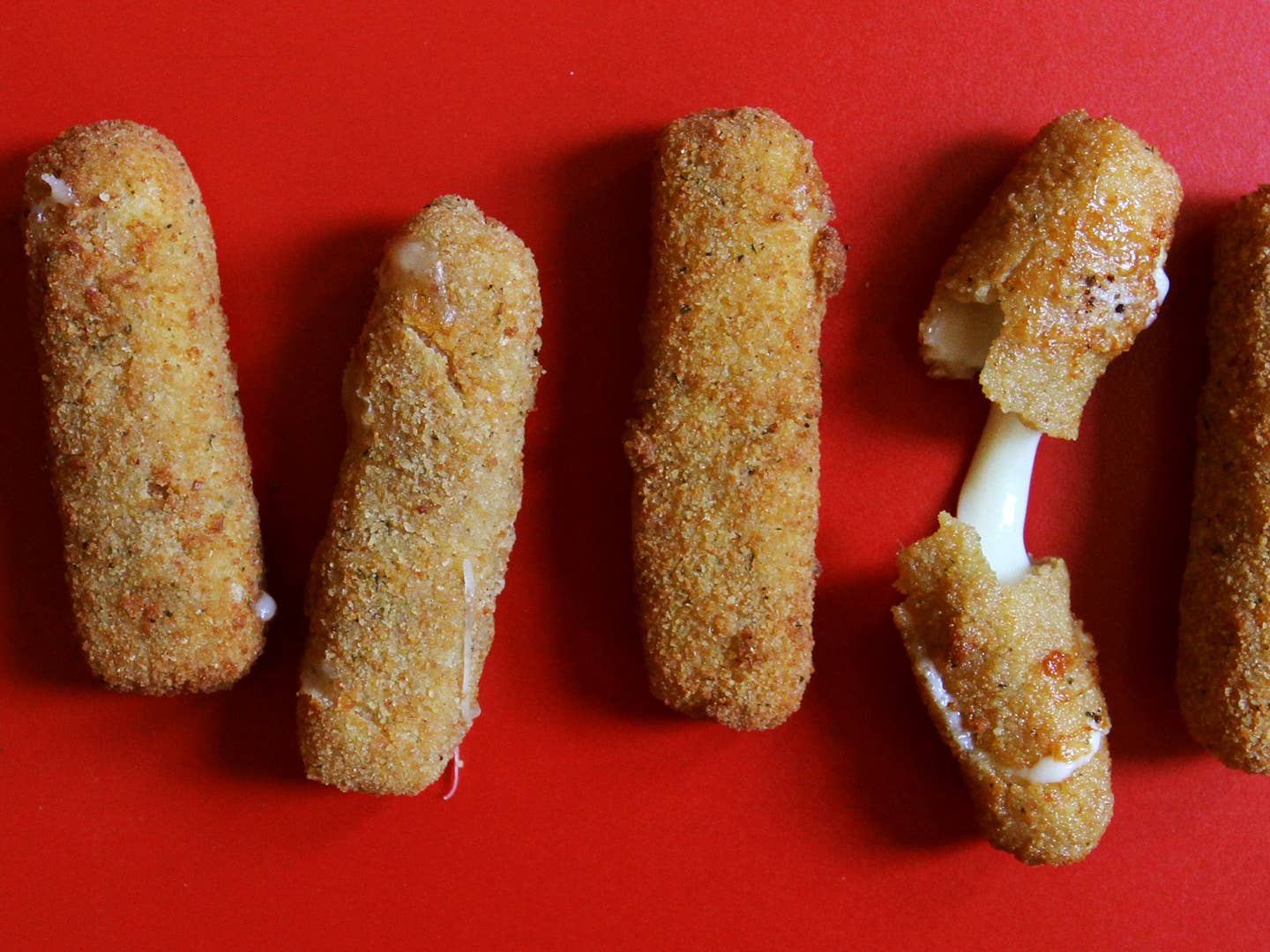 Culture
Test Kitchen Mission: Mozzarella Sticks
Farideh Sadeghin embarks on a quest to create the ultimate appetizer
We all have that friend—the friend who likes to share. And not only share, but share food.
I like to try everything, which is why appetizers were made for me. If I'm at a restaurant with a group of people, I like to order a lot for the whole group. The only thing that occasionally gets in the way of this is when someone who wants a main all to themself is at the table. (I've weeded most of these people out of my life.)
Appetizers should be respected; they don't have it so easy. There's a lot of pressure being a first course. If the appetizers are bad, you question what the rest of the meal is going to be like. If they're good, they can make an impression that long outlasts the meal.
When I turned sixteen, I chose to spend my birthday at Applebee's solely so I could order the Appetizer Sampler, a feast of spinach artichoke dip, buffalo wings, quesadillas, and what I consider to be the ultimate appetizer: mozzarella sticks. From the crisp golden brown sticks I get at dinner with friends, to the lukewarm, rubbery ones I eat alone after a night of drinks, even when mozzarella sticks are bad, they're still good.
Despite this, even as a food editor, I'd never made them myself. I've already honed recipes for the other three appetizers in the Applebee's sampler, but a mozzarella stick recipe has always eluded me—until now. Here's what I learned while developing the perfect stick.
My plan of action was as follows: cut cheese into sticks, bread cheese sticks, bread them again, freeze them, fry them, eat them, be happy forever. I had made fried camembert before, so I figured this couldn't be much more difficult.
I started out by deep-frying the frozen mozzarella sticks at 375°. They did get golden on the outside, but the cheese on the inside remained frozen.
Next, I lowered the temperature to 325°, thinking that a longer cooking time would give the cheese more time to melt while the outside slowly browned. Unfortunately, by the time the outside was brown, the cheese was exploding out and into the fryer.
Desperate, I ditched the deep fryer and turned to the oven. I cooked them (still frozen) at 425° for 10 minutes—it was my worst move yet. The cheese burst through the breading and onto the baking sheet, while the breading remained sickly pale.
Only one thing left to try: defrost them and throw them in the deep-fryer. Turns out, you only need to cook them for 1 1/2 minutes at 350°. And they come out perfect. And guys, they are not that hard to make at home for yourself. Plus, you can even make them ahead and freeze them for a rainy day (though, don't forget to defrost them before frying).
Ambitious? Throw together a copycat Applebee's Appetizer Sampler