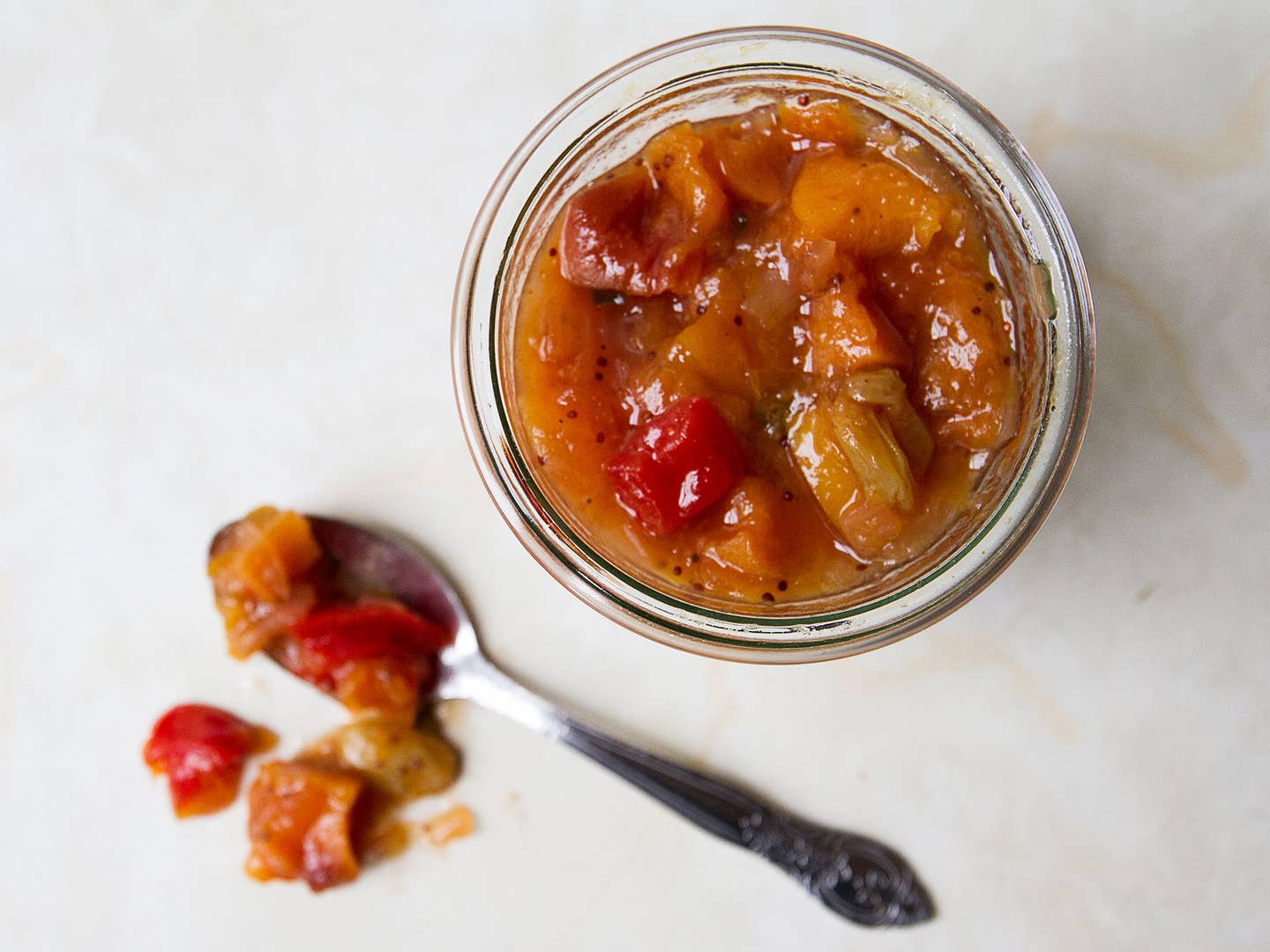 Recipes
Chutney: The Savory-Sweet Preserve to Make Right Now
Cookbook author Cathy Barrow gives us on the lowdown on the vinegary preserve that's perfect for stone fruit
All summer, I've been making salads that combine stone fruits with tomatoes—sweet cherries and Sun Golds, grilled apricots and Cherokee Purples, poached white peaches and halved Green Zebras. My current obsession? Thick slices of yellow nectarine with Beefsteak slabs. But with summer's end nearing and not much time for me to keep making this salad, it was inevitable that this fresh-tasting combination would lead to a preserving recipe, something that I could tuck into a jar to enjoy long after tomatoes are gone from the market. My answer: chutney.
Think of chutney as a fancy, dressed up jam with plenty of vinegar to balance the sweetness. A shape shifter by nature, moving naturally from sweet to savory, this condiment belongs alongside, well, everything—soft scrambled eggs, leftover roast chicken, chana masala, grilled cheddar cheese, yogurt and more. It's zippy with chile, the spices sultry and exotic. Some chutneys are saucy, some are chunky. This one has heft and is spoonable, with glistening nectarine cubes bobbing in a thick, aromatic tomato base. (If you prefer a smooth sauce, simply whir the ingredients in a blender before spooning into the jar.)
First, a quick science lesson: When it comes to canning and preservation, tomatoes can be a tricky little bunch. Canning safety is based on the assumption of high acidity (low pH), and all tomatoes' acidity varies widely, especially heirloom tomatoes. So, you never really know how acidic your bunch will be. But, by adding acidic fruit to your tomatoes, the mixture becomes safe for canning. Plus, it tastes great; the bright fruit flavor is enhanced by the tangy tomato, just as it does in a salad.
The tender skin and sturdy flesh of nectarines make them a favorite choice for chutney, but peaches (peeled) or cherries (pitted) work just as well. Late season Damson and Italian Prune plums are divine. Just as the fresh fruit is flexible, the dried fruit that you add to chutney (I used dried peaches and golden raisins in this batch) may be swapped for prunes, black raisins, mango, or pineapple.
While it seems like there's a lot of information to remember, chutney, of all the jammy preserves, may be the easiest to make—you simply add all the ingredients to a pan and cook until thick. That's all there is to it. Because it is so straightforward, take the time to chop everything carefully and as uniformly as possible. Careful prep work will pay off in the way it cooks (less scorching) and the way it looks. Once it's made, all you need are some crisp crackers and a wedge of sturdy cheese.
Soon the glorious bright colors of tomatoes and stone fruit stacked on a plate will be just another summer memory, but it's good to know I've got a delectable stand-in until next summer rolls around.