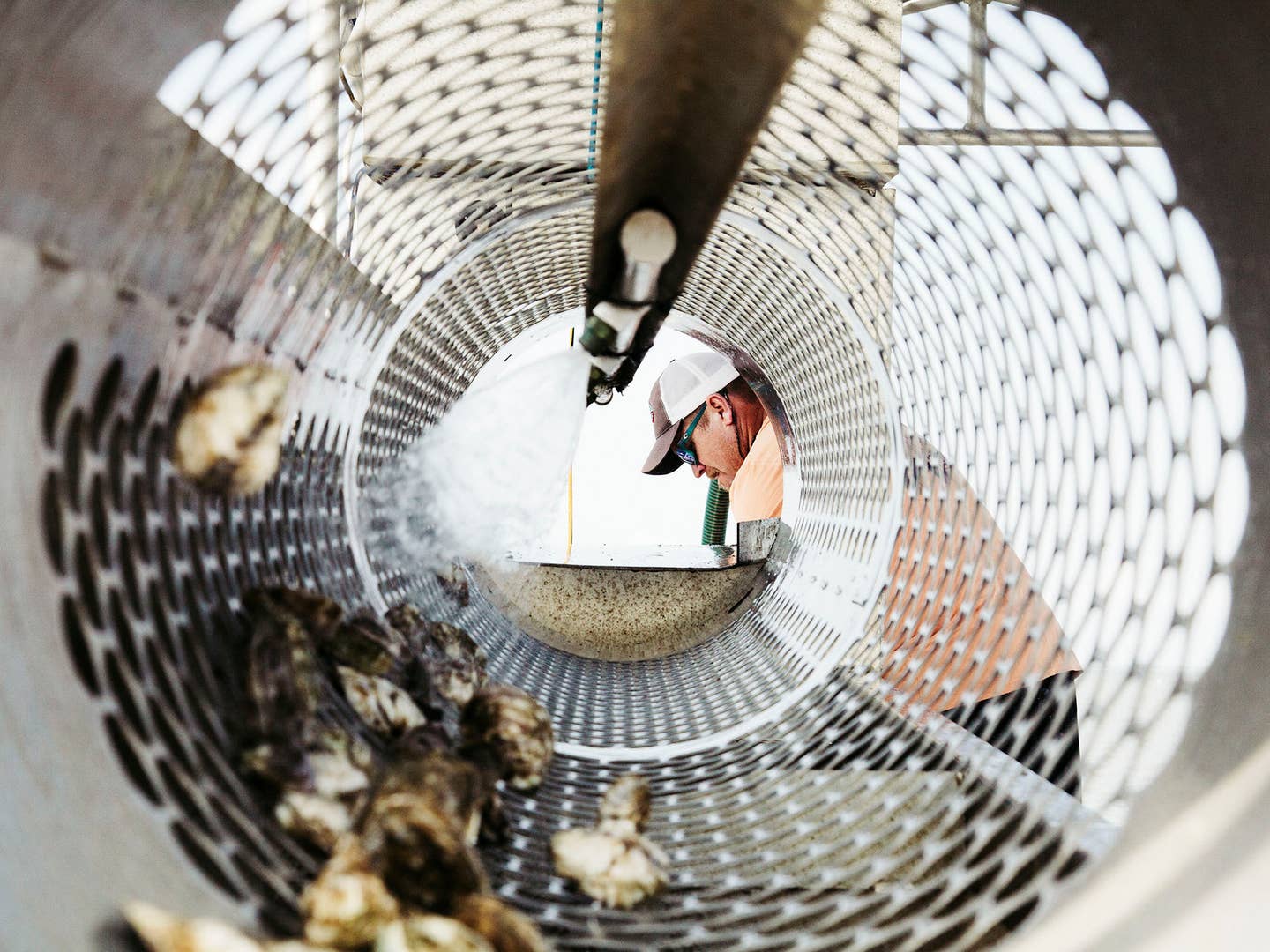 Culture
Have You Been Eating Southern Oysters Lately?
Gulf oysters have traditionally been great for frying and broiling and chasing with beer. But a new generation of farmers are grooming them to compete with the very best of the East and West coasts
In 2012, Sean O'Connell walked into the bar at Fig, chef Mike Lata's award-winning restaurant in Charleston, South Carolina, carrying a lunch box. O'Connell had never met Lata, but the oysterman had brought 30 raw oysters on ice, and he wanted Lata to taste them. O'Connell, who is 30, bearded, and built like a linebacker, started working for the Lady's Island Oyster company in 2011. The founder, Frank Roberts, a retired Marine, raises oysters near Seabrook, South Carolina, at the convergence of tidal creeks and rivers that, due to a near constant replenishment of high-salinity ocean water, create conditions particularly conducive to prize-worthy oysters. Roberts had started selling an oyster variety he calls Single Lady oysters in farmers' markets in the late 2000s and discovered something: "If we could get someone to eat one," he said, "it would all be over. Our oysters are our advertising."
This was O'Connell's thinking the day he paid a visit to Lata. "He just started sucking them down," O'Connell recalled. "He said, 'Can I get 1,000 for tomorrow?'"
I had a similar experience in Charleston this spring, at The Ordinary, the casually elegant seafood restaurant Lata opened inside an old King Street bank in 2012. There I tasted Caper's Blades, the delicate-shelled oysters hand-harvested by "Clammer Dave" Belanger from waters near the Capers Island Heritage Preserve north of the city, and Phat Lady oysters, a wild variety that Lady's Island raises specifically for Lata. The oysters appeared long and sleek of shell, with a depth of oceanic flavor that belied the dainty size of their meat, and gave way to a sweet finish.
As recently as a few years ago, oysters of such uniform elegance were virtually unheard of in the American South. These oysters at The Ordinary were practically a different species from the cluster oysters I know from Bowens Island Restaurant, a defiantly gritty riverside joint 8 miles, and several worlds, from downtown Charleston. At Bowens Island, first established in 1946, jagged, ungainly clusters of oysters are steamed in a "kitchen" that resembles a hobo's canteen and served in metal buckets encrusted with dried pluff mud. South Carolinians are accustomed to cooking and eating local oysters in the Bowens Island manner: prying them apart with a worn knife and rag, washing it back with beer.
Unlike at Northeast and West Coast oyster restaurants, where the selections are presented and discussed like wine, traditional Southern bars, particularly those along the Gulf coast, are closer kin to beer-and-a-shot saloons. The oyster quality varies throughout the season, but the lack of predictability is more than offset by the price (order six and you'll probably get seven, more if you tip well), the application of cocktail sauce, and the banter of the shuckers, who tend to consider their work a kind of live performance.
The Bowens Island oysters are wonderful, like mussels with muscle, but the local oysters at The Ordinary are the kinds of things God intended to be enjoyed alongside a glass of sancerre or champagne. "Look at the difference between these oysters," Lata began telling his customers, drawing their attention to the clean, delicate shells and sweet finish of the local specimens he served alongside more heralded oysters from the Mid-Atlantic, Northeast, and Northwest. "This is what's interesting about our city." Over time, Lata found, "You could put all of these oysters side by side, and with informed service, a diner could have an experience that might be enlightening. People believe this is one of the best oysters they've ever eaten in their lives."
The Ordinary has been at the forefront of a new breed of Southern restaurants: cheffy, seafood-focused places, with raw bars featuring premium local oysters.
"It is a very big cultural shift," said Bryan Rackley, the oyster-bar manager of Kimball House, in Decatur, Georgia. The restaurant, which opened in the fall of 2013, features as many as 20 different varieties at its raw bar. "We've been selling oysters from the Northeast and Northwest since day one, but it's always been a goal for me to feature Southern oysters. And recently, that's become a lot easier."
Lane Zirlott, wearing shades and a pressed paisley button-down shirt, was standing on the dock at the burgeoning Murder Point oyster hatchery, farm, and production facility on Sandy Bay in Alabama. I'd tried my first Murder Point oyster just a year prior at a restaurant in New Orleans, a two-hour drive away and Zirlott's primary market. Seventy percent of the oysters produced in the U.S. come from the Gulf of Mexico, and Murder Point is among a small but quickly growing number of outfits in the Gulf carving out a new niche for small-batch Southern oysters—the spiritual cousins to the new breed of premium oysters coming out of Georgia, the Carolinas, and the Mid-Atlantic.
All of this activity has brought about a transformative moment in the history of Southern oysters, and I had arrived in Alabama as part of my effort to better understand the forces at work. Zirlott, a former Alabama shrimper, looked over the heads of workers wading around oyster cages in belly-deep water to a platform, still under construction, at the end of the dock. "There's going to be an oyster bar up there," Zirlott drawled. "People are going to want to come see where these oysters come from. Up till now, there's never been a premium oyster to come out of the Gulf. Somebody says Gulf oysters, and you're thinking about that big piece of meat, perfect-on-po'-boy oysters—not the premium product we got."
Murder Points have already developed a following. Zirlott instructs people eating his oysters for the first time to "think about Land O Lakes, Country Crock, Paula Deen. Then I say, 'Can you taste the butter?' It's got this real creamy aftertaste." You can find them at places like Fisher's, in nearby Orange Beach, Alabama, a Southern seafood restaurant that brings reverence to the raw-bar ceremony, pricing oysters by the piece (as opposed to the dozen) and serving them on a platter of ice with a house mignonette—a word not traditionally used in the joints that crowd the coast of what many locals affectionately refer to as the "redneck Riviera."
Crassostrea virginica is the species of oyster found both in the Gulf and on the Atlantic coast. But virginicas grow fatter and faster in the Gulf's relatively warm waters. Local chefs have embraced this abundant harvest for generations. The girth and high water content make Gulf oysters particularly suitable for cooking. Their relatively mild flavor offers a blank canvas for a broad range of flavor enhancements when fried, poached, grilled, or baked, all ubiquitous techniques in New Orleans, the region's culinary capital, where I've lived for 15 years. But these characteristics make Gulf oysters a less reliable proposition for consuming raw. In New Orleans and elsewhere along the Gulf, the raw-bar ceremony is often administered by a jive-talking shucker.
"Here the shucker is more famous than the oyster is," said John Supan, the director of the Louisiana Sea Grant's Oyster Research Lab and a Louisiana State University professor. "And the reason why is because the oyster's not always stellar."
The professor doesn't want to change the Gulf oyster eating tradition—one that is beloved by locals, myself included, for its lack of pretension and high entertainment value—but he has devoted much of his career to exploring techniques for Gulf oyster farmers and fishers to cultivate oysters of a more uniform taste and size. His "office" is a stilt-raised house fronting an oyster hatchery on the waterfront in Grand Isle, a community on Louisiana's southeast coast, where land is in short supply.
Over the years, Supan researched the aquaculture methods of other oyster-growing regions to arrive at a process for breeding triploid oysters. Since triploid oysters don't spawn, they reach market size quicker than those that do. Supan raises these oysters using an Australian harvesting technique that involves cages, which provide protection from predators and allow for the oysters to be raised off the ocean bottom and, for short periods, out of the water, where the sun can burn off the vegetation and other matter coating their shells. This produces an oyster that can compete with higher-priced brands like Blue Points and Malpeques in the booming half-shell market outside the Gulf.
"Oystermen in Louisiana have always sold their oysters by the pound, but this is a different business," said Supan, as he forked his way through a batch of broiled oysters on his office's porch, which overlooks the lab's farm. "You don't get the volume with the cage-raised, but you're going to be able to get 50 cents per oyster, because they're of such high quality."
The number of producers who've adopted similar methods, spurred by academic researchers like Supan and Auburn University's Bill Walton, has grown considerably in the region, from the Gulf Coast up to the Mid-Atlantic. Belanger and Lady's Island both use cages, and the control it gives them over their crop allows them to market a consistent "merroir," an aquatic corollary to the French term terroir, which speaks to the often ineffable expression of the natural environment in which a food product is grown.
While the volume of cultivated oysters in the South is spiking—in Alabama, the number of producers has gone from one to 13 since 2009, according to Walton—the supply still falls below demand. "We get calls from all over the country," said Roberts, of Lady's Island. "But Charleston takes them all."
The disparity in supply and demand may only get worse. A wave of new oyster bar openings has recently hit the major urban centers of Houston and Atlanta. Charleston saw four new openings in the first few months of 2016 alone, with Rappahannock Oyster Company, out of Virginia, planning to open another there later this year.
The expansion of Southern oyster bars with regional allegiances will inevitably underscore the distinctiveness of the South's sundry culinary capitals. This will be particularly true in the short term, as it's still next to impossible to find the great cultivated oysters of the Southeast far beyond the waters where they're harvested. Interstate competition, already a firmly established Southern impulse, is sure to develop. As it does, producers like Zirlott see both opportunity and a reason to continue striving to make their oysters stand out in the crowd.
"Alabama is already the best at college football," Zirlott said. "Why can't the best oysters come from Alabama, too?"
And if You Do Want to Cook Those Oysters...