Culture
Niçoise Salad: You're Perfect. Now Change
The famed composed salad from this Provençal town is excellent. But it's the philosophy behind it that has inspired our updated recipe
Serves

serves 4

Cook

30 minutes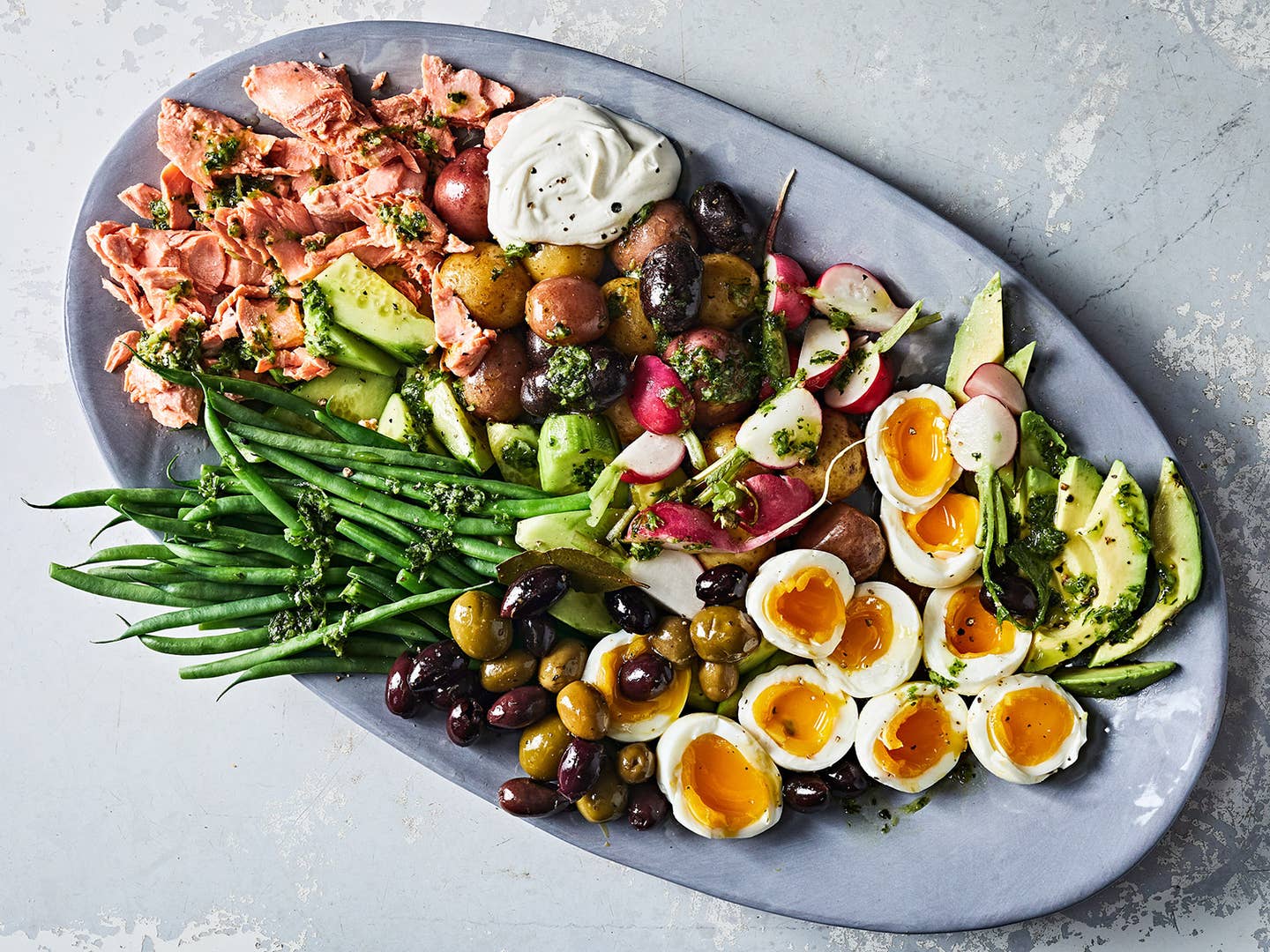 In his iconic 1974 cookbook Simple French Food, Richard Olney calls attention to something called the salade canaille, or "the impromptu composed salad," made in the style of a southern French cook. He writes of the salad with its main ingredients scattered (not tossed) on top: "Nothing in the entire repertory of food possesses the same startling, vibrant visual immediacy—the same fresh and casual beauty. It is a concentrated, pulsating landscape of garden essences and must absolutely be tossed at table, for, no matter how delicious, the visual explosion of joy, mixing intricately and lastingly with your guests' memories of mingled flavors, adds a dimension."
While this take is perhaps a bit hyperbolic, there is something undoubtedly alluring about a composed salad, which is as satisfying to eat as it is fun to make and beautiful to look at. This is easy to see when peering down at a salade niçoise, the colorful, vivid array of Provençal ingredients at their peak, and certainly the most famous composed salad of the region. Most often it is served as a main course salad, but sometimes as a side to meats or seafood.
Though the word "niçoise" is sometimes used singly today as the name of this salad, in actuality it is a broadly descriptive word that modifies any traditional dish prepared by the cooks in (and maybe slightly outside) the town of Nice in Frances' Provence-Alpes-Côte d'Azur region. Bordering the Mediterranean, it is known for its vibrant produce, light and vegetable-forward dishes, and fondness for fish. But the region also produces and indulges in the robust, pungent flavors of ingredients like anchovies, dark olives, garlic, and capers that grow nearby as well.
Though the now world-famous niçoise salad brings to mind certain ingredients, you could also look at it as merely a colorful composed salad in which fresh market ingredients are served organized atop a bed of lettuces and adorned with a dressing made from the region's typical seasonings.
Do you see what we did there? We just gave ourselves permission and license to mess with the formula for salad niçoise—within reason.
As with many traditional dishes that have risen in popularity, today so many versions abound across borders that it is hard to classify what is definitively "authentic" in regards to the niçoise salad. But the commonalities of what you might see in sunny Provençal restaurants and French brasseries seem to be these: a heap of canned oil-packed tuna, some raw or nearly raw haricots verts, a smattering of niçoise olives, some ripe fresh tomatoes sprinkled with salt, and an olive oil dressing combined with herbs and flavorings from the region.
Everything else is up for debate—from the hard-boiled eggs some cooks add, to the boiled potatoes, artichokes, fava beans, and many other ingredients that have been incorporated and interpreted over the years. Today the salad seems to transcend its ingredients in honor of a philosophy: that is, that crisp, in-season vegetables and fatty, silky fish make for a perfect salad, and that olive oil dressing is only the better for some salty, intense, or aromatic ingredients (like herbs and garlic) that give it character.
Here's how we bend some of the rules of the basic niçoise and play with the formula.
Use (Mostly, Almost-)Raw Vegetables
In France, you're likely to find haricots verts with little more done to them than a good washing and trimming. The idea is the produce should be so seasonally ripe and well-grown that it doesn't need to be cooked. While we mostly obey this mantra (see our red radishes and chopped cucumbers), we like to blanch our haricots verts to add a touch of tenderness to the texture and bring out their flavors. We do this by adding salt to the boiling water in which the beans are cooked, and by pulling them out and shocking them in ice water to preserve their crunch and bright color.
Choose Your Own Mix of Olives
Somewhere, a 19th century Provençal cook just rolled over in his grave. (It appears that traditionally in Nice, black, brown, and purple olives were used for eating at the table, and the less mature green olives were primarily used for making olive oil.) But we enjoy a few meaty green olives in the mix, as they provide a toothsome contrast to the tender dark olives typically used in the salad. In addition to the darker niçoise olives, you can look for Lucques olives, which are also grown in the region, or just use whatever mix of olives you like.
If you take away the lettuce, is this really a composed salad? We say yes, but you can make that call for yourself. Doing away with the lettuce means you don't need to toss everything in the platter together at any point, but rather that you and your family or guests can serve yourselves a little something from each pile on the platter—our favorite way to eat.
Hard-boiled eggs are used frequently in niçoise salads across borders—typically either coarsely chopped or cut into neat wedges. As is true whenever we eat any kind of egg, we prefer ours a little on the softer side—just firm enough that you can break or cut them open and the yolks won't spill out, but soft enough that they haven't yet taken on that chalky appearance. When boiling the eggs, set a timer for 7 minutes for yolks on the runnier side and 9 minutes for just-set yolks that still have a bright yellow color.
It's most common to use preserved, oil-packed tuna when making salads in Provence (which may be why there is an old Niçoise saying that goes, "Fish are born in water and die in oil"). But as tuna fishing continues to face challenges in sustainability, and since fresh, responsibly caught salmon is increasingly available stateside, try giving the pink fillets a spot on the plate. Canned salmon can lack flavor and have a soggy texture, so we like to use fresh wild-caught fillets. Drizzle with olive oil and a pinch of salt, then simmer in the same water you use for the haricots verts and eggs—just be sure to cook the salmon last so the other ingredients don't take on a fishy aftertaste.
Ingredients
For the dressing:
4 scallions, coarsely chopped
¼ cup plus 3 Tbsp. extra-virgin olive oil
¼ cup packed fresh basil leaves
2 oil-cured anchovy fillets
1 small clove garlic
Pinch of kosher salt
1 Tbsp. red wine vinegar
For the salad:
Ice
Kosher salt
12 oz. new potatoes (about 20), any color or a mix
5 large eggs
5 oz. haricots verts, trimmed
1 skin-on wild salmon fillet, such as coho or Alaskan (10 oz.)
Extra-virgin olive oil, as needed
Freshly ground black pepper
¾ large English cucumber (6 oz.), peeled and cut into chunks
½ tsp. whole-grain mustard
½ cup mixed olives, such as niçoise and Lucques
½ bunch radishes (3 oz.), quartered
Crème fraîche, for serving (optional)
Instructions
Step 1
Make the dressing: In a food processor, add the scallions, oil, basil, anchovies, garlic, and salt; purée until almost smooth. Add the vinegar and pulse until just combined.
Step 2
Make the salad: Set a large bowl of ice water by the stove. Bring a large, wide pot of water to a boil and season generously with salt. Add the potatoes and cook until fully tender when poked in the center with a paring knife but the skins are still intact, about 14 minutes. Meanwhile, cook a few other ingredients in the boiling water: Add the eggs to the boiling water gently to avoid cracking, and cook exactly 7 minutes for slightly runny yolks or 9 minutes for just-set yolks. Transfer the eggs to the ice bath and let cool completely, then dry and refrigerate. Add the haricots verts to the boiling water and cook for 45 seconds. Immediately transfer to the ice bath with a spider skimmer or tongs and let cool completely, then dry, transfer to a medium bowl, and refrigerate. When the potatoes are done, transfer them to a separate medium bowl with a slotted spoon and set aside. Finally, add the salmon to the boiling water and cook until just cooked through, 6–7 minutes. Transfer to a small plate and drizzle with oil. Sprinkle lightly with salt and set aside.
Step 3
Once the eggs are fully chilled, peel and discard the shells. Using your fingers, break the eggs in half crosswise and transfer to a large serving platter, yolk-sides up. Sprinkle lightly with salt and pepper.
Step 4
Place the cucumbers in a small bowl. Retrieve the bowls with the haricot verts and potatoes. Drizzle all three bowls very lightly with oil and sprinkle each with a pinch of salt and pepper; toss to coat. Add the mustard to the bowl with the potatoes and stir to incorporate.
Step 5
Assemble the salad on the platter with the eggs, piling the potatoes, haricot verts, cucumbers, olives, and radishes next to one another on the plate (they should touch and can overlap slightly). Break up the salmon into bite-size chunks and add to the platter. Spoon some of the dressing over the top of the salad, to taste. Add a dollop of crème fraîche to the platter (if desired) and serve immediately.