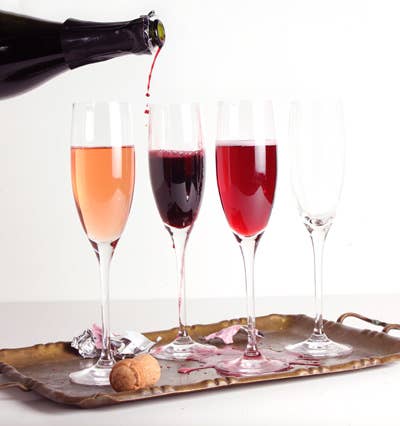 Drinks
This Scientist-Approved Wine Bottle Will Make Sure You Never Spill a Drop Again
Our children will never know the struggle of living with drippy wine bottles
If you're anything like me, you like to enjoy a bottle of wine down to the very last drop. You're also very clumsy and spill things, not infrequently. That means pouring a bottle of wine can be an irrationally frustrating task that, at least for me, has involved stained carpets, cocktail-party embarrassment, and less wine in my glass.
Thankfully, several intrepid scientists have discovered a very simple fix to this minor inconvenience. Over the course of a three-year study, Dr. Daniel Perlman, a biophysicist at Massachusetts' Brandeis University, perfected a new bottle design that adds a circular groove just below the lip to keep the wine from dripping down the side of the bottle as it's poured.
According to Gizmodo, liquids curl back over the spout of glass bottles because glass itself is hydrophilic, attracting water-based liquids. At 2mm wide and 1mm deep, the groove in Perlman's design requires additional momentum from the wine—enough that it travels against the force of gravity to get to the other side.
It's a seemingly obvious fix in retrospect, but one that Perlman spent three years studying fluid dynamics to put together. As Mashable points out, wine bottles have been made the same way since the early 1800s, meaning it's taken about two centuries to figure it out. Of course there's no telling when such a design would be implemented in-market, as the existing molds at bottle production facilities would have to be tweaked or replaced. Still, it's good to know it's out there for the taking.