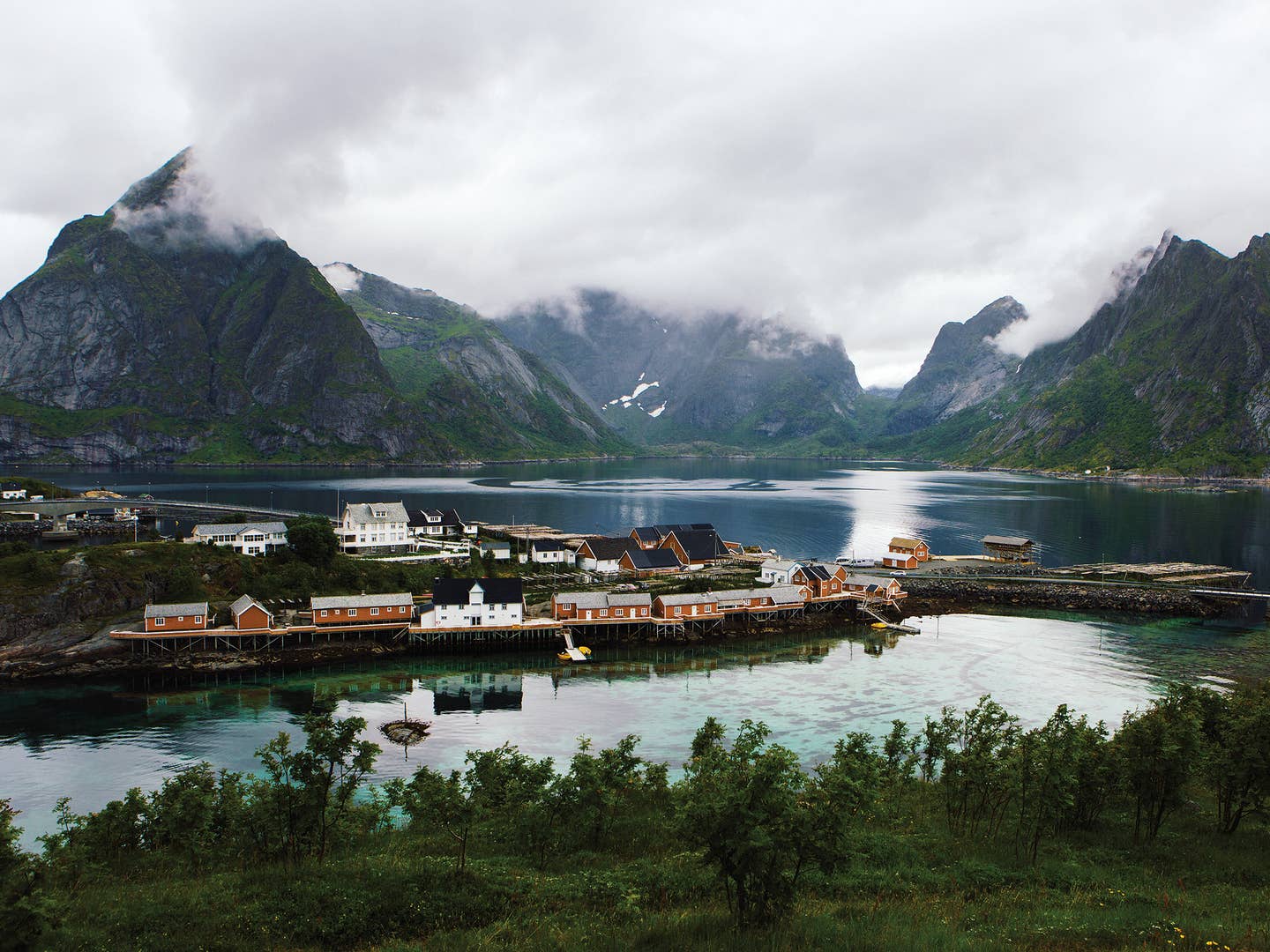 Travel
The Shipwrecked Sailors & the Wandering Cod
In the remote archipelago of Lofoten, Arctic cod have been dried on oceanfront racks since the age of the Vikings. This is the unlikely story of how the humble fish became king of Norway
"I could tell you the story of the shipwreck," says Steinar Larsen, smoothing his hands over the belly of a blue-striped sailor shirt. "But," demurs the brusque proprietor of the Lofoten Stockfish Museum in the village of Å (pronounced OH-ah) "it would take too long." Considering that the northern Norwegian summer sun never really sets, he's got time.
Larsen fusses with a pair of dry, graying display cod, takes calls on his ancient flip phone, chats with a fisherman on the quay, and explains the minutiae of stockfisk (stockfish)—the dried cod that is this far flung archipelago's lifeblood—to curious visitors. Despite his divided attentions, he manages, reticently, to tell the tale of the Italian ship and the central, almost mystical importance of the fish they found here.
Captain Pietro Querini, a Venetian merchant sailor, and his crew of 68 were bound for Flanders from Crete in the fall of 1431 when his ship was blown off course by ravaging storms near the English Channel. Damaged beyond repair, the drifting vessel was abandoned for two life rafts, one of which disappeared and was never seen again. The other floated up to the North Sea, finally landing on the rocky southern tip of Norway's Lofoten Islands. Near frozen and delirious with hunger, Querini and his 10 remaining men clambered ashore in January 1432.
Larsen, who spends his days pacing between a 19th-century brass cash register and a pot of coffee, explains how a father and son from the island of Røst rescued Querini's crew. A small fishing village punctuating the island chain, Røst welcomed the starving men, feeding them with stockfish, air-dried until stiff as a board and salty as the ocean air ripping along Norway's shoreline. It was this unlikely, petrified beacon of hope and the hospitable people of Lofoten that sparked a centuries-long love affair between Italy and Norway.
Querini documented the shipwreck and subsequent rescue, observing in detail the Lofoteners' benevolent way of life. On the subject of stockfish, he described how they were beaten "with the back of the knives until they become as thin as nerves," and then drenched in butter and herbs. Restored with dried cod and weighed down with supplies of the stuff, he and his surviving crew set off for Italy over land, likely snacking all along the way. Querini became Italy's first importer of stockfish.
Today, nearly 600 years later, baccalà mantecato—reconstituted stockfish, whipped into a creamy, aromatic cloud—is served at trattorias and cafés all around the Veneto alongside spritzes, prosecco, and tramezzini. To most, its Norwegian roots are invisible. But, like a persistent ghost wife, Italy is the largest consumer of stockfish outside of Norway.
That's what Norwegians say about the scent that permeates the Lofoten Islands, this tiny archipelago above the Arctic Circle that juts out from Norway's northwestern coastline like a seagull's beak pecking at the choppy, vast sea. A chain of mossy, craggy mountains, intricately tattooed with rust- and mustard-colored fishing villages, Lofoten is the root of the world's stockfish supply, a vital ingredient in Norway's culture, cooking, and economy. Cod—dried on oceanfront racks from February to July in this remote outpost—is Norway.
Norway is cod. That's what Lofoteners say. And the aroma is everywhere. It's carried by the ocean breeze that rushes in with the omnipresent, low-hanging clouds. It wafts along roadsides and slips in through open windows, an invisible salty, fishy mist. Over the course of a week, it induces a sort of olfactory amnesia: You can't remember not smelling it, and so it settles inside the nostrils, replaces neutrality, like a city dweller adjusting to subway funk and idling garbage trucks. But the scent of stockfish is so much deeper—more layered—than just salt and fish. It's aged, like a cave cheese, and faintly alive.
The source of this scent is a beautiful, gruesome sight to behold.
From afar, they appear like thousands of albino bats, their leathery bodies gently swinging in the sea breeze on soaring wooden A-frame racks (hjell), soaking up the 24-hour summer sunlight. When the wind rushes through them, they make an eerie, scratchy rustling, like mummified wind chimes. On closer inspection, they appear as emaciated, withered fillets—beheaded, tied together at the tails—bleached with sun and salt air, solid as bones.
Seafood is one of Norway's biggest exports, with cod as the fishing industry's highest valued catch. Dried cod, also called tørrfisk, is to Norwegian fish as prosciutto di Parma is to Italian pigs. And it's been produced in northern Norway since at least the ninth century, when the Vikings—who traded it for barley and fur—ventured to Iceland, Greenland, and Canada carrying a supply of the wonder ration. The salty ocean air and the climate—never freezing, never sweltering—allowed them to preserve their myriad catch without worry of bugs or rotting. The choice ration for ancient Norse long-distance sailors (e.g., Erik the Red and Leif Erikson) dehydrated cod maintains its nutrition and protein for years. Stockfish is so treasured, so inherent to this place, that it's earned a protected designation of origin, like champagne or Parmigiano-Reggiano, the first Norwegian comestible to do so. Lofoteners beam upon its mention.
For as long as people can remember, cod have come to Lofoten. One day, each February, they appear, swarming beneath the turquoise waters, so plentiful that the fishermen say you can hear them skimming over one another.
"And then, one day, they disappear," says Kalle Mentzen, who owns and curates a private museum in an old cod oil factory now filled with nautical heirlooms. "Just like that," he snaps his fingers, "and they're gone." He compares it with the Klondike Gold Rush of 1897. But the rush of the skrei—or "wanderers," as cod are known in the local parlance—happens every year.
Annually, these oddly resilient fish are spawned along Norway's coast and swim north to the Barents Sea, where they live for seven or eight years until intuiting their way back, carried along the North Atlantic Current (an extension of the Gulf Stream) to spawn in their place of birth. The coursing current that brings the fish home is also what keeps the northerly chain of islands relatively temperate, even when winter's perpetual twilight bathes the coastline in blue shadows, and the sun disappears altogether. Soon after the sun returns, the fish return too.
Lofoten waits for it. The fishermen wait for it. The economy waits for it. And because of this religious following—this dedicated observance—the islands' most minute rhythms have been shaped by cod.
Nowhere is this idiosyncratic method of keeping time more apparent than in Henningsvær, a quaint village clustered on the northeast side of the archipelago. Not unlike the Venetian lagoons, it's a port for seafarers who keep time by the tides. For years, Henningsvær's population ebbed and flowed with the annual running of the cod. In the winter of 1947, the town swelled with 12,500 fishermen. Of the 148,000 tons of cod caught in Norway that year, 48,000 came through the tiny town. "There were three cafés and a hat shop back then," says Mentzen one July afternoon, as he peels open a swollen sac of cod kaviar and swabs a shimmering orange stroke onto a cracker. The influx of sailors slept in the islands' countless crimson cabins called rorbuers, the first of which were built in the 12th century, and now cater to hikers, rock climbers, and tourists. Today, only a couple hundred fishermen come to the town. The industry remains stable—50,000 tons of cod came through Henningsvær in 2016—but is increasingly mechanized, resulting in fewer vocational fishermen. "But it's still so much a part of our tradition," he says, munching on a bite of smoked roe, which he bills as a luxury product akin to sturgeon roe.
Despite the shrinking fleets and quieter winters, the near holy presence of cod is layered into Lofoten's culture as visibly as in Querini's day, but with a distinct craving for modernity. There are cod enthusiasts like Mentzen and Larsen who devote their lives to preserving history in museums, and there are people like Johan Petrini, a bespectacled chef who—captivated by the islands while working as a cook on a cruise line—emigrated from Sweden to live a quieter existence. "Sometimes I have to pinch myself to make sure I'm not dreaming," he says of his life in Lofoten. Petrini is the head chef of Fiskekrogen, a contemporary seafood restaurant on the docks.
When he began cooking with cod and stockfish, Petrini took gradual steps to modernize old dishes, while attracting a larger European audience. He also spent time working through older restaurant kitchens and recounts moments where his pans were moved around and burners were lit without explanation. "People say there are many ghosts here," he says solemnly.
The timeless and entirely local fiskesuppe (fish soup)—a cream-based fish-and-vegetable chowder found on nearly every Lofoten menu—he preserves for posterity. But elsewhere, he deviates. Rehydrated and sautéed boknafisk (semidried cod) is accompanied by a bright green pea purée. Salmon is served in finely sliced jewels of sashimi, and smoked whale as a blood-colored carpaccio with crème fraîche and thin rings of red onion. These relatively tame but up-to-date culinary gestures were perceived as dramatic departures from dishes that have been served in Lofoten for centuries, much like the baccalà mantecato still whipped with olive oil daily in Venice. "I have tested them out slowly," Petrini says, "sometimes not telling people what they are eating until they have tasted it." More often these days, they like what they taste. In high season, the tables are filled every night, and the owners have expanded into an adjacent bar space.
Like many cooks before him, Petrini embraces the fish as a miracle and a way of life. His forearm is tattooed with images of a lighthouse, an anchor, a sea bass, and, of course, an arcing skrei. He's adopted Lofoten's rhythm, memorizing the islands' lunar and solar calendars, and getting to know the kids who sell him cod tongues as their after-school job. Over a plate of fried tongues, Petrini describes the tradition of the children who remove the strip of flesh beneath the fish's head that constitutes its throat. "It's part of living. Using a knife. Seeing the inside of a fish." He says it's still the only work in Norway that isn't regulated by the government, save that nobody over the age of 16 is allowed to sell them. His kitchen goes through 500 to 600 kilos each summer—sourced from an enterprising 11-year-old girl. "It's different than the way most people grow up," he says. "Here, kids cut tongues."
Up the road from Fiskerogen is Kaviar Factory, a stark white rectangle cut against the blue sky. There, in an old cod-roe-processing factory, Venke Hoff runs an art gallery, which is currently showing 38 women artists including Marina Abramovic and Cindy Sherman. "I think Venke is misunderstood here," Petrini says. Indeed, Hoff makes an unusual character in this town of salt-of-the-earth seafarers. Sweeping around the gallery in chic black designer clothing and red lipstick, Hoff talks about chefs' dinners thrown on her property (Ørjan Johannessen, the 2015 Bocuse d'Or winner, held a dinner at her gallery recently), her last visit to Paris, and her compulsion to create perfect table settings.
"The people here sometimes don't see what they have," she says as she surveys the point of her cliffside property, a couple of miles down the road from Kaviar Factory. She and her husband, Rolf, bought Henningsvær's decrepit mid-19th-century lighthouse, which she has preserved and reinvigorated with new paint, contemporary art, and truly meticulous table settings. The second floor's original bedroom walls are peeling faded green scales, and the handmade glass in the windows is wavy in the sunlight. The ceiling is still cut out with a square peephole, which kept the former lighthouse keeper privy to the lit flame above him on stormy evenings.
"They wanted to take down the fish racks," Hoff says about the retired, once-crumbling hjell behind her home. "But we repaired them, because they are part of this place. They are art." In her own way, Hoff—far removed from the viscera and tactility of fishing—is filling in the lines of Lofoten's present history, inhabiting ancient corners of the island with art in order to keep them alive.
On Henningsvær's miniature square, the corner harbor lot is occupied by a ceramics and glass store and studio called Engelskmannsbrygga. It once housed a cod oil factory but became a vacant space into which ceramicist and fisherwoman Cecilie Haaland—visiting from Oslo—peeked and imagined what her life could be like here. Now, she and her husband, a photographer, have been in Henningsvær for two decades. They outfitted the upstairs floor with living quarters and a darkroom and produce and sell work here year-round.
An avid fisherwoman, Haaland takes her boat out three or four times a week, always half hoping to catch a massive halibut. It's a future legend about which many Henningsvær locals tease her. The next evening, the water still mirroring the near-midnight sun, she navigates her boat between skerries, and eventually catches several fish. There on the deck, she snaps one of their heads back, probes the opening, and raises her palm to display a mackerel's still-beating heart. It pulses in a little pool of blood. The fish's tail flicks slowly in a bucket on the deck, scales glittering silver and green. Often, upon returning from a day on the water, Haaland brings fish for her family—cod in March and April, mackerel in summer—leaves some for the gulls, and delivers the rest to Henningsvær's elderly women.
Many of Haaland's ceramic pieces are layered with cod tails printed from fish she's personally caught. She sees her work and her place in the village as an embodiment of reverence for the past by means of inhabitation. "If you preserve something by walking away from it, it falls down," she says. "But if you live in it, it lives."
To encounter Lofoten is to encounter living history. Haaland's work, Petrini's cooking, Hoff's lighthouse, and Larsen's and Mentzen's museums are each a new scale in the archipelago's line of history—past and present mingling together to create the islands' future. Here, the story of the beloved cod stretches across centuries, like a spine—ragged, flayed tail at one end, glassy saucer eye at the other—linking generations of wild, wandering fish and the people who chase and wait for them for a lifetime.
Back in Å, the literal end of Lofoten's road, where the highway tapers off into chartreuse hills and cerulean water, an Italian couple wanders through the Stockfish Museum. They peer at the production line where the fishes' scales are combed off with a saithe rasp, a sadistic-looking wooden-handled object, reminiscent of a hairbrush with bristles like nails. Steinar Larsen has just finished talking about the black-haired children that appeared in Røst after Captain Querini's men departed for Venice. He describes the boys he encountered five centuries later fishing around southern Lofoten as a teenager—dark hair, beautiful suntanned faces. "And that is a true story," he says, watching the Italian couple. "And there is a great friendship between Norway and Italy."
Larsen wanders over to the couple and begins speaking Italian, describing the nuance of Norway's stockfish grades in a melodic cadence; the couple nods, firing back questions. Larsen waves his hands around exuberantly, sends them off with a pair of pungent fish, and retreats back to his cash register.
A man darkens the doorway. "C'est la musée de poisson?" Larsen heaves himself up. "Oui," he says curtly. A stream of reluctant but animated French follows.