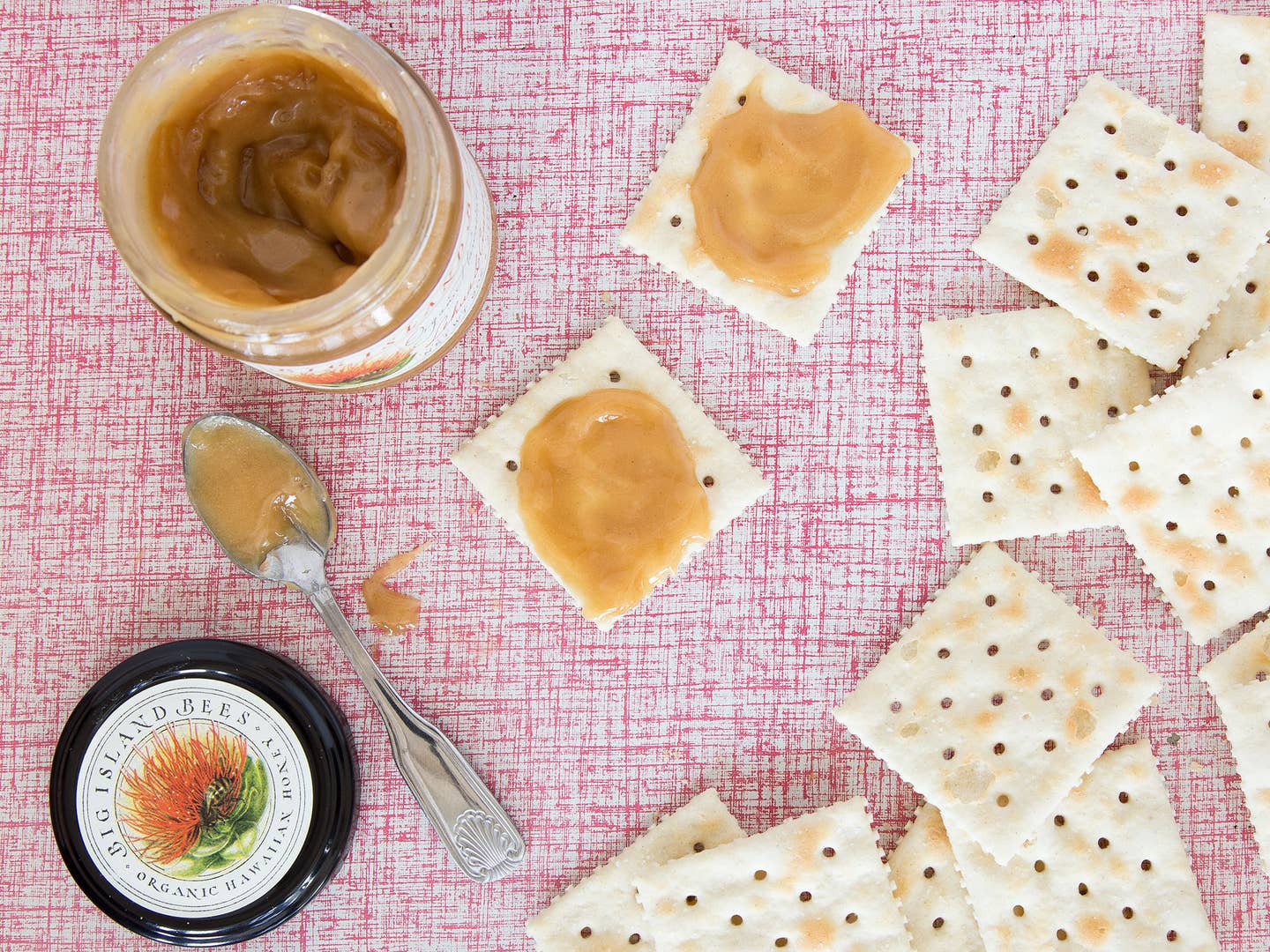 Shopping & Reviews
Obsessions: Ohi'a Lehua Blossom Honey
A thick, floral Hawaiian honey turns a previous honey-hater into a believer
There are two categories of foods in my world: the saucy, dippy foods that are preceded by "with" on restaurant menus, and then the foods that help me deliver as much of the former to my mouth. I take my dips, condiments, and sauces very seriously.
But honey was one of those saucy, dippy foods that was difficult for me to love. Growing up with the little plastic bear of gloopy supermarket "honey" in my pantry, I merely saw the goofy bottle as a barrier between me and the extra-chunky peanut butter in the back. When I went through my "I want to make homemade spa goods" phase, it wasn't the mayonnaise hair mask that made me nauseated, but instead the honey lip balm.
Then I tried Big Island Bees' Ohi'a Lehua Blossom Honey. When I found the squat glass bottle in a cooking store in my little college town of Bloomington, Indiana, I bought it not because I was looking for honey, but because it made me nostalgic for the collective months of my childhood I spent in Hawai'i. When I was a kid, I wasn't eating honey—I was too focused on finding every coconut-flavored syrup and candy and baked good the islands had to offer. Now I know I should've expanded my horizons.
Thicker, creamier, and more concentrated than any honey I've ever met, Ohia Lehua honey—which comes from bees that feed solely on Hawaii's native Lehua blossoms—is grainy on your tongue only for a millisecond before it melts into a pool of pure, sugary syrup. My preferred method of consuming it in college was with crunchy roasted almond butter on the ultimate condiment-deliverer: Saltine crackers. More recently, I've enjoyed it in a curried coconut dressing and melted into a bowl of warm oatmeal with matcha. It's the honey that made me realize I could love honey, which means a lot coming from someone who used to dramatically move seats at her elementary school lunch table when the girl next to her chose honey as her dip of choice for chicken nuggets.
So it doesn't matter what you pair it with. Though my palate has matured ever-so-slightly since I discovered it, I'm still a girl who thinks no great spread, dip, or condiment needs something to carry it. I'll even dip my fingers in, Winnie the Pooh-style.
Big Island Bees' Ohi'a Lehua Blossom Honey, from $34 plus shipping for three 9-oz. jars, at Big Island Bees