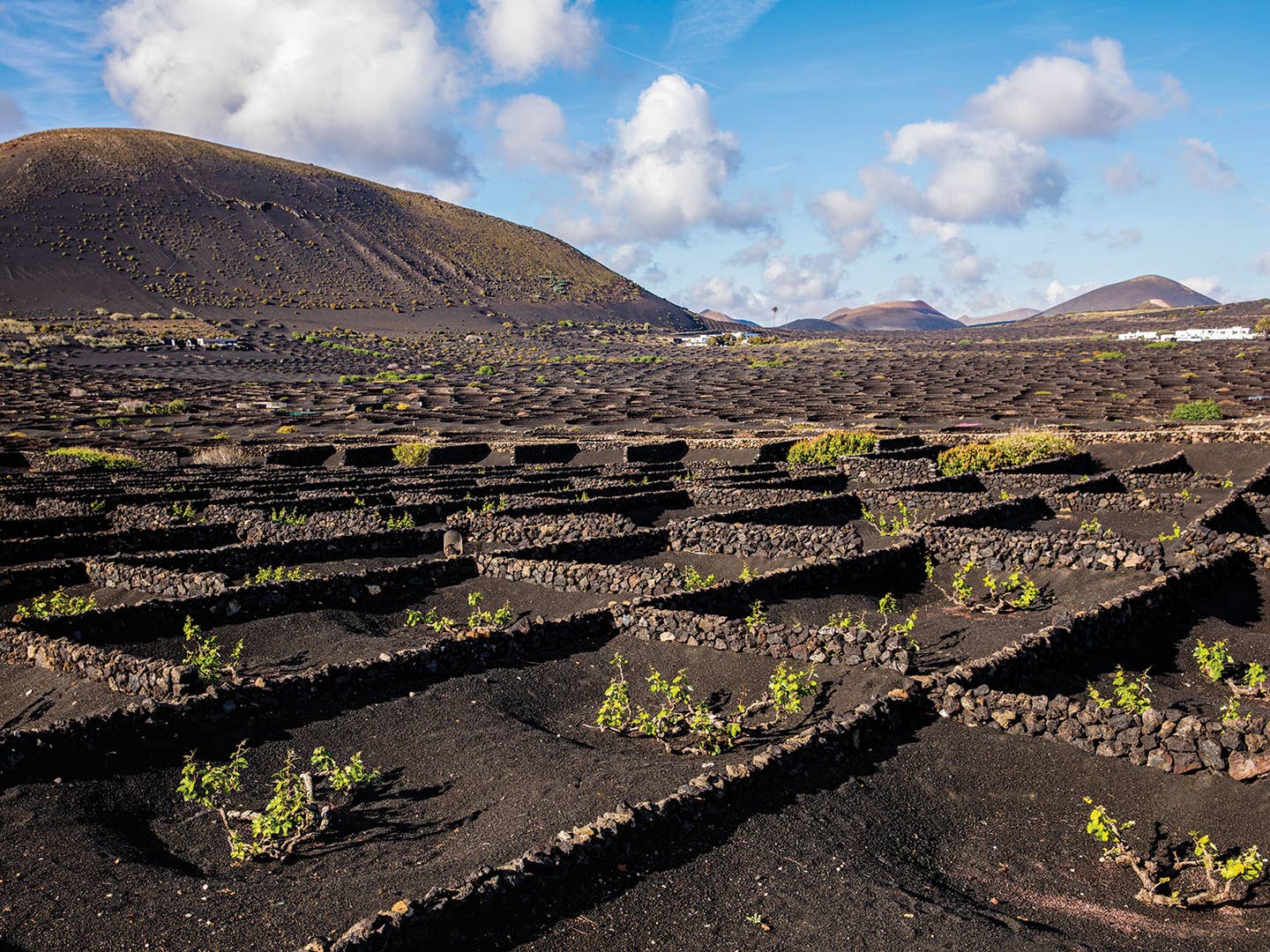 Drinks
The Ingenious Growing Process That Makes These Canary Island Wines So Good
Lanzarote's harsh, arid climate once made grape-growing impossible, but generations of dedicated winemakers have found a solution
To the side of an empty road on the island of Lanzarote, the northeasternmost of Spain's Canary Islands, a landscape of dark volcanic mountains and craters rolls out into the distance. The black rock is so arid, and the vientos alisios (trade winds) so fierce, it seems impossible that anything could grow here—we might as well be on the surface of the moon.
But thanks to the ingenuity of some of Lanzarote's 18th-century inhabitants, things do grow here, in deep divots called hoyos, dug by hand into the volcanic ash. At any of the island's vineyards—of which there are hundreds—grape vines grow in solitary plots tended by family growers who have shared the same peculiar techniques for generations.
"Here in Lanzarote," says Ignacio Valdera, co-founder and oenologist at Los Bermejos, one of the island's better-known producers, "you must forget everything you have learned about growing grapes. You cannot apply any of it." Walking amid the grid of funnel-shaped hollows, which can be more than 30 feet wide and 15 feet deep in some places, the landscape looks more akin to a land art installation than a world-class vineyard.
Located about 60 miles off the coast of Morocco, Lanzarote is home to fewer than 150,000 people and is the Canary's third-most-populous island. And the locals are often in the minority; nearly 3 million sun-­seeking tourists travel here every year for the consistently warm, dry weather. For centuries, that heat and desert climate­—the annual average rainfall is fewer than 4 inches—made viticulture nearly impossible. And, over several years in the 1700s, a spell of volcanic eruptions transformed the geography of the island entirely, covering what little fertile land it had with a thick layer of lava and ash.
Paradoxically, the eruptions created an opportunity: Once the lanzaroteños learned to plant their crops in hoyos, sheltered from the ripping winds and deep enough for the roots to access the nutrient-rich subsoil, the grapes were able to thrive. The black volcanic ash, known as lapilli, turned out to be a vital element in the vines' success, capturing and storing what little moisture was available, and regulating the temperature of the soil. Eventually, there was wine.
The island's remoteness became an additional boon when phylloxera, the aphid that slowly destroyed the majority of European vineyards in the late 1800s, failed to reach the Canarian shores. Unlike those of many European varietals today, which have been grafted onto other resistant root stocks, Lanzarote's ancient vines still grow from their original roots, producing smaller bunches of intensely flavored grapes. This isolation has also allowed endemic grapes such as malvasía volcánica, the island's most celebrated varietal, to survive here wholly unaltered for centuries. These indigenous grapes—which go by a number of local names, and include listán blanco, albillo, and diego, just to name a few—result in red and white wines that are highly acidic with a distinctive salinity. Because of the intense sunlight, which encourages excess sugars to develop, the grapes are harvested in late July, typically the earliest of any European wine region.
Harvests, however, are always relatively light. Most wineries, or bodegas, source their fruit from dozens of small growers to obtain the quantity they need for a year's bottling. "Viticulture here is a family affair," says Tomás Mesa, an oenologist at Vega de Yuco. "The winegrowers—the ones who have shaped this gorgeous landscape—seldom make a living from wine alone." For many of them, selling grapes from their family plots to commercial producers is merely a supplementary means of income to professions in the tourism or fishing industry. José Antonio Rodríguez, a local grower who runs a small winery named Tierra de Volcanes, says, "Most of us are smallholders, and what keeps us working the vineyards here is love of the land."
Some on the island, like Rodríguez, fear that the trade might be dwindling—more than 98 percent of grape farmers here are over 70 years old. But new ventures—such as Puro Rofe, a collaborative project with a focus on organic farming and preserving traditional methods—are an encouraging sign and might bring new interest to Lanzarote's unique wines, many of which never leave the island.
At Salmarina, a colorful seaside restaurant where the wine list is proudly local, a regional dish of lapas (limpets) in mojo verde might be accompanied by a glass of Vega de Yuco's malvasía—dry and floral, with hints of pineapple and a citrusy acidity. The wine is a product of the island's long history of persistence and ingenuity, a path as unique and circuitous as the vines themselves.