Recipes
Palestinian Spinach and Chickpea Stew (Sabanekh bil hummus)
Serves

serves 4

Cook

1 hour 10 minutes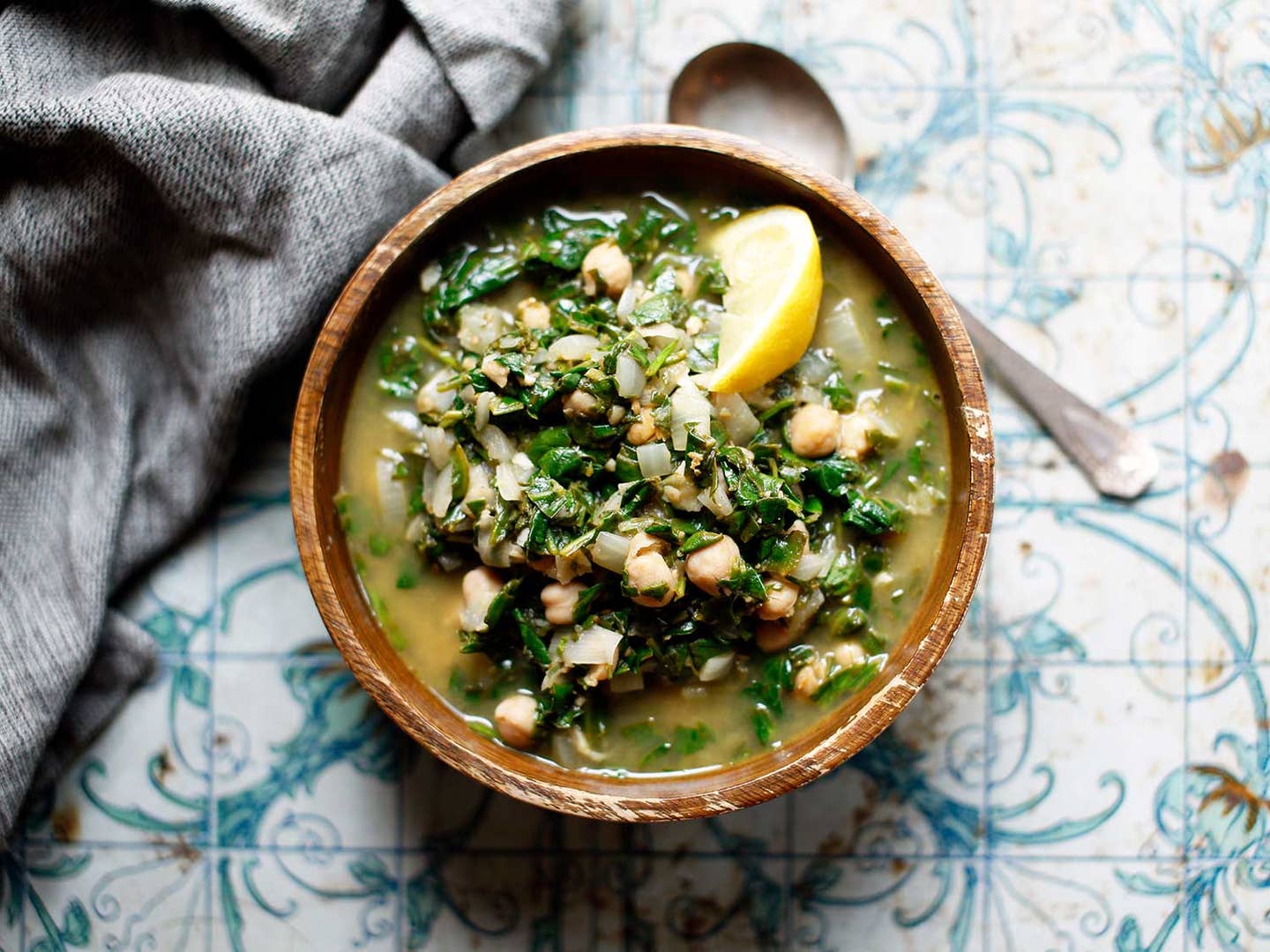 A soothing stew with garlic, allspice, cumin, and coriander, this bright and lemony-tasting dish is one Zaitoun author Yasmin Kahn always turns to for comfort. It tastes even better a few hours after its made, so feel free to cook it ahead of time. Serve it with rice if desired, or crusty bread.
Ingredients
1⁄4 cup extra-virgin olive oil, divided
1 medium yellow onion, finely chopped (2 cups)
1 1⁄2 tsp. cumin seeds
1 1⁄2 tsp. coriander seeds
4 medium garlic cloves, coarsely crushed with mortar and pestle
1⁄2 tsp. ground allspice
1⁄2 tsp. freshly ground black pepper
1⁄4 tsp. freshly grated nutmeg
1 tsp. kosher salt, plus more as needed
Two 15.5-oz. cans of chickpeas, drained and rinsed
2 1⁄4 cups vegetable stock
1 lb. fresh baby spinach, coarsely chopped
1⁄4 cup fresh lemon juice, plus more as needed
Crusty bread or white rice, for serving (optional)
Instructions
Step 1
In a medium pot over medium heat, add 2 tablespoons of olive oil. Once hot, add the onion and cook, stirring occasionally, until softened and slightly translucent, 10–12 minutes.
Step 2
Meanwhile, set a small skillet over medium heat. Add the the cumin and coriander seeds and toast, stirring constantly, until the spices are aromatic and slightly browned, 45–60 seconds. Transfer the seeds to a clean, dry mortar and pestle and let cool to room temperature.
Step 3
When the spices are cool, grind them with the pestle and transfer them to the pot of onions. Add the garlic, allspice, black pepper, and nutmeg, stir well, and continue cooking until the garlic is fragrant but not yet caramelized, 2–3 minutes. Add the chickpeas and stock, bring to a boil, then lower the heat to maintain a strong simmer. Cover and cook until the chickpeas are plump and very tender, 30–35 minutes. Stir in the spinach. (You may need to add it in batches and wait for each batch to wilt.) Then, add the lemon juice, salt, and the remaining 2 tablespoons of olive oil. Cook for 5–10 minutes, depending on how you like your spinach, then adjust the seasoning, adding more lemon juice or salt as desired.
Step 4
Serve hot, with crusty bread or white rice if desired.