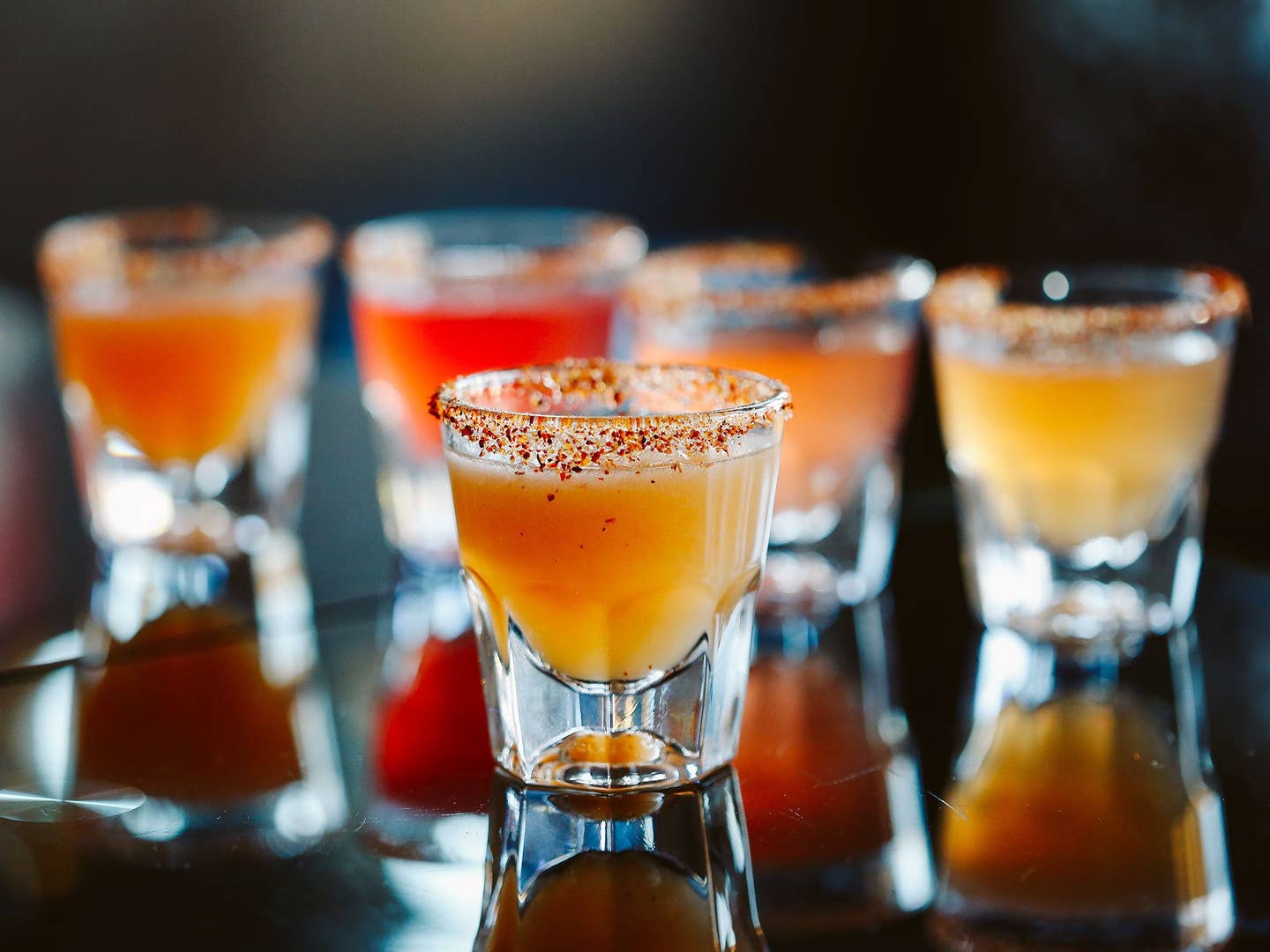 Drinks
The Sweet and Spicy Tequila Shot You'll Only Find on the Mexican Border
Named for a sweet and spicy Mexican candy, the paleta shot goes above and beyond your college drinking days
When you think of tequila, bygone college days might come to mind. Maybe you think of the classic "one tequila, two tequila" rhyme, or perhaps you try not to think of anything because your last night out with Jose Cuervo left you with only one shoe and a camera full of ill-advised dancing selfies.
The paleta shot is here to the rescue.
Named for the Mexican candy, a watermelon lollipop covered in chile powder, you can find it throughout southern Texas and northern Mexico along the border. Kids from my middle school would get paleta candies from a convenience store across the street and would snack on them all day long. At that age, I wasn't a fan of the spicy red powder combined with the tart hard candy. Truthfully, I'm still not really a fan, but I'd have one now just out of homesickness and nostalgia (the shot, however, I'd drink till the sun comes up).
Michelle Fierro of The Black Orchid Lounge in El Paso, Texas tells us that nobody knows who invented the shot, but the candy has been around for around 40 years, and the shot appeared around 10 years ago. She also says there are different takes on it in different parts of El Paso.
To illustrate this, she sets out five glasses to prepare the shot five different ways. The one served at The Black Orchid features tequila, mango and strawberry juice, some lime and Tabasco, and a Tajin-lined rim (pro tip: fresh juice will help you avoid a sugary hangover). The next version comes with watermelon schnapps. An east side El Paso take on the shot involves rum, and the next one has vodka. Then, Fierro whipped up a mezcal special, which was nontraditional but a favorite—the smoky taste was a perfect complement to the watermelon.
They're all fruity, spicy, and a perfect throwback to bygone candy and shot-pulling days.