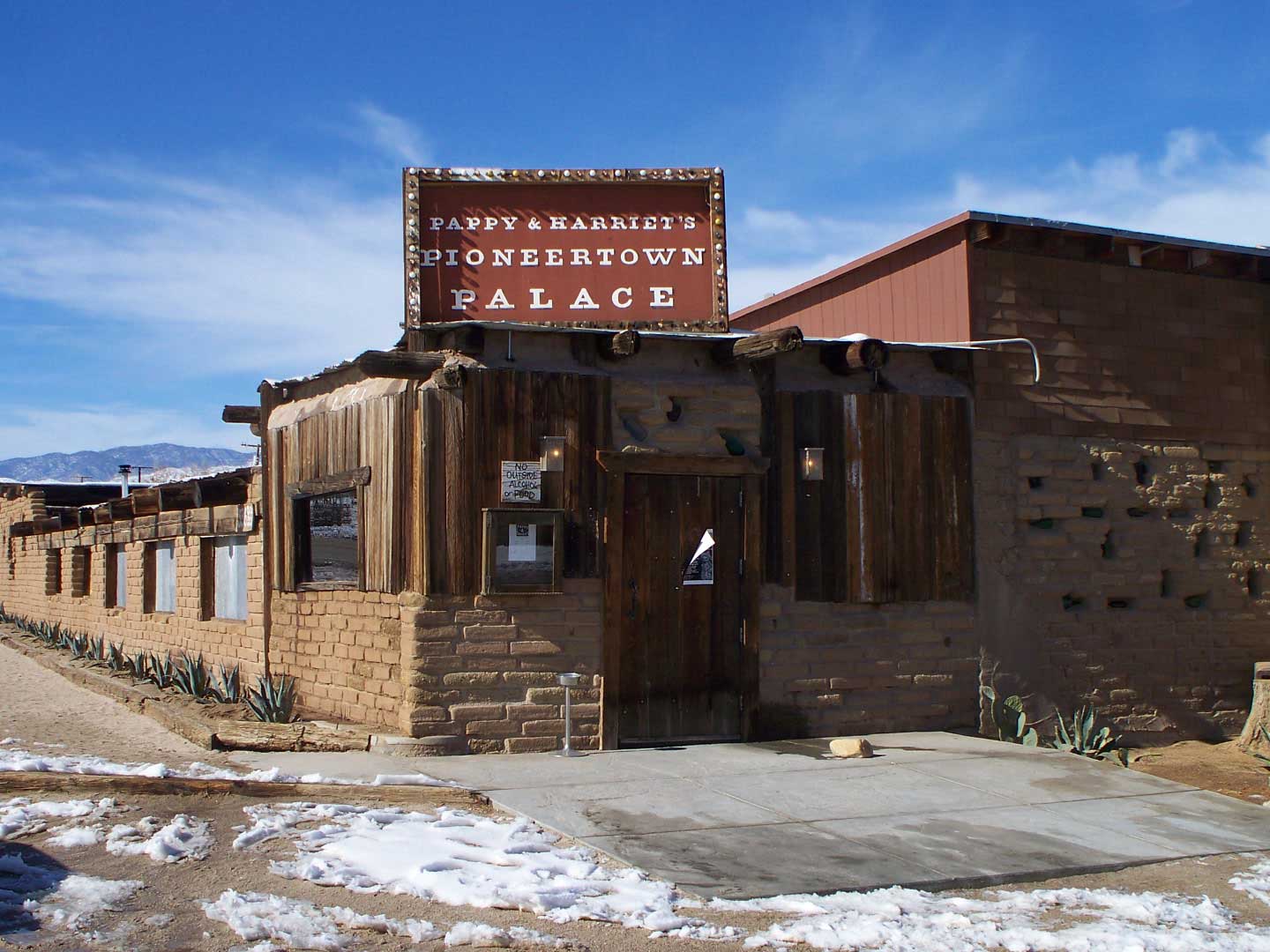 Drinks
How a Fake Movie Town Spawned a Real Old West Bar
Have a drink at Pappy & Harriet's, the local saloon in Pioneertown, CA that's become a live music destination
About two and a half hours from Hollywood is the Old West relic Pioneertown. Except the town isn't actually from the 1800s; it was just built to look like it was, as a movie set for Westerns in the 1940s and '50s. It's where you'll find Pappy & Harriet's, also originally part of the movie set, later a biker bar, and now, somewhat improbably given its distance from LA and Vegas, one of the more vibrant music venues in California, a beloved favorite of big-name musicians touring through the western U.S.
These days Pioneertown is a real town, not just a concept. The little hamlet has about 350 full-time residents, artistic types and those who enjoy a certain real Old West solitude, punctuated by trips to their local watering hole, which just so happens to be a popular live music spot.
Visitors to the bar recreate movie history with every drink order: Gene Autry, Roy Rogers, and other silver screen cowboys bellied up for a shot of whiskey here in just about every movie they starred in. But the bar's about more than the Golden Age of film. Its current iteration owes more to its days as a favorite of motorcycle clubs out on the road, guys looking for the type of good times that involve whiskey-swigging and brawling. And burritos, the specialty of the kitchen for a time.
But then the Joshua Tree area turned into a sort of music oasis. There are a couple recording studios out there, hidden behind a highway that'd be desolate but for the occasional strip mall. And while the bikers still come out for a (sightly more family-friendly) good time on the weekends, Pappy & Harriet's has become the music venue of choice for people looking for a completely immersive experience. Some nights host local bands that you haven't heard of, but you might just luck out and pass through on a night when someone like Neko Case and AC Newman or Thurston Moore takes the stage with a backing group of world-class musicians. (Or plan to be there on such a night; there's a calendar on the bar's website.)
For all its transitions, it's still a transporting blast from an [imagined] past. And it turns out the barbecue is also pretty great.