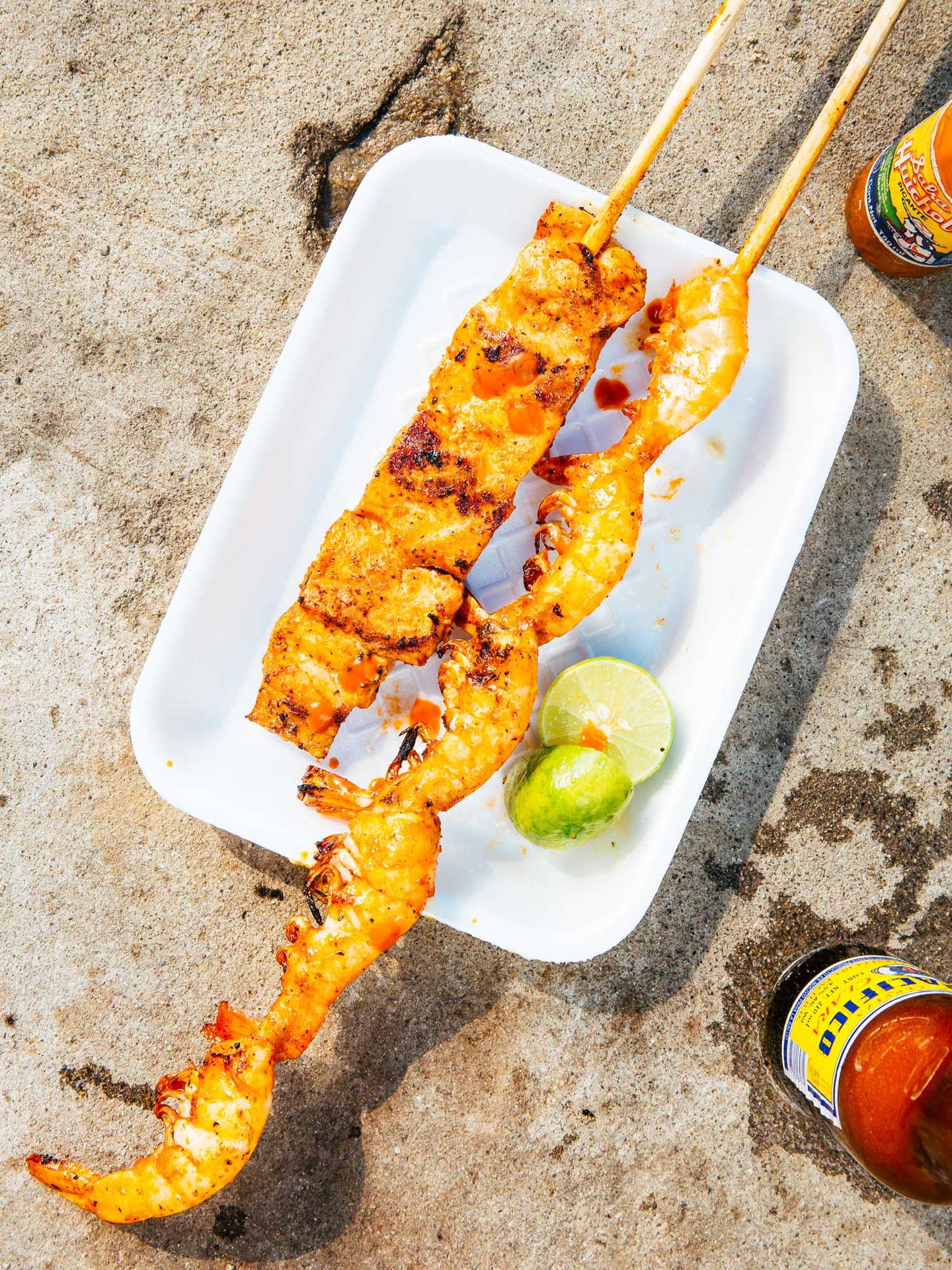 Travel
This Fish on a Stick Might Be the Best Beach Snack in Mexico
Spanish for "pregnant fish," pescado embarazado is a grilled fish skewer with the most unusual name
In America, beach food often means deep-frying something from the surrounding waters: New England has its clam cakes and fried clams, the Midwest its fried smelts, and the West Coast its fish tacos. In the state of Nayarit along Mexico's Pacific coast, beach food also takes its cues from the ocean, but there's no batter or hot oil involved. Instead, you'll find all kinds of fresh seafood cooked over hot coals on small grills, or zarandas, propped up on cinderblocks or rocks.
One of the most popular dishes is the curiously named pescado embarazado, which is Spanish for pregnant fish. The term is a misnomer: the fish aren't actually pregnant or served with their roe. Legend has it that the dish was originally called pescado en vara asado, after its cooking method ("vara asado" translates to "grilled stick"), but morphed into pescado embarazado after beachgoers misheard the name.
On the palm-tree-lined cove beaches of Nayarit, you can't miss the vendors walking up and down the shore with their flaming-orange skewers. According to Esther Sanchez, the head chef at the Four Seasons Punta Mita's Aramara restaurant, pescado embarazado traditionally calls for a whole fish, which is how she prefers to prepare the dish, but most hawkers now cut it into bite-size pieces for easy eating.
The fish, typically dogfish, mahi mahi, or red snapper, is marinated with a bright and earthy sauce—a combination of dried guajillos or anchos, achiote paste, cumin, and orange juice— then cooked over an open flame, often right on the beach. Vendors serve the sticks, which go for around 40 pesos (about $2 USD) each, with freshly cut limes, and for extra heat, a bottle of Salsa Huichol hot sauce.
Named for Nayarit's indigenous Huichol people, Salsa Huichol is a local favorite that's sold all over Mexico and in the U.S. The exact recipe is a secret, but the main ingredient is cascabel chiles, a relatively mild variety with a strong aroma and fruity sweetness.
While the beach may be the ideal location for eating pescado embarazado, sandy toes and a view of the water certainly aren't a prerequisite. The dish would also make a welcome addition to any barbecue or cookout. It's perfect for entertaining in more ways than one: the marinade can be prepared ahead of time; guests can hold the skewer in one hand and a drink in the other; and the origin story makes for one hell of a conversation piece.