Grilled Fish Skewers (Pescado Embarazado)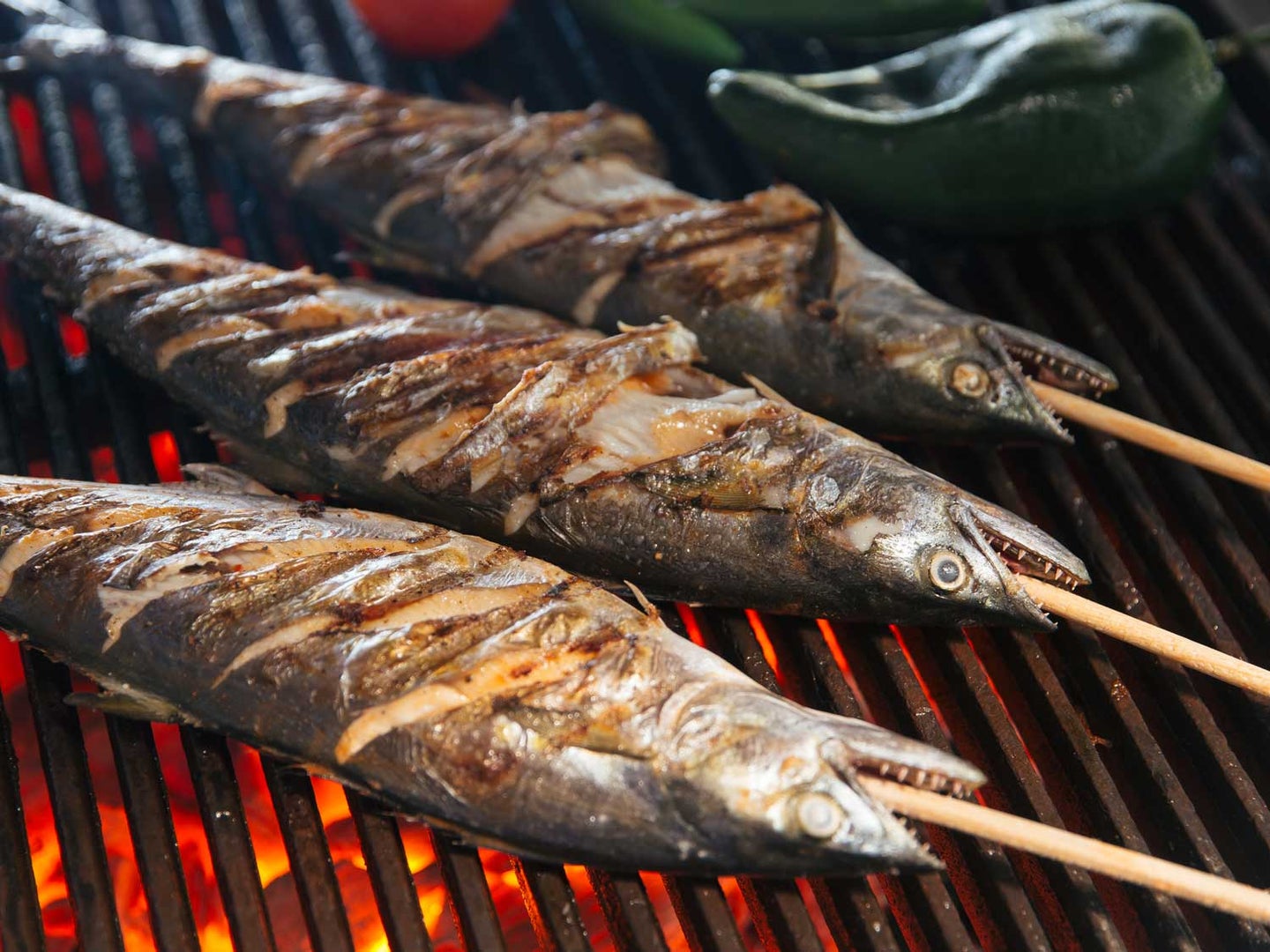 Spanish for "pregnant fish," pescado embarazado is a mishearing of this dish's actual name pescado en vara asado, or grilled fish on a stick. It's one of the most popular dishes to eat at the beach in Nayarit, Mexico.
In this version adapted from chef Esther Sanchez of the Four Seasons Punta Mita's Aramara restaurant, the marinade is made with achiote paste, citrus, tomato, and cumin. Reserve some of the flavorful sauce and serve it on the side as a zesty condiment.
While the skewers are more commonly made with cubed fish like mahi mahi or dogfish these days, Sanchez prefers to use whole fish, such as mackerel or branzino.
Featured in: This Fish on a Stick Might Be the Best Beach Snack in Mexico
Equipment
Grilled Fish Skewers (Pescado Embarazado)
One of the most popular beach foods along the coast of Nayarit, Mexico, this grilled fish on a stick is marinated with a bright combination of achiote paste, orange, and tomato.
Time: 50 minutes
Ingredients
1¾ cups freshly squeezed orange juice
1¼ cups canned tomato purée
½ cup achiote paste
4 medium garlic cloves, finely chopped (2 Tbsp.)
2 tsp. cumin seeds
1½ tsp. finely chopped flat-leaf parsley
1½ tsp. finely chopped fresh rosemary
1½ tsp. finely chopped fresh thyme
Kosher salt
Freshly ground black pepper
Four 1-lb. whole mackerel or branzino, gutted and cleaned (or substitute 2½ lb. dogfish or mahi mahi fillets, cut into 2-inch cubes)
Canola oil, for the grill
Salsa Huichol and lime wedges, for serving
Instructions
Make the marinade: In a blender, add the orange juice, tomato purée, achiote paste, garlic, cumin, parsley, rosemary, and thyme. Blend until completely smooth, then transfer to a small pot.
Bring to a boil over medium-high, then lower the heat to maintain a strong simmer. Cook, stirring occasionally to prevent scorching, until the marinade is slightly thickened and the garlic no longer tastes raw, 15–20 minutes. Season with salt and pepper to taste, then transfer to a heatproof bowl and let cool to room temperature. Use immediately, or refrigerate, covered, for up to 1 week.
If using whole fish, use a sharp knife to score the fish crosswise on each side, being careful not to cut through to the bone. Rub 1½ cups of the marinade all over the outside of the fish and inside the slits. (If using cubes, toss the fish with 1½ cups of the marinade in a large bowl.) Let marinate at room temperature while you preheat the grill, at least 15 and up to 40 minutes.
Preheat a grill over medium-high heat, or a grill pan or griddle over high heat. When the grill is hot, liberally oil the grates. Thread the fish onto 4 metal or bamboo skewers. Grill, turning occasionally, until the fish is charred in places and cooked through, 14–16 minutes for whole fish, 5–6 minutes for cubed fish. Transfer to a platter and serve with lime wedges, Salsa Huichol, and the remaining marinade.