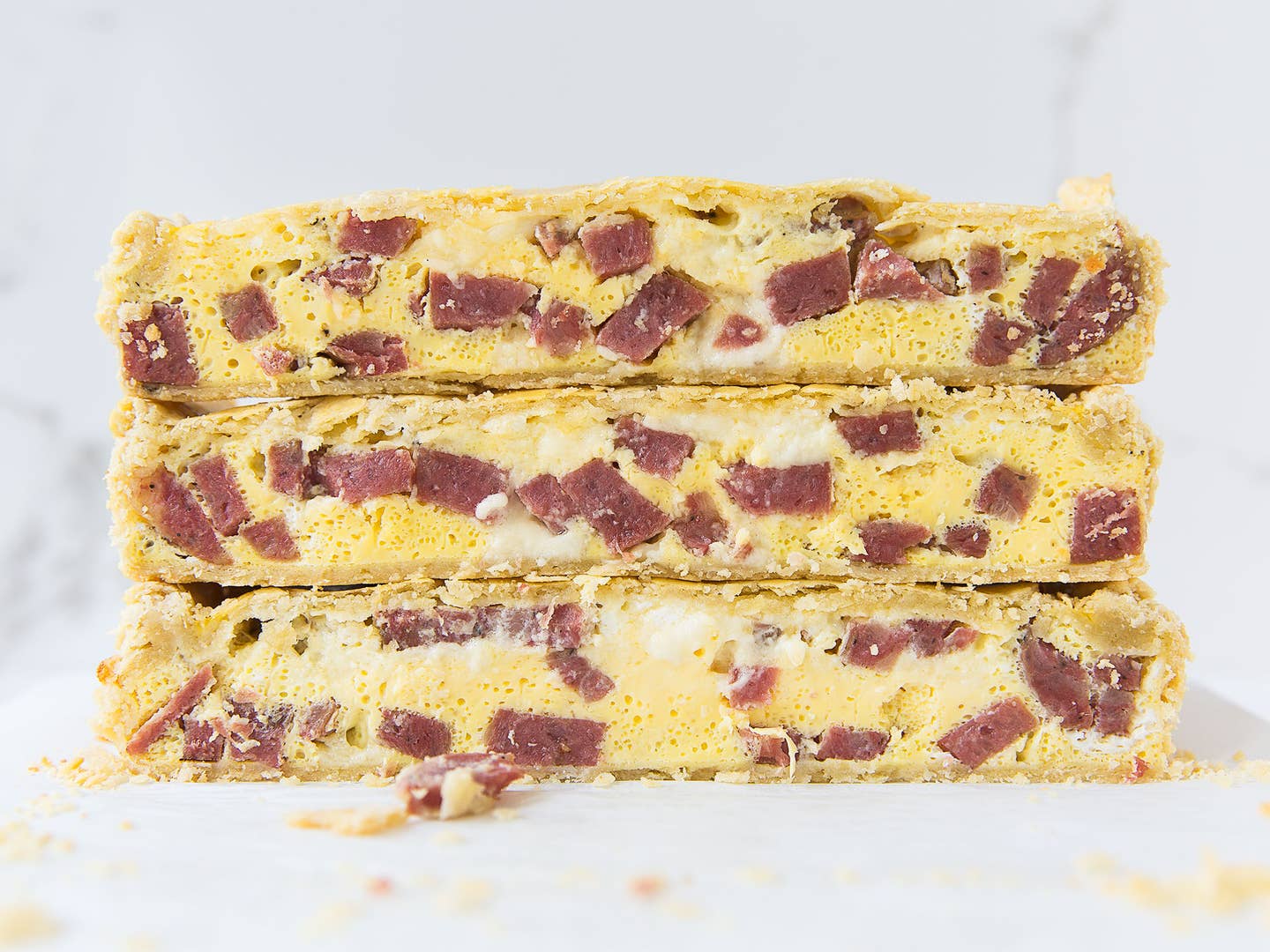 Culture
Pizza Gain is the Massive Sausage-and-Egg Pie You Need to Make for Easter
A.k.a. pizza rustica and pizza chiena, this Italian classic calls for a whopping 18 eggs and two pounds of charcuterie, and we're in love
Southern Italians and their American relatives know that eggs on Easter don't only come from marshmallow chickens in pastel colors. They also arrive in the form of a deliciously dense, quiche-like, salami-stuffed savory pie called pizza gain. Sometimes called pizza rustica, pizza chiena, or simply and affectionately "Easter pie," it's an audacious pastry case of Italian abundance, a ritual unto itself.
It's unclear why Italians chose Easter as their pie holiday. But pizza gain is part of a longer list of filled, dough-encrusted, large-format baked goods—like pastiera di grano (a "grain pie" made with ricotta, candied fruit, and wheat), torta pasqualina (filled with greens and eggs), and pastiera di riso (like a grain pie, but with ricotta, rice, and citrus peel)—that appear in bakeries and homes only around this time of year. Which meant it was time for me to make one.
My paternal grandpa Louie, whose parents hailed from Naples, was the designated Easter pie maker in our family. Having lived during the 1940s and 50s on Mulberry Street, the heart of Manhattan's Little Italy, where he also owned a luncheonette—the man knew his way around Italian ham and eggs.
His recipe, which he thankfully left behind in his perfect, calligraphic penmanship, called for a 9-by-13-inch baking dish and a filling base of, wait for it, 18 whole eggs. Between that and the two pounds each of charcuterie and cheeses he added to the inside, making pizza gain was no small investment. But for us, it was the centerpiece of the Easter morning table, and a heaping, yellow-and-pink symbol of spring.
No two families make Easter pie identically: Versions I've seen include fresh ricotta stirred into beaten eggs for a more pudding-like filling. Others use sliced hardboiled eggs, layering sliced hams and cheeses throughout. Ours was jiggly and quiche-like in the best of ways, the eggs' custardy goodness disturbed only by the chewy, salty chunks of sweet soppressata and dried sausage sprinkled geometrically throughout. (The styles of ham vary—capicola, prosciutto, salami, pepperoni—from family to family, too.)
While grandpa's recipe called for "basket cheese." a fresh, farmers' style cheese that classically sold in a little plastic baskets, any soft but not-too-stringy, rindless, mild cow's milk cheese will work. I used stracchino—an utterly luxurious, melty, delicate cheese often used in Italian stuffed breads—to messy but great success.
After making my grandpa's recipe for the first time this year—seeing just how many salty, porky bits, globs of cheese, and dozens of eggs it entails—I now think pizza gain may have been the greatest name ever for this dish. But after tasting the worthwhile, comforting results, my hands guided perfectly the entire way by grandpa Louis' gentle instructions, I'm quite confident I may have had the greatest grandpa ever, too.
I'm also hoping he'd be proud of this other cheese and meat pie that I put together during a free hour in the kitchen while pizza gain was on my mind. It's a slab pie—a wide, shallow hand pie shaped in a baking sheet—filled with layers of sliced mortadella and fontina with bits of caramelized fennel. Without the eggs, you can't really call it pizza gain. But as a slightly slimmed-down modernized version that comes together a little faster, it's worth adding to your Easter table, too.